It looked like yet another Web traffic record breaker for Gambling911.com with both Dancing With The Stars results news and the thousands of people coming in to search for American Idol betting odd
Submitted by C Costigan on, May/20/2009
In a shocking upset, underdog Kris Allen has knocked off the big favorite to win this season's American Idol, Adam Lambert. 
Submitted by Jordan Bach on, May/20/2009
Betting on American Idol was still available even though the performance show finale had (and subsequent voting) had already aired on Tuesday evening.
Submitted by Jordan Bach on, May/20/2009
Breaking News
One of Boston's largest tech companies is moving into a new corporate headquarters.
Scrambling to fill out a March Madness bracket? Betting lunch money that you can pinpoint the Final Four better than co-workers or family?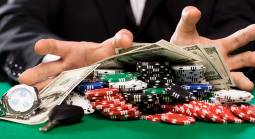 Karen Carter Peterson, a state senator from New Orleans and chair of the Louisiana Democratic Party, admitted to a gambling problem Friday — minutes after WWL-TV posted a news story reporting that she had violated a ban on entering Louisiana casinos.