Sports News
Some bookmakers were biting their nails Saturday as we headed into the second round of the NCAA Men's College Basketball Tournament.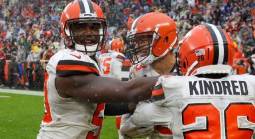 While still possible, it was improbable that the Cleveland Browns could win the AFC North following their victory against Carolina.
Murray State has been brutal to regional bookies, those throughout the western portion of Kentucky.
Despite all the off-the-court chaos surrounding the LSU Tigers Basketball team this season, the team continues to excel Against The Spread as they eye the Sweet 16.
LSU, Villanova: These are the two most wagered on sides while Wofford vs. Kentucky had significant volume.
Gambling911.com has your predictions for the Villanova vs. Purdue game along with the latest odds.