"I just noticed that I gained another 100,000 followers since @elonmusk saved Twitter from the suppressors of free speech. That's 300,000 people in a few weeks, many of whose voices were silenced and are now free once again to enjoy the rights guaranteed by our constitution."
Sports News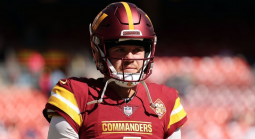 This series typically doesn't matter this late in the season.  It does here for both teams.  Washington has been on fire of late.  And the Giants are trying to hold their place in what's become the hottest division in the NFL after years of inferiority.
Coming into Week 10, the LSU Tigers were ranked 7 in the nation and sat in the number 9 position on Sagarin. Are the Tigers the real deal?
The TCU Horned Frogs vs. Texas Longhorns game featured a line of Longhorns -11.
His final game as the steward of the quarterback position in Cleveland, saw Jacoby Brissett earn the win, and what a win it was. Down by a touchdown, 32 seconds left in regulation, fourth-and-10 at the Bucs' 12, Brissett hit tight end David Njoku in the back of the end zone.
The Kansas Jayhawks were expected to come into Thursday's game against Seton Hall as a -7 to -7.5 home favorite following their dominating win over 1-7 Texas Southern.  The Jayhawks game against Seton Hall should be much tougher but the Pirates have disappointed thus far. 
There is a rare major betting event on Tuesday afternoon (November 29) that will be drawing tons of action from the U.S.  Team USA will take on Iran in the FIFA World Cup.  The U.S. must win or go home. Our friends at BetOnline will be offering plenty of prop bet markets for this match.