Over the past 48 hours everybody - AND WE MEAN EVERYBODY - was visiting the Gambling911.com website to learn all about a new term that could not even be found on Google until now:  Submitted by Jenny Woo on, Jun/08/2010
Jenny Woo here with the Gambling911.com Trending report for the past 48 hours.  I just wanted to advise everyone that we have added a new and fun feature to Submitted by Jenny Woo on, Jun/05/2010
Okay so we just missed the 11 million mark in 2009, but came mighty close by a mere thousand or so.  These are visitors we are talking who have visited the Gambling911.com website and they are all
Submitted by Payton on, Jan/04/2010
If you ever wanted to know what's hot at Gambling911.com in terms of traffic, subject matter...and what Jenny Woo might be wearing today (or what she's not wearing might be more appropriate), Submitted by Payton on, Dec/30/2009
By year's end, Gambling911.com will have hit 100 million page views over the last 365 days according to server traffic stats.
Submitted by Guest on, Dec/27/2009
Online sportsbooks will look to capitalize heavily on the upcoming March Pacquiao - Mayweather fight.  Here we are in December and already the traffic for this event is astronomical.
On Tuesday, Gambling911.com witnessed unprecedented traffic for a story related to Pacquiao's odds being cut down to even from +130. 
Submitted by Guest on, Dec/17/2009
For those of you who don't know, Gambling911.com continues to increase its interactivity. 
Be sure to check out our Facebook page here where we will be featuring "behind the scenes" updates and important article links.  Become a fan today.
Submitted by Payton on, Nov/06/2009
In addition to Gambling911.com's extensive coverage of Thursday's indictment into Douglas Rennick, an online gambling payment processor who could face over 50 years in prison if the US Attorneys Of
Submitted by Payton on, Aug/07/2009
Gambling911.com really experienced great traffic over the last three days thanks to the one-two punch of this week's British Open and the World Series of Poker main event.  It is truly gratifying
Submitted by Payton on, Jul/16/2009
I am truly excited by the amount of Web traffic coming in for Gambling911.com's poker coverage, and it's not just the World Series of Poker that is helping to fuel things.  Gambling911 has enjoyed
Submitted by Payton on, Jul/13/2009
This blog is a collaborative blog written by a group of individuals. This blog accepts forms of advertising, sponsorship, paid insertions.
Submitted by Adm1n on, Feb/17/2009
Breaking News
Google on Tuesday unveiled a video-game streaming platform called Stadia, positioning itself to take on the traditional video-game business.
888 Holdings are the proud owners of one of the internet's oldest casinos.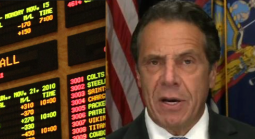 Gov. Andrew Cuomo sounded doubtful that sports betting would come to fruition in New York State this year, music to the ears of offshore sportsbooks with most sites accessible to New York residents.