What are some of the hottest headlines in the world of poker? Here you will find all the latest juicy stories along with other important news and tournament results. A must read for the poker enthusiast with articles published throughout the day.
Breaking News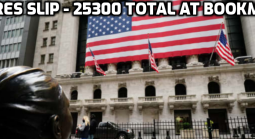 U.S. stock futures fell on Sunday night amidst civil unrest across the United States.
Former Orlando Police Chief Val Demings is fast becoming one of the favorites to join the ticket along side the presumed Democratic Presidential candidate Joe Biden.
It's the worst civil unrest in the US since 1968 and poker players have been offering their varying perspectives.