Harrah's Gets Hit Hard By Economy: 2009 WSOP Hotel Rates Slashed
Published on:
Apr/28/2009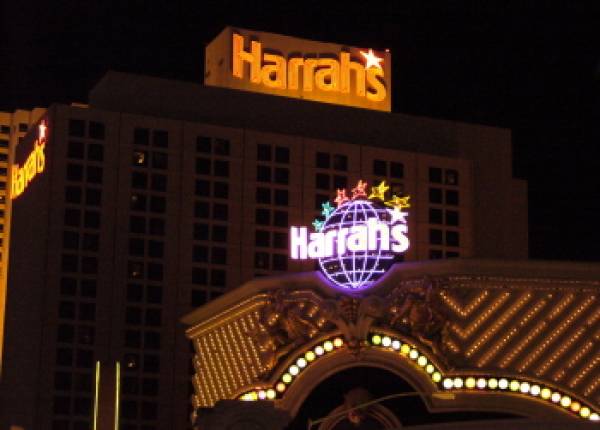 The world's largest casino operator and owner of the World Series of Poker, Harrah's Entertainment Inc., reported first quarter financial results Monday that showed a further decline in revenue.  The company said its revenue had declined 13.3 percent to $2.254 billion in the first quarter.  The pinch was felt especially hard in Las Vegas where these numbers were 20.5 percent (down to $686.4 million) while cash flow fell 27.9 percent to $198.6 million. 
"While hotel occupancy was strong at over 90 percent, first-quarter revenues and income from operations in the Las Vegas Region were lower than in the 2008 first quarter due to lower spend per visitor and weakness in the group-travel business, which led to lower average daily room rates. Cost-reduction efforts helped partially offset the impact of these factors on property EBITDA (cash flow)," according to a company statement.
"Our first-quarter results continued to be impacted by the economic slump that has reduced consumer spending, but the improvement in our operating margins over those of the past few quarters indicates our expense-reduction efforts are paying off," said Gary Loveman, Harrah's chairman, president and chief executive officer.
Harrah's is hoping to witness a strong showing come the months of June and July when its World Series of Poker enterprise is expected to lure in hundreds of thousands of people to Las Vegas.
But even those in the poker community and media groups have begun to announce cutbacks.  Just Monday, Gambling911.com - one of the leading poker news websites - scrapped plans to cover the 2009 WSOP.
Hotel bookings for the first week of the 2009 World Series of Poker main event were still way off heading into May.  Las Vegas Strip properties, which in past years were inaccessible during the first week in July, were featuring rates of $35 to $90 a night.  Rooms would typically be booked months in advance with many individuals opting to rent homes off the Strip.  Even the Venetian and Bellagio hotels were offering rates under $200 per night on average (Friday and Saturday were about $100 more).
Harrah's Las Vegas properties include Caesars Palace, the Rio, Paris, Bally's, the Flamingo, Bill's Gambling Hall, Harrah's and the Imperial Palace.
Harrah's rates were going for $73 per night on average the first week of the 2009 WSOP main event. 
Advertisement:  Get up to 110 percent cash today when you join Doylesroom.com
Christopher Costigan, Gambling911.com Publisher