Three suspects have been arrested in Spain tied to the disappearance and reported kidnapping of 5Dimes owner

Sean "Tony" Creighton was reported missing on September 24

Spain recently extradited the wife of another online gambling mogul she was charged with having killed

Creighton remains missing but presumed still alive


WHY BE AN AFFILIATE WHEN YOU CAN GET 100%?  JUST PAY $5 PER PLAYER
It was like déjà vu for those of us involved in the online gambling sector upon learning that law enforcement in Spain had apprehended three suspects tied to the disappearance of 5Dimes Sportsbook owner Sean "Tony" Creighton.  He was last seen September 24 after engaging with armed individuals during an apparent kidnapping.
On Friday, the leader of the criminal organization allegedly tied to Creighton's kidnapping along with two women - one a grandmother - were arrested in Zaragoza, Spain.  They had fled Costa Rica via El Salvador to Cuba before landing in Spain.  Nine other arrests were announced simultaneously in Costa Rica.  It appears the entire group was getting ready to settle in Spain.
Spanish authorities were quick to announce they plan extradition proceedings to send the suspects back to Costa Rica.
Spain Captured Wife of Online Gambling Mogul Suspected in His Brutal Murder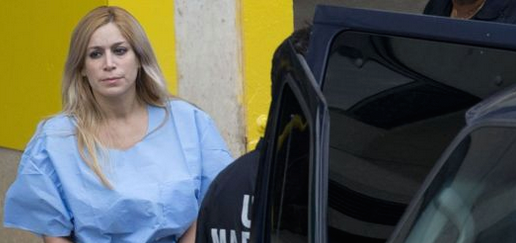 Wife of Adam Anhang hired man to kill him finally off to prison after apprehension in Spain
Aurea Vazquez Rijos, a former beauty queen, had been found guilty of offering a man $3 million to kill Adam Anhang, an online gambling mogul instrumental in the development of live dealer Web casinos.  The man who killed him, Alex Pabon Colon, pleaded guilty 10 years ago..  Another man who worked at the couple's Old San Juan restaurant had originally been charged with the murder but was later released.
Anyang was stabbed repeatedly and hit in the head with an object while walking with Vazquez through the cobblestone streets of Old San Juan in September 2005, just 12 hours after prosecutors said Anhang had asked for a divorce.  Gambling911.com was first to break the story at the time.
Vazquez Rijos remained on the run, most of that time living in Italy where she gave birth to twins.
Last summer, she was finally apprehended in Spain upon traveling to that country.
For years Italy had blocked extradition back to the USA.
"Apparently the Italians do not extradite back to countries that have the death penalty," a source familiar with the case told Gambling911.com at the time. "Now Puerto Rico does not have the death penalty but because they are under the US criminal law jurisdiction, this appears to be the hold up."
A Family Affair

Law enforcement go through evidence tied to Creighton case
Some of those arrested Friday in connection to the Creighton kidnapping are related to one another.  In Spain, an uncle and grandmother of the suspected ring leader have been detained.
Vazquez Rijos was also helped by family members.
Private detectives would determine that Rijos approached the Florentine Jewish community where "she was embraced by the Jewish community as a widow with two children." Anhang was of the Jewish faith and required Rijos to sign a pledge by her to study and take up the Jewish faith within two years of their marriage as part of the pre-nuptial agreement.
US prosecutors allege that Rijos was helped by her brother, Charbel Vázquez Rijos, her sister, Marcia and her mother, in providing false paperwork and duping the Firenzebraica Jewish organisation in Florence into certifying that Anhang's one-time wife and her twin daughters were of Jewish descent, enabling her to move to Israel, a country that does not have an extradition treaty with the United States.  Anhang, Gambling911.com can reveal exclusively, had once paid to put Charbel through college.
It is not yet known whether Creighton had any relationships with his alleged kidnappers.
His wife in Costa Rica reportedly paid out a near $1 million ransom via Bitcoin. This transaction was ultimately traced and used to apprehend the suspects.  Authorities in Costa Rica revealed that some of the individuals were under surveillance over the past month.
Creighton, who arrived in Costa Rica in 1999 from Bridgeport, West Virginia, has an ex-wife now residing in the Pittsburgh, PA area.  His mother passed away over a decade ago while his father, a supermarket mogul, died two years ago.  Distant family members include cousins still residing in West Virginia.  Creighton was also close to his stepmother and her family members.
The suspects appear to have had working knowledge that 5Dimes sat on millions of dollars worth of Bitcoin.  It is common knowledge that the online gambling sector now accounts for a significant chunk of Bitcoin's value however.
Gambling911 reached out to individuals with deep ties to the online gambling industry in Costa Rica, none of whom were familiar with any of the suspects named.
Authorities are yet to locate Creighton but are working off the presumption that he is still alive.  Having apprehended a dozen individuals they believe were involved in his disappearance should yield answers sooner than later. 5Dimes representatives remain tight-lipped regarding the ongoing investigation.
- Alejandro Botticelli, Gambling911.com