13 Years Later Wife of Online Gambling Tycoon on Trial for his Murder
Published on:
Oct/18/2019
Áurea Vázquez Rijos was charged with hiring someone to kill live dealer online casino pioneer Canadian Adam Anhang

Rijos' hired hitman stabbed a frail Anhang 20 times on a bustling street corner

Initially an employee of the couple's swank restaurant was convicted but later released

Rijos has fought off extradition for years but was arrested in Spain and finally sent back to the US after falling for a ruse
Watch the Newly Released Dateline NBC Episode Here (Aired October 18, 2019)
A former beauty queen is finaly standing trial in the 2005 brutal murder of her then 32-year-old husband.
Áurea Vázquez Rijos was charged with hiring someone to kill Canadian Adam Anhang, one of the pioneers in live dealer online casinos and a real estate magnate.
Anhang was stabbed to death while walking with his wife in the bustling tourist enclave of Old San Juan in Puerto Rico's largest city during broad daylight. The frail Anhang received around 20 stab wounds to nearly all parts of his body. Gambling911.com was the first to break the story.
Initially the attack appeared to have been a robbery gone wrong with Rijos suffering non-life threatening injuries as well.
The case gained national US media exposure after Dateline NBC reported on the incident and what may have led up to it.
Initially an employee of Anhang's was wrongly accused and put on trial.  The employee was a dishwasher at a restaurant/bar owned by the couple, The Pink Skirt, in Old San Juan.  Sources told Gambling911.com at the time she went as far as to make it look as if that employee, who resided in a crime-ridden neighborhood below the hills of Old San Juan, had committed the act. 
Rijos fled to Italy where she was gave birth to twins fathered by Florence taxi driver.
Italy blocked extradition back to the USA.
"Apparently the Italians do not extradite back to countries that have the death penalty," a source familiar with the case told Gambling911.com at the time. "Now Puerto Rico does not have the death penalty but because they are under the US criminal law jurisdiction, this appears to be the hold up."
Flash forward four years where Ms. Rijos was apprehended while traveling through Spain on a stopover at the Madrid International Airport.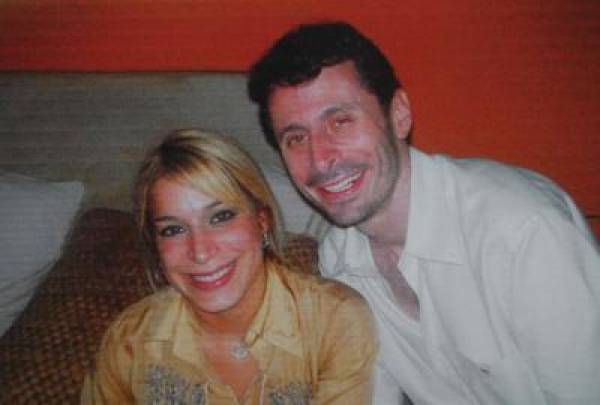 It was the father of her late husband who used private detectives to track Ms Rijos down in Italy after an innocent man had been jailed for the murder and later released.
"It took us five years and a lot of effort and energy to track her, since no sooner did we locate her, she got wind of it and moved on," Abe Anhang old the BBC from his home in Winnipeg, Canada.  The Winnipeg Free Press had also reported on the brutal murder of Abe's son.
Adam Anhang, who also owned what was then the Wyndham Vieques Resort (later the W Hotel), had met with his estranged wife in Old San Juan that late afternoon believing the two would be discussing terms of a divorce.  Instead, she had lured him into a death trap.
Evidence later showed that Rijos would be deprived of an estimated $24m (£19m), due to a pre-nuptial agreement the pair had signed.  A portion of that pre-nup would play an interesting role in Anhang's wife's ultimate capture as it later turns out.
In 2008, a federal grand jury indicted Ms Rijos on two murder-for-hire related counts after the man suspected in his murder came forward and confessed.  
In a statement read out before a court in San Juan, Alex "El Loco" Pabón Colón said that Ms Rijos had agreed to pay him $3m when they discussed her husband's killing at Rijos' Pink Skirt
"Áurea communicated with Alex to tell him to park his car in the San Justo street lot. Alex would do what he had to do," the signed confession reads.
By this time, however, Rijos had already fled to Italy.
In a bizarre twist, private detectives learned that Rijos had approached the Florentine Jewish community where "she was embraced by the Jewish community as a widow with two children." Anhang was of the Jewish faith and required Rijos to sign a pledge by her to study and take up the Jewish faith within two years of their marriage as part of the pre-nuptial agreement.
US prosecutors allege that Rijos was helped by her brother, Charbel Vázquez Rijos, her sister, Marcia and her mother, in providing false paperwork and duping the Firenzebraica Jewish organisation in Florence into certifying that Anhang's one-time wife and her twin daughters were of Jewish descent, enabling her to move to Israel, a country that does not have an extradition treaty with the United States.  Anhang, Gambling911.com can reveal exclusively, had once paid to put Charbel through college.
From the BBC:
According to prosecutors, in August 2012, Charbel Vázquez Rijos incorporated Glatt Kosher Traveller's Inc. in the Puerto Rico State Department, the plan apparently being to give his sister a means of earning money in Italy. But the travel company aimed at Jewish tourists was to prove Ms Vázquez's downfall.
The FBI and Spanish authorities set up a sting operation, inviting Ms Vázquez to Madrid to work as a guide to a fictitious tour group. She took the bait.
Rijos again fought off extradition attempts while in a Spanish prison.  It was behind bars that she gave birth to yet another child, fathered by an Italian drug dealer.  Ms. Rijos used the child as a reason to stave off extradition, claiming now to be the mother of a Spanish citizen.
Ultimately the child was snatched away from her and Rijos extradited back to Puerto Rico where Hurricane Maria further delayed the trial.
Prosecutors did agree to sign a sworn affidavit to Spanish authorities stating they would not seek the death penalty.
As it turns out, Rijos may barely serve much in the way of any prison time.
"Áurea is likely to get the lightest sentence of all the accused because she fled and waited to be extradited from a country which placed conditions on her transfer back to the United States to face justice," Anhang Sr. speculated.  
"In essence, she will be getting rewarded with the same sentence as if she were caught and sentenced in Spain. At the same time her co-accused will get longer sentences, despite having much less involvement in the crime."
- Chris Costigan, Gambling911.com Publisher