While official numbers have yet to be released, judging by traffic alone, this year's Oscars were a complete bomb for bookmakers. 
Rock made a joke about Smith's wife, a joke Smith himself laughed at initially.
The wild moment, which was censored for American consumption but was played in its entirety for the rest of the world, occurred during the final hour of the otherwise snoozefest.  The comedian, Rock, was preparing to present the nominees for the Academy Award for Best Documentary. The camera flashed to Pinkett Smith, and Rock said, "Jada, love you. G.I. Jane 2, can't wait to see it."
The reference was to the 1997 film with Demi Moore, a female who shaves her head to join a special military force brigade. Jada's head was shaven .  She currently suffers from a condition that causes hair loss.  Pinkett Smith appeared to take exception to the joke (after he hubby initially was seen laughing).  Will then approahced the stage and slapped Rock across the face.
During his SiriusXM radio show Monday morning, Howard Stern asked: "Who was running security, Liza Minnelli?"
VIA JAPANESE TELEVISION: The uncensored exchange between Will Smith and Chris Rock pic.twitter.com/j0Z184ZyXa

— Timothy Burke (@bubbaprog) March 28, 2022
Rock reportedly declined to press charges and it was later reported that Smith, who later accepted his award for Best Picture, had been filmed laughing and having a grand old time at an Oscar after party along with his wife.
In 2016, Pinkett Smith called for a boycott of that year's Oscars after her hubby had not been nominated.  Chris Rock later cracked a joke about the effort.
"Jada boycotting the Oscars is like me boycotting Rihanna's panties. I wasn't invited!" he said at the time, a joke that was far better than the one he made about Pinkett Smith Sunday night for sure.
It's not even known if Rock knew about Pinkett Smith's alopecia.
The below survey courtesy of TMZ says it all.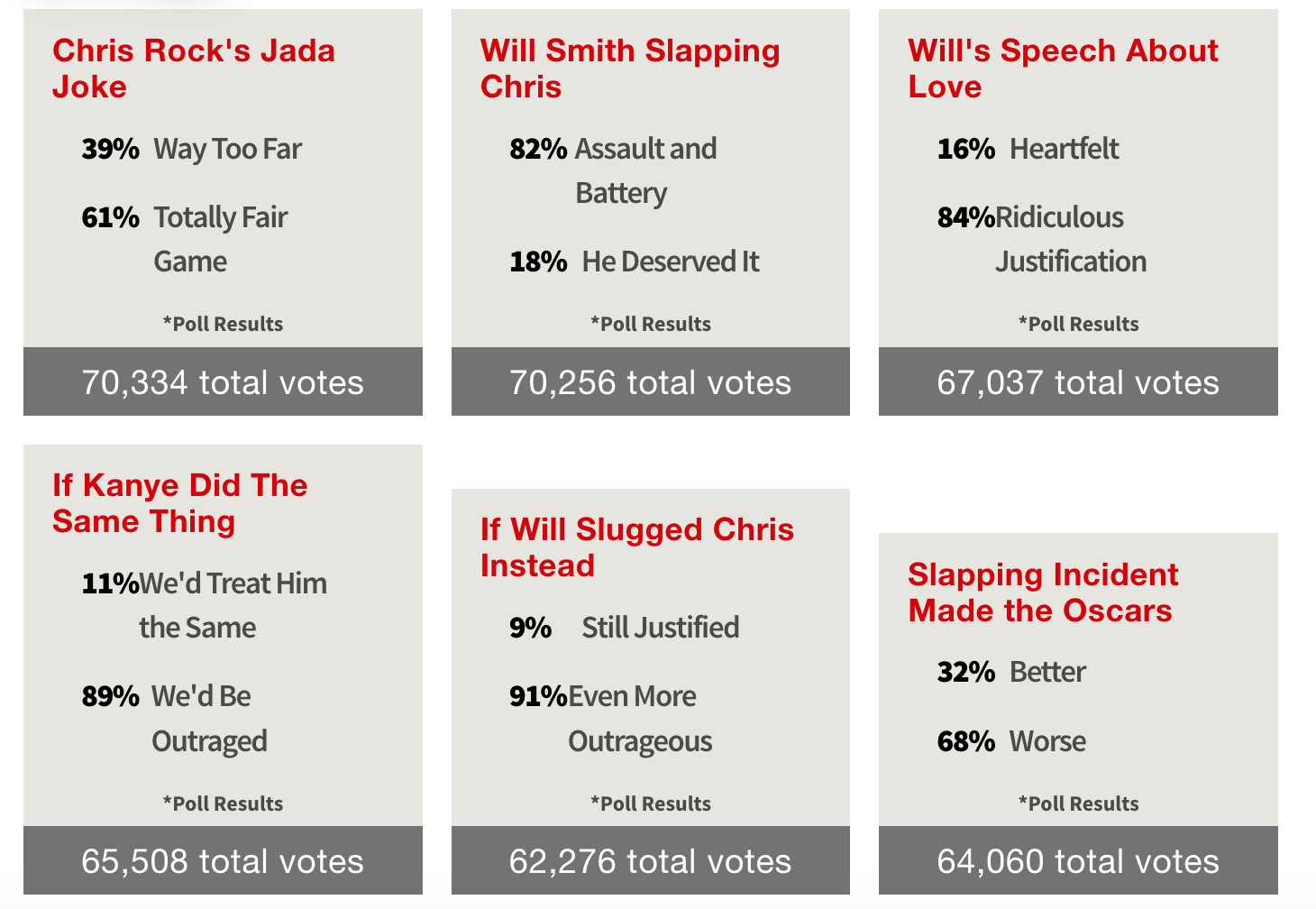 - Jagajeet Chiba, Gambling911.com