Breaking News
A sports betting bill in Arizona is limping along after an initial burst of excitement.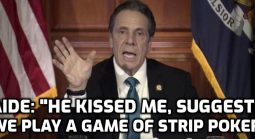 A former aide says New York Governor Andrew Cuomo kissed her, and even suggested a game of strip poker.
Ark Investment boss Cathie Wood told Bloomberg Tuesday evening she remains "very positive on bitcoin," and is "very happy to see a healthy correction here."  This may have helped push the cryptocurrency price above the $51,000 mark overnight.  But there are other factors perhaps.