Doyle Brunson Kicks Phil Hellmuth's A** at Tiger Woods Poker Night
ShareThis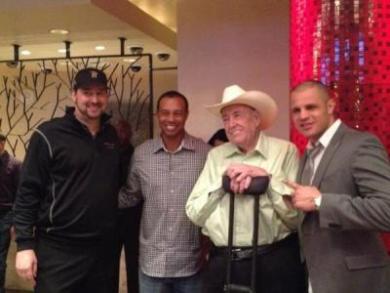 The Texas Dolly proved he still has what it takes to beat arguably one of today's best poker players, Phil Hellmuth. Doyle Brunson beat the World Series of Poker record bracelet holder at Friday night's Tiger Woods.
Poker Night, an event to help raise money for Tiger's charity foundation.
Brunson was not at all bashful about rubbing his win in Hellmuth's face a la Twitter.

Won Tiger Wood's charity poker tournament. Guess who I beat. Phil Helmuth...lol
Hellmuth, one of the most prolific tweeters, was definitely on a mission Friday night:
21 bracelet battle! @TexDolly + I agree to sell round w @TigerWoods(1st place) for TW Foundation whoever wins; made 75k MORE for charity!
Incredible finish!! @benbalamb 4th, Cruiser weight BJ Flores 3rd, and @TexDolly and I battle for the title at @TigerWoods charity tourn!
@MCHammer is still alive in @TigerWoods Charity Tourn, and at my table. Love the hammer!! I rapped a lyric to him on MIC embarrassing,.
RT @BenbaLamb At #tigerjam charity poker tourney, some celebs here. Follow @phil_hellmuth to find out who he loves to name drop<--Ha, ha
Brunson had this to say about Tiger Woods and the prize he won:
Tiger Woods was a great host. Part of my prize was a putting lesson from Tiger. I told him I would give him a lesson.. Lol
- Ace King, Gambling911.com
Submitted by Ace King on Sat, 04/28/2012 - 11:16