Breaking News
Here are today's headlines in the world of gambling and sports betting as they happen - Wednesday October 23, 2019.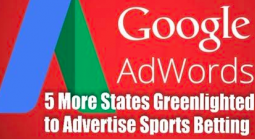 In addition to New Jersey, West Virginia and Nevada, Google will now begin permitting Adwords advertising of gambling-related companies in five more US states.   The world's largest search engine currently only allows bookmaking outsourcing companies (also known as Pay Per Head or bookie/agent software solutions) to utilize Google Adwords across the board throughout the US.
Here are today's hot sports betting tips and information headlines - Wednesday October 23, 2019.