Breaking News
Attempts to get mobile sports betting legalized in New York State may already be dead on arrival.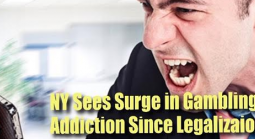 Problem gamblers have stepped forward to discuss their own private Hell brought on by gambling addiction as fears mount that legalization of mobile sports betting in New York could lead to a surge in problem gamblers.
A manager in Scotland's top division reported himself to the country's soccer federation for breaching gambling rules.