The news that billionaire co-founder of online poker firm PartyGaming, Anurag Dikshit, has settled with the US Government for $300 million was bound to send shockwaves throughout the sector when th
Submitted by C Costigan on, Dec/15/2008
The billionaire co-founder of PartyGaming, Submitted by C Costigan on, Dec/15/2008
(Press Association) Jamie Burnett has denied any wrongdoing after being placed at the centre of a betting scandal at the UK Championship in Telford on Monday afternoon.
Earlier in the day, bookmakers suspended activity on Burnett's first-round match against Stephen Maguire after a flurry of bets were placed on a 9-3 scoreline in the latter's favour. That proved the final score after Burnett missed a black in the 12th frame which would have pulled it back to 8-4.
Submitted by Guest on, Dec/15/2008
The offshore sportsbook, casino and online poker sector will have something to celebrate come March 3 as Iron Maiden arrives in Costa Rica for what is being billed as a "monster concert".
Submitted by C Costigan on, Dec/15/2008
The European Union in Brussels this week strongly condemned Norway's decision to make online gambling illegal in that Scandinavian nation.
The Norwegian parliament last week passed a proposal to ban financial transactions between Norweigan residents and online poker and Internet gambling sites, just as the US had done in October 2006.  And like in the United States, Norway's Financial Services Association and its banking sector insists they are ill equipped to monitor such transactions. 
Submitted by Guest on, Dec/15/2008
In an interview with the Card Player Magazine, Absolute Poker COO Paul Liggett acknowledged he had his work cut out for him after assuming a job with the co
Submitted by C Costigan on, Dec/15/2008
Following J.
Submitted by C Costigan on, Dec/15/2008
Phil Hellmuth aka "poker brat" took some time out of his busy schedule to sit down with Jenny to discuss the UltimateBet scandal, his involvement with some great charities and whether he
Submitted by Jenny Woo on, Dec/14/2008
A resolution sponsored by Senators Raymond J.
Submitted by C Costigan on, Dec/14/2008
Once again, the game of poker has shown itself to be a vital part of American life by being connected to a big story in the news.
Submitted by Thomas Somach on, Dec/14/2008
The Kentucky Court of Appeals listened to oral arguments in a suit brought by the Interactive Media Entertainment & Gaming Association (iMEGA) to block the seizure of 141 Internet domain names
Submitted by Guest on, Dec/13/2008
(Associated Press) Kentucky authorities want to seize 140 Internet domain names, saying the web sites bring illegal gambling within the borders of the commonwealth.
Attorneys for a trade association for the gambling web sites countered that Kentucky lacks the authority to make that move because the domain names aren't property and, besides, they are based offshore and beyond Kentucky's jurisdiction.
Submitted by Guest on, Dec/12/2008
Russia Today has an interesting article that declares poker has been recognized as a sports in that country for the first time ever, and with good reason.
Submitted by C Costigan on, Dec/12/2008
LAS VEGAS - (Canadian Press) - Things are noticeably quieter on the Las Vegas Strip these days and casinos usually known to boast excess are dropping prices to cope with a bad economy that has hit
Submitted by Guest on, Dec/11/2008
Breaking News
Nasdaq is in hot pursuit of Bitcoin-linked products in addition to other cryptocurrency options that may appeal to retail investors, the exchanges' CEO Adena Friedman confirmed Tuesday.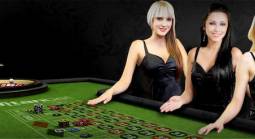 The Best sportsbook providers and price per head sites are constantly making updates and improvements to their website and product, which means it is important to choice a service that actually takes the time and spends the resources to do this.