Breaking News
A late morning standoff at the Harrah's Casio in Joliet, Illinois, just outside of Chicago, has ended peacefully.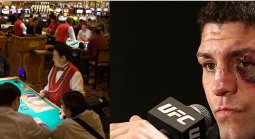 UFC fighter Nick Diaz was attacked Wednesday at the Bellagio Casino in Las Vegas shortly after 2:30 am .
Austin police have arrested a man in the slaying of a woman at an illegal gambling room during what investigators call a botched robbery attempt.