It's been two years since sports gambling outside of Nevada was legalized in the United States.  The Silver State, was an abundance of retail sports books and limited mobile that requires registration on-site, continues to lead the way, but New Jersey is nipping at their heels.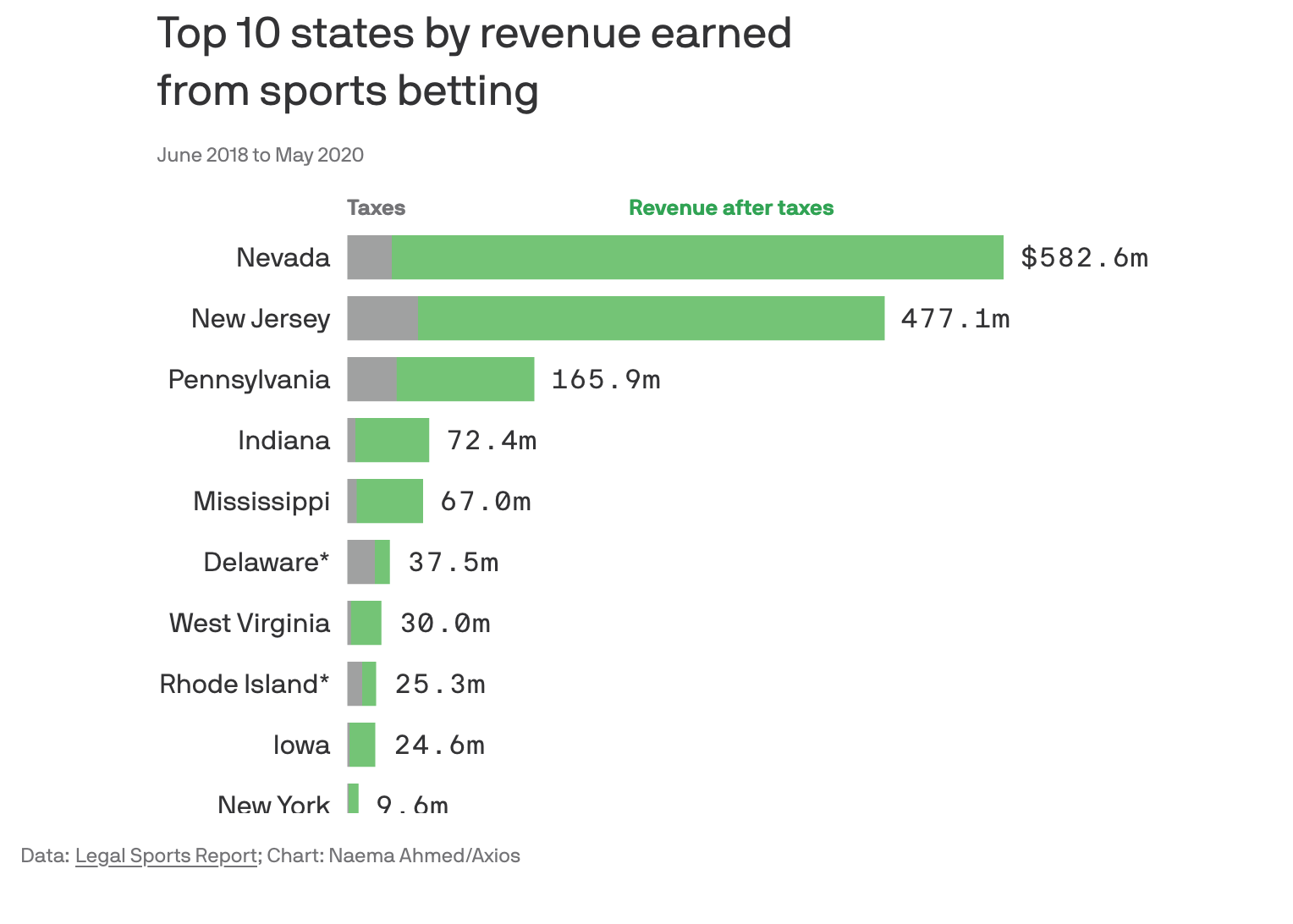 None of the other states even come close.  Granted most got off to a slower start.
Colorado just got underway with its legalized sports betting this past week.  May 1 marked the start for four apps with another thirteen looking to offering wagering in the coming weeks and months. Colorado is among the least restrictive states with the only noteworthy prohibitions being bets on college props, high school sports and those under 21 gambling for real money. 
From Axios:
Looking ahead: Former American Gaming Association executive Sara Slane, who now advises companies in the space, lays out five key trends to watch moving forward. 
The line between sports and casinos will blur as the two industries fight to capture discretionary dollars. Think: The sportsbook inside Washington, D.C.'s Capital One Arena. 
Mobile and retail operators presenting a unified front. "Expect to see a shared wallet for online gaming tied back to retail, more cashless payment acceptance on the casino floor, and rewards and comps for online play." 
Optimizing the "watch and bet" experience. Live lines must be set quickly and internet connections can't lag. 
Tech companies will enjoy rapid growth. Even (especially?) during a pandemic, "online sports betting presents an opportunity for innovation in a traditionally anemic industry." 
Gaming regulations will evolve with the times. "Sports betting will move the regulatory process forward to meet consumer demands." 
The bottom line: So much has changed in just two years, but in reality, it's only just begun. 
(AP) — Louisiana voters could determine on a parish-by-parish basis whether to legalize sports betting, under a bill that has won support from the state Senate.
Senators voted 29-8 Wednesday for the proposal by Republican Sen. Cameron Henry of Jefferson Parish Republican.
The bill calls for the sports betting authorization to appear on the Nov. 3 ballot.
Voters in each parish would decide if the wagering would be allowed in their parish. The measure heads next to the House for debate. Before betting could begin, lawmakers would have to create the licensing, regulation and tax structures.
Previous efforts to legalize sports betting have failed to reach final passage.
- Gilbert Horowitz, Gambling911.com