The Meadowlands Exposition Center was adorned with banners for this week's Betting on Sports America. 


WHY BE AN AFFILIATE WHEN YOU CAN GET 100%?  JUST PAY $5 PER PLAYER
The Betting on Sports America conference presents 175 leading industry speakers across 40 sessions, with a 61,000 sq ft large exhibition that brings you 60 exhibitors, world class hospitality, and the very best networking and business opportunities. Each evening there will be networking events at Jay Z's 40/40 Club, Meadowlands Racing and Sky Room rooftop bar in Manhattan.
The event is brought to you by the Sports Betting Community (SBC). SBC has become synonymous with sports betting over the past 10 years and runs the largest b2b media network in the sports betting industry, as well as the three biggest global sports betting trade events – Betting on Sports, Betting on Football and Betting on Sports America.
The event kicked off Tuesday night with a networking party at Jay Z's 40/40 Club in Manhattan with the program getting underway officially Tuesday morning.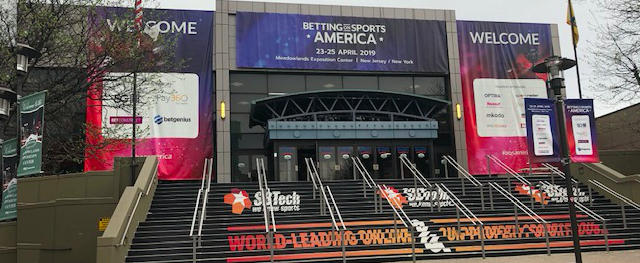 April 24 Schedule
8:30am - 6:30pm
Registration Open
9:00am - 6:30pm
Exhibition Open
10:00am - 5:20pm
Betting on Regulation (Track)
10:00am - 5:30pm
Trading & Operations (Track)
10:00am - 5:20pm
Sponsorship & Marketing (Track)
2:00pm - 5:00pm
Affiliate Insider Masterclass
5:00pm - 6:30pm
Networking Drinks (Exhibition Area)
7:00pm - 1:00am
Networking Drinks Reception & Official Party at Meadowlands Racetrack's Rooftop Bar
- Gilbert Horowitz, Gambling911.com