John "Sonny" Franzese, now 102 and living in a nursing home, was the oldest serving federal prisoner at age 100

Tells Newsday "I could never give a guy up because I knew what jail was. I wouldn't put a dog in a jail pod."

Mobster helped finance the highest grossing porn film ever Deep Throat and Texas Chain Saw Massacre

Even consented with contracts on the lives of two of his sons


WHY BE AN AFFILIATE WHEN YOU CAN GET 100%?  JUST PAY $5 PER PLAYER
Longtime Colombo under-boss John "Sonny" Franzese was the oldest serving prisoner at age 100.
At 93, Franzese was sentenced to eight years for extortion. If the government had its way, he would still be in prison until his 105th birthday.
Now 102 and living in a nursing home, the wheelchair bound Franzese stuck to the "Goodfellas" adage of "Never rat on your friends, and always keep your mouth shut" despite facing 50 years behind bars.
"They wanted me to roll all the time," Franzese told Newsday in a recent interview. "I couldn't do that. Because it's my principle. I could never give a guy up because I knew what jail was. I wouldn't put a dog in a jail pod."
He bragged to the paper that "no one in history" had done as much, likening it to godliness.
"Jesus suffered," he said. "He didn't squeal on nobody."
Franzese is listed as an associate producer of the 2003 film This Thing of Ours, which stars James Caan.  He's perhaps best known for finance the $22,000 pornographic film Deep Throat, which generated $30–50 million dollars, and The Texas Chain Saw Massacre.  Now considered among the most iconic horror films of all time, it went on to earn over $30 million from a $300,000 investment.
The late Linda Susan Boreman, who starred in Deep Throat under the pseudonym Linda Lovelace, would later go on to denounce that film and claim her then abusive husband, Chuck Traynor, had threatened and coerced her into the performance.
AllThatsInteresting.com wrote of the elderly mobster:
Franzese was twenty-one when he was arrested for the first time on charges of assault in 1938. His violent inclinations didn't cease there. A few years later, during World War II, he was discharged from the Army due to his "homicidal tendencies."
Afterward, John Franzese joined the Colombo crime family under boss Joseph Profaci. Over the course of the ensuing decades, Franzese cemented his reputation as one of New York's flashiest mobsters.
While participating in a slew of criminal activities including racketeering, loansharking, and murder, he lived a glamorous lifestyle. Franzese was a well-dressed regular at the Copacabana nightclub, where he spent lavishly and hung around with the likes of Sammy Davis Jr. and Frank Sinatra.
After his 2017 release, Assistant U.S. Attorney Cristina Posa stated that Franzese"is largely responsible for the glamorization of the Mafia over the past century,"
By the mid-1970s, John Franzese was widely believed to be one of the Mafia's biggest earners since Al Capone, taking home between $1 million and $2 million a week.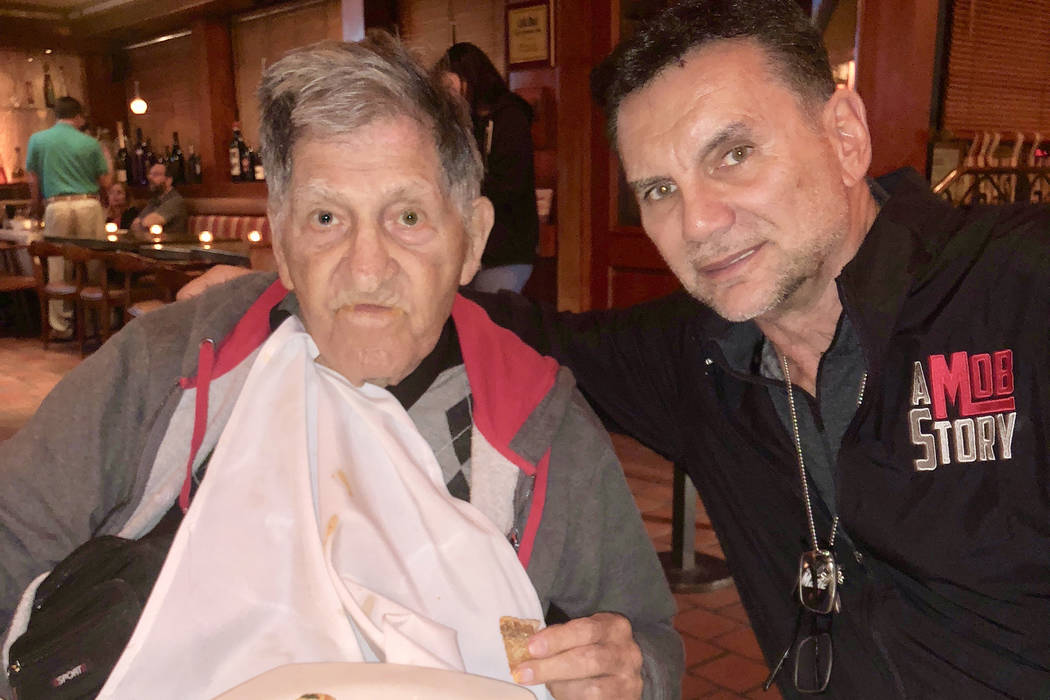 John Franzese Jr. did not follow his dad's mantra apparently, not did another son.
The younger Franzese, described as his dad's "favorite son", was placed in the federal Witness Protection program after breaking the Mafia's code of silence and testifying against his father.  He wore a wire to gather evidence against the Colombos.  His testimony helped send his father back to prison.
Still in hiding, Franzese Jr. has since left the witness protection program.
That other son, Michael, also flipped on his dad while facing his own prison sentence for racketeering and conspiracy.  He ultimately left the mob to become a movie producer and evangelical pastor.
According to court documents, the elder Franzese went along with contracts on the lives of two of his sons.
Today, Franzese regularly uses a wheelchair to get around, but hopes to get rid of it some day. He said he manages to do 40 squats every morning and tries to walk as much as possible.
In prison, he said, "I learned one thing: Determination is stronger than anything."
- Alejandro Botticelli, Gambling911.com