Jim Dandy Stakes 2013 Weather Forecast Calls for Clear Skies and Hot
Published on:
Jul/25/2013
The Jim Dandy Stakes 2013 weather forecast does not feature any rain Saturday although there is still a 20 percent chance with the skies expected to be mostly clear.  Sportsbook.com was offering odds on this race online.  They offer up to 7 percent back on weekly losses with wagering available in most US states.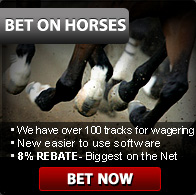 This means a dry track obviously, especially with the heat.
The Jim Dandy Stakes is among the most anticipated races of the year and already Gambling911.com has seen quite a bit of search activity leading up to the Saratoga event.
Some of the odds have changed in the past week with Palace Malice being offered up at just under 2/1 odds with more than a point shaved off that price from last week at this time.
Mylute was now at just shy of 3/1 odds.
Freedom Child's odds were slashed in half from 6/1 to 3/1.
Overanalyze and Oxbow are both out of this year's Jim Dandy Stakes, having previously been listed with single digit odds of winning last week.
All your 2013 Jim Dandy Stakes betting odds appear below.
Palace Malice
Mylute
Freedom Child
Incognito
Code West
Vyjack

9/1
Moreno

8/1
Bashear
Looking Cool
Perfect Title
Will Take Charge
- Carrie Stroup, Gambling911.com Senior Reporter