Favorite to Win 2012 Kentucky Derby Is….
ShareThis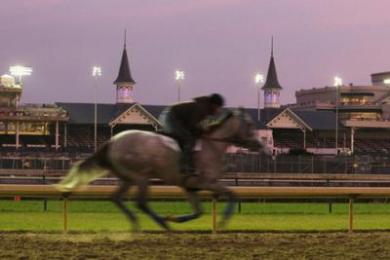 Which horse will be the favorite to win the 2012 Kentucky Derby? That is anybody's guess as two contenders – Union Rags and Bodemeister – were co-favorites at the start of the week, alternating between 4/1 and 5/1 odds at WagerWeb.com.
Two others – Gemologist and Dullahan – were right up there with 7/1 odds.
It could all come down to Wednesday's post position draw. Typically, the odds shift dramatically after the draw based on favorable starting positions (or unfavorable).
"If Bodemeister has a bad draw, then it's got to be Union Rags," Churchill Downs oddsmaker Mike Battaglia told USA TODAY Sports. "And if Union Rags has a bad draw, it would be the other way around.
History is against Bodemeister in a big way while Union Rags found himself nipped in the Breeders Cup Juvenile by Hansen, a current 14-1 long shot, hence the reason Gambling911.com predicts another contender might enjoy favorite status by Derby Day.
Bodemeister comes into the Derby unraced at 2 and the last horse to win the big race under similar circumstances did so in 1882 (note the "18", that's not a "19"). Yes, that would be 130 years ago. The Derby itself was begun in 1875.
"It will come into play," Battaglia said. "Everybody knows that statistic. He is so lightly raced, and they've asked him to do a lot in a short period of time."
One cannot underestimate Gemologist or Dullahan either.
Dullahan stunned at the recent Blue Grass while Gemologist is a perfect 5-5 after winning the Wood Memorial on April 7.
The latest 2012 Kentucky Derby odds were available from WagerWeb.com and subject to change so check their website for latest odds. Receive up to $1000 in FREE CASH for qualified new signups.
Bodemeister +400 or 4/1
Union Rags +500 or 5/1
Gemologist +700 or 7/1
Alpha +1400 or 14/1
Creative Cause +1100
Dullahan +700
Hansen +1600 or 16/1 (note Hansen's odds previously 14/1)
I'll Have Antoher +1200
Take Charge Indy +1200
El Padrino +2000
Went The Day Well +2000
Daddy Nose Best +2000
Daddy Long Legs +1400 (these odds slashed from 25/1)
Done Talking +3300
Mark Valeski +3300
Howe Great +3300
Liaison +3300
Sabercat +3300
Rousing Sermon +3300
Prospective +3300
- Dan Shapiro, Gambling911.com
Submitted by Dan Shapiro on Mon, 04/30/2012 - 18:48