For those of you looking for an early Super Bowl betting line for 2014, the Seahawks vs. Broncos pays just shy of 2-1 odds at Sportsbook.com. These odds will only be available until January 11. Reading this article after that date? Visit all the latest Gambling911.com Super Bowl 2014 news here.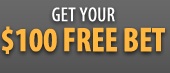 Both these teams have been favorites to win their respective conferences throughout much of the regular season. Denver was an early favorite to win the Super Bowl, however, Seattle had become the slight favorite during the second half of the season.
While the Seahawks will enjoy home advantage throughout the post season, they proved vulnerable against division rivals Arizona just a few weeks ago. Likewise, Denver lost at home to the very team they'll have to battle in the division playoffs Saturday.
These two teams only need to both make it to the Super Bowl to receive your payout.
- Carrie Stroup, Gambling911.com Senior Reporter