New Jersey Governor Chris Christie has just over one month to decide whether online gambling will be legalized in the Garden State. There is certainly no shortage of reasons why it should not be.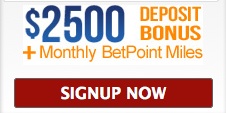 Super Storm Sandy completely ravaged the New Jersey coastline back in October. And the news hasn't gotten much better as Atlantic City reported a 6th straight year of declining profits. Sandy, of course, hasn't helped in that regard.
A bill to legalize Internet gambling already sits on Christie's desk after passing in both the state Assembly and Senate. Just over a year ago, the New Jersey Governor vetoed a similar bill in the final hours of a 45-day period in which to act. This time could be different as the Department of Justice has since given the green light to states looking to regulate Web poker within their own borders.
New Jersey, with its nearly 9 million residents, is likely to make money from the get go with intrastate online gambling but the ultimate goal is to form state compacts similar to that of the lottery system PowerBall model. This past week, Nevada announced it will pursue potential compacts, thus providing Christie even more incentive to act on this bill.
State Sen. Raymond Lesniak (D-Union), lead sponsor of the bill, voiced hopes that New Jersey might launch online gaming before May 1.
Christie has already indicated he could be willing to back legalized Web gambling even prior to recent events such as Sandy and the continued decline in Atlantic City's casino revenue.
"I think [New Jersey] should be an epicenter for [the Internet gaming] business, but I want to do it right," he was quoted as saying last year. "I do not want to rush and get legislation that either doesn't pass state constitutional muster, or creates other problems for us,"
- Gilbert Horowitz, Gambling911.com