2012 Week 9 College Football betting lines were available at WagerWeb.com here, where you can claim up to $2000 in FREE CASH for a limited time only (good until October 31 and based on initial deposit). Mobile and live wagering is available.
There are a ton of great College Football games upcoming, many of which are televised nationally.
Some of the more competitive games are Florida vs. Georgia, where the Gators are a -6.5 visiting favorite; Texas Tech vs. Kansas State and Notre Dame vs. Oklahoma, where the undefeated Fighting Irish are a +10 underdog.
Additionally there is USC vs. Arizona and Michigan State vs. Wisconsin. Undefeated OSU takes on Penn State in a game that is a PICK'EM.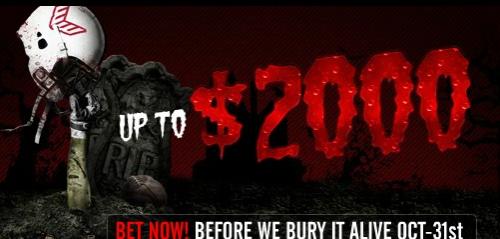 Thursday – 7:30 pm ET – Clemson -12 Wake Forest Bet Now
Friday – 8 pm ET – Cincinnati +3.5 Louisville Bet Now
Saturday – 8:30 pm ET – Mississippi State +24 Alabama Bet Now
Saturday – 3:30 pm ET – Florida -6.5 Georgia Bet Now
Saturday – 3:30 pm ET - Texas Tech +7 Kansas State Bet Now
Saturday – 8 pm ET – Notre Dame +10 Oklahoma Bet Now
Saturday – 3:30 pm ET – USC -6.5 Arizona Bet Now
Saturday – 12 pm ET – Tennessee +14 North Carolina Bet Now
Saturday – 3:30 pm ET – Kent State +13.5 Rutgers Bet Now
Saturday – 3:30 pm ET – Michigan State +6 Wisconsin Bet Now
Saturday – 5:30 pm ET – Ohio State PICK'EM Penn State Bet Now
- Dan Shapiro, Gambling911.com