Carrie Stroup here with your United States vs. Portugal morning betting odds and this is yet another big game getting plenty of traction here at Gambling911.com, not to mention Sportsbook.com, which is taking thousands of bets on this critical matchup Sunday.

Sportsbook.ag Line: Portugal -129, United States +290, Tie +315
Over/Under: 2.5 Goals (Over -125, Under -105)
After getting thrashed in its opening match of the 2014 World Cup, Portugal faces a must-win situation Sunday night when it takes on a confident United States squad.
The Americans scored a goal in the first minute of their tournament opener and after allowing the equalizer at the 82-minute mark, John Brooks Jr. regained the lead for the U.S. just four minutes later with the game-winning goal for a crucial 2-1 victory. Meanwhile, Portugal was thumped by Germany 4-0, as Thomas Muller netted a hat trick. In addition to the poor result, Portugal is now dealing with a knee injury to star forward Cristiano Ronaldo. Portugal will definitely be without two key defenders in Fabio Coentrao (groin injury) and Pepe (red card). However, the United States will be missing starting striker Jozy Altidore, who is likely finished for the 2014 World Cup because of a left hamstring injury. Although the Americans are a sizable underdog on Sunday, these teams are 2-2-1 with five goals apiece versus one another in their past five meetings.
Scroll Down for More...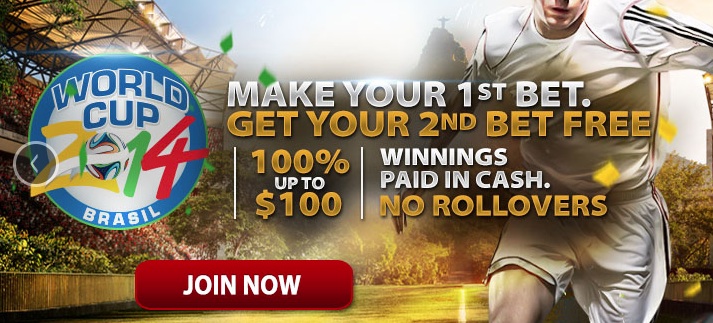 Although the United States picked up a key three points against Ghana, the club was outshot 21-8, but only 8-7 in terms of shots on goal. Ghana possessed the ball 60% of the time and produced seven corner kicks, compared to just three for the Americans. But the U.S. did play a very disciplined match, committing only 12 fouls with zero cards and one offsides call. Midfielder Clint Dempsey opened the scoring in the first 30 seconds of the game with the fifth quickest goal in World Cup history, and well before reserve defenseman John Brooks Jr. won it at the 86-minute mark with his header off a Graham Zusi corner kick. Dempsey might play with a protective mask over his face after breaking his nose in the win over Ghana. Altidore will certainly be missed, as he has scored 22 goals in 70 matches with the U.S. team, and it's not clear who will replace him. The most likely options are Aron Johannsson and Chris Wondolowski. Johannson is younger (23) and faster, but Wondolowski (31) has more experience and is better ball-striker with 80 goals over the past five MLS seasons.
Portugal will be eliminated from knockout-round contention with a loss, but the Seleccao do not want to settle for a tie here. If Ronaldo's knee prevents him from being his normal self, watch out for Heider Postiga. Postiga has netted 27 goals in 69 matches since 2003. Portgual will also ask more offense out of midfielders Andre Almeida and Joao Moutinho. Despite the 4-0 losing result, Seleccao actually outshot Germany 14-13 with both teams putting nine of those shots on goal. And the score was only 2-0 before Pepe was given a red card for head-butting at the 37-minute mark, putting his team in a no-win situation playing down a man for more than 50 minutes. Portugal also had more corner kicks (six) than Germany (four), and ball possession was a nearly even split at 54% for Germany and 46% for Portugal. Seleccao has to put the first match behind them, and it is imperative for them to strike first in this must-win contest.
- Carrie Stroup, Gambling911.com Senior Reporter