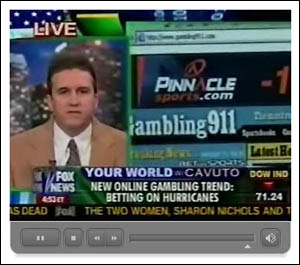 Since September 2000, Gambling911.com has been the leading resource for news pertaining to the world of online gambling worldwide, though we've been involved in the online gaming industry since 1997 (we were in beta operations since 1999, our official launch year).  Since that time, Gambling911.com has evolved into the primary gateway for those around the world to learn about the world of online gambling.  Most people find us via our strong presence in the top search engines as well as social media websites like Twitter. 
Our founder, Chris Costigan, has appeared on Fox News, ABC News, CNBC and even the Weather Channel (discussing hurricane betting) as well as in the Wall Street Journal, Miami Herald, Bloomberg, Associated Press and most major news outlets.  We were proudly mentioned in the 2006 Forbes Billionaire issue as part of it cover story (and, no, we were not the billionaire being profiled but rather the company influential in promoting his company).
In recent years, Gambling911.com has expanded its coverage to include news from all facets of the multi-billion dollar gambling sector including poker, Daily Fantasy Sports, the land-based casino world and, more recently as we enter 2018, the emerging cryptocurrency sector. 
Based in Miami Beach, Florida, Lloydminster, Alberta, Canada, and San Diego, California, Gambling911.com is the news authority when it comes to all the latest odds on current events, everything from sports to politics to entertainment as well as all the latest fantasy sports news.  We don't just focus on players, we also cover the explosive industry as a whole.
When it comes to big time betting events, gamblers know where to go to find the latest odds, betting previews and props.  In fact, this past summer's Mayweather-McGregor fight yielded traffic on par with that of ESPN and other mainstream sports sites the entire 24 hours leading up to that phenomenal event.
We are often the first news outlet to break stories involving the gambling industry 24/7. 
Scroll Down to See Which Media Outlets Have Mentioned Gambling911.com
Gambling911.com is owned by Costigan Media, LLC and we have successfully lead the way for ALL online media to be granted rights as maintstream television and print in regards to the freedom of information (see Costigan Media vs. US Government).
Gambling911.com holds a vendor license in the state of New Jersey issued by the state Gaming Commission.
To Contact Gambling911.com, go here for easy form submission.
Advertising Information - Gambling911.com offers both Ongoing Content and Banner campaigns and PR publication campaigns. To have your press release published and optimized on Gambling911.com, please email Payton O'Brien for further details.
You can reach the Publisher Here.  We work with many different PR agencies.
By Phone: 732-261-3138
From Fox News "Fox and Friends" Super Bowl Edition 2006
Chris Costigan (middle) celebrating the cryptocurrency revolution with Bitcoin's first millionaire investor Roger Ver (right) and billionaire Calvin Ayre (left)
Discussing the 2016 Daily Fantasy Sports Expo in Miami Beach, moderated by Chris Costigan
From the Miami Herald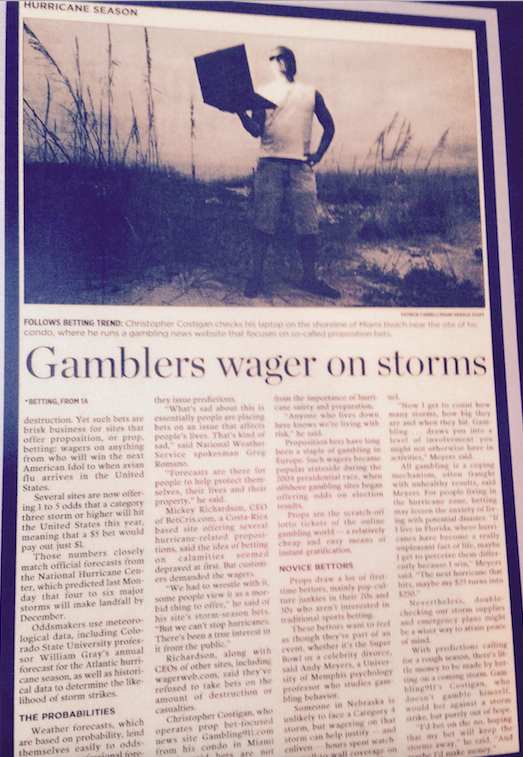 G911's Chris Costigan at the Battle of Malta with Amazing Race Contestant and Poker Celeb Maria Ho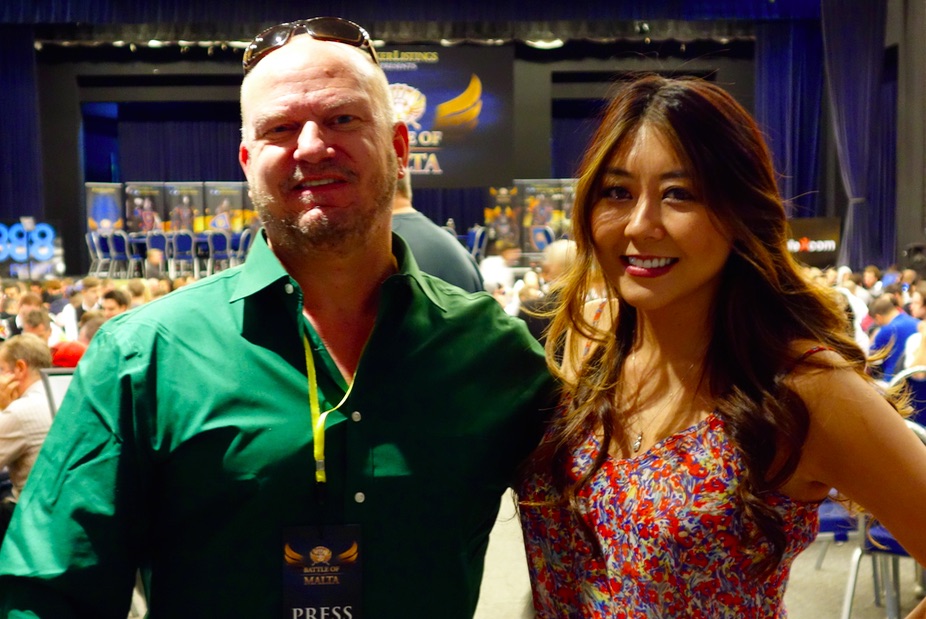 Calvin Ayre CoinGeek.com Party in Antigua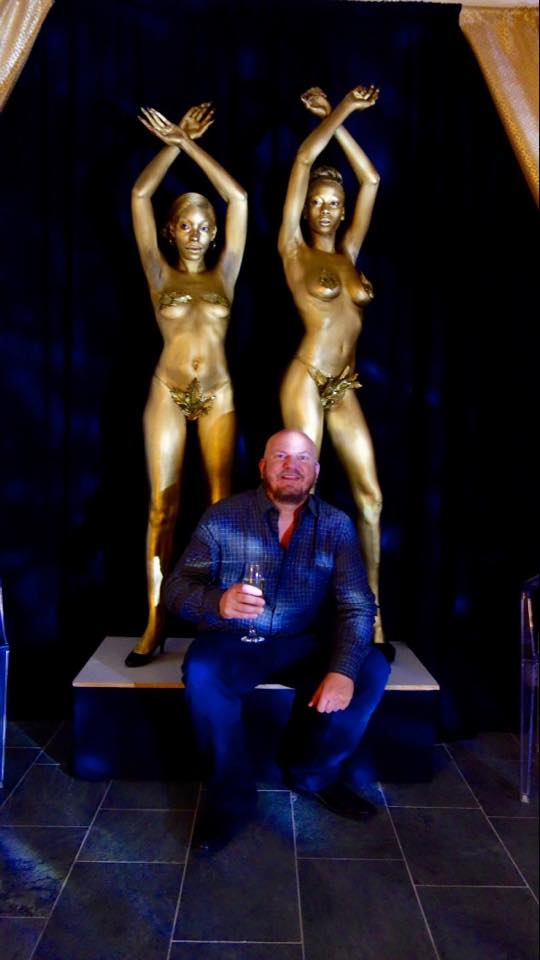 From the New York Observer
From Forbes 2006 Billionaire's Issue Cover Story  (www.forbes.com/forbes/2006/0327/112_2.html)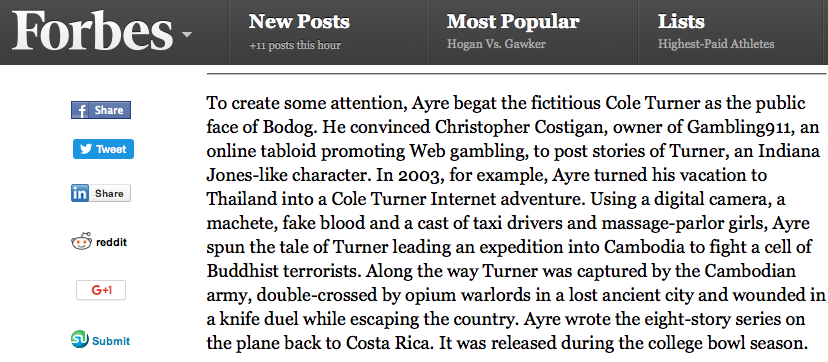 From Fox Sports
Gambling911.com has been mentioned in numerous publications and on various media outlets across the world including:
The Forbes Billionaire 2006 Cover Story (read here)
Fox News – Gambling911.com Founder Discusses Super Bowl
Miami Herald – Betting on Hurricanes
ABC News – 2008 US Presidential Odds (Watch Here)
Also Mentioned In:  Reuters, The Associated Press, Red Herring, The New York Post, San Francisco Chronicle, Daily Mail (UK), Business Week, and many more (see entire list here)
Gambling911.com has also been featured in a segment of the Weather Channel's "Storm Stories" and on MTV Canada.
Our Staff & Contributors
Christopher Costigan, Gambling911.com Founder and Publisher
Payton O'Brien, Senior Editor and Marketing Director
Thomas Somach, Investigative Reporter
Jenny Woo, Senior International Correspondent
Jagajeet Chiba, Chief Correspondent
Alejandro Botticelli, Reporter
Don Shapiro, Senior Sports Betting Reporter
Dan Shapiro, Sports
Tyrone Black, Sports
Ean Lamb, Sports
Mary Montgomery, Sports
Ace King, Poker
Tony Caliente, Sports Bookmaking Expert
Nagesh Rath, Poker
Mike Taylor, Sports Betting
Jordan Bach, Entertainment
Sparky Collins, Entertainment
Aaron Goldstein, Business
Alistair Prescott, Sports and General
Wayne Allyn Root, Special Contributor (Former 2008 Libertarian Vice Presidential Candidate)
Tony George, Special Contributor, Sports Betting
Ean Bull (Chief Technologist, Server Manager)
Flash Callahan (Head of Website Database Development)