Betting on this year's Super Bowl is possible from the great state of California using BetUS, where you can claim your generous welcome bonus (max bonus $2500). 18 and up are welcome.  BetUS does not report your winnings or ask for a social security number.  There are also now in-state apps requiring individuals to be 21 and up.  These apps require a social security number to register.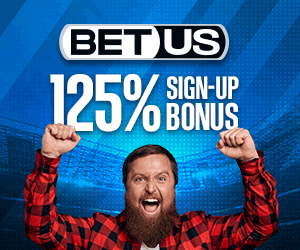 Are In-State Mobile Sports Betting Apps Available?
No.  Those individuals residing in or visiting California will need to access betting services via browser-based websites on your mobile phone.  California at this time does not regulate or license sports betting sites.  Therefore you will need to place your Super Bowl bets with websites licensed outside the state such as BetUS.
In-State Mobile App Rating
NA
Recommended Betting Site for California Residents and Visitors
BetUS - In business for more than 25 years now, you'll find all your favorite former athletes offering predictions on games, including the Super Bowl, courtesy of BetUS TV (check out the Gambling911.com Video feed daily)
More reasons to like BetUS:
Payouts within 3 to 5 days or less

Best bonuses in the business (up to $2500)

Fast and easy deposit/withdrawals

24/7 customer service

Live in-play on all major games

Hundreds of Super Bowl prop bets

Best betting variety in the business

100% referral bonuses
Remember too that BetUS features a live dealer online casino, eSports betting, political, awards, pageants and entertainment betting props as well as a full service race book.  BetUS does not report winnings.
Explore the BetUS Website Here

What Bets Are Available for This Year's Super Bowl?
Hundreds of prop bets are available for this year's Super Bowl.  These include everything from scoring props to the National Anthem to the Coin Toss to the Gatorade Shower.
Below were your top 10 prop bets by handle and by total amount wagered from the 2021 Super Bowl:
Top ten prop bets by handle
MVP Award Winner - Patrick Mahomes: -106
MVP Award Winner - Tom Brady: +210
Coin Toss Outcome - Heads: -103
Coin Toss Outcome - Tails: -103
Leonard Fournette to have Most Rushing Yards: +175
First Scoring Play - KC Chiefs Field Goal: +430
First Scoring Play - TB Buccaneers Field Goal: +420
First Scoring Play - KC Chiefs Touchdown: +155
Tom Brady over 0.5 Rushing Yards: +140
Over 2.5 Players to Attempt a Pass: +165
Top ten prop bets by total bets
MVP Award Winner - Patrick Mahomes: -106
MVP Award Winner - Tom Brady: +210
Leonard Fournette to have Most Rushing Yards: +175
First Scoring Play - KC Chiefs Field Goal: +430
First Scoring Play - TB Buccaneers Field Goal: +420
First Scoring Play - KC Chiefs Touchdown: +155
Coin Toss Outcome - Tails: -103
First Scoring Play - TB Buccaneers Touchdown: +195
Over 2.5 Players to Attempt a Pass: +165
Clyde Edwards-Helaire to have the Most Rushing Yards+400
- Don Shapiro, Gambling911.com