How Do I Start a Sportsbook From Illinois?
Published on:
Apr/01/2023
Illinois is an excellent state in which to be a bookie.  Even though the state now allows for betting on home teams like the Fighting Illini and Wildcats, you'll need to wager in person on those teams at a casino.  Not exactly the most convenient.  The local bookie makes things much easier by placing those team bets online using the pay per head software.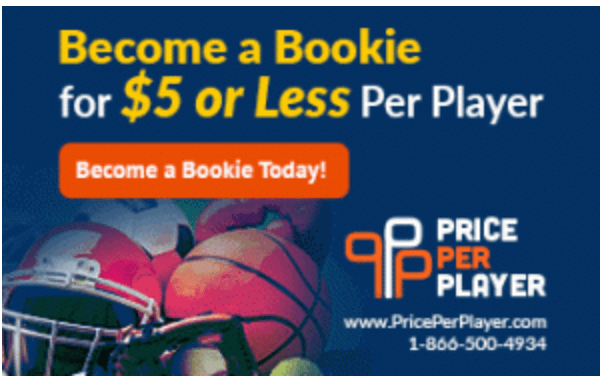 How to Start Your Online Mobile Sportsbook in Illinois
For a fee as low as $5 per head (per customer/player) per week, you will get a customized website for your players, 24/7 customer service (online and by phone), full odds service, live in-play wagering, betting on most international sports, full reporting, an online casino, a horse book and much more.  PricePerPlayer is currently running a FREE TRIAL and price per player of just $5 per week.
There are no upfront costs such as the purchase of the software, etc...  Also no need to hire anyone other than the recommended accountant and perhaps an assistant.  Remember, you will be spending most of your time on the beach. 
Is Sports Betting Regulated in Illinois?
Yes.  But as noted above, you won't be able to wager on your favorite in-state schools using any of the Illinois-regulated apps.  That's where the local bookie comes into play and stands to profit in a big way during the college football season and college basketball season.  At least one, sometimes more, Illinois teams tend to make the NCAA tournament each year. 
The competition is not bad either with Illinois home to only seven apps at this time (ideal for the state's population of just over 12 million).  These apps include DraftKings, FanDuel, PointsBet, Caesars, BetRivers, BetMGM and BarStool.
The legal age for the apps is 21 but local bookies typically allow those 18 and up to place bets.
The tax withholding is brutal here. Sports bet winnings over $600 are subject to a 15% state tax rate on top of the standard federal 25% of winnings.  Do the math and you'll quickly see why local bookies do pretty well here.
As with most states, online casino gambling is not offered on the apps.  Bookie pay per head sites do offer the free online casino, some of which are live dealer, and a horse racing platform.
Benefits of Betting With a Local vs. Regulated Sportsbook in Illinois
There are plenty of state-regulated apps for the Illinois gambler.  But local bookies provide anonymity, wagering on credit and typically accept customers 18 and up.  They also do not require extensive paperwork.  Pay per head businesses like AcePerHead.com also provide wagering on many events and options not available at regulated books.  They also feature an online casino and racebook.  Local bookies do not report your winnings to the IRS (you still need to file your taxes).
Safeguards
Never accept customers you have not fully screened beforehand.  You should either be familiar with your customers or they should contain references.  A pay per head has eliminated a number of elements of the bookmaking business once deemed to be illegal such as the operation of a wire room and the settlement of payments/collections via cash.  For example, bets are placed over a secure website with servers outside the United States.  Bets by phone are strongly discouraged. 
Pay per heads like PricePerPlayer also offer money transactions via Bitcoin and other cryptocurrencies that take place via the website.
Take That Extra Step:
Do not take bets over the phone.
Avoid taking on customers who reside outside your state.
Know your customers and check referrals.
Do not engage with individuals involved in any type of criminal activities.
Use cryptocurrencies, including Bitcoin Tumblers provided by AcePerHead, for secure anonymous transactions.
Keep your customers information private.
Always file your taxes.
Today's pay per head businesses are regular sponsors on your favorite search engines so they enjoy maximum exposure, but not all pay per head businesses are the same.  PricePerPlayer is one of the most established in the industry.
Avoid those services that only offer the software for super cheap and nothing else.
Illinois Team Report (Updated April 1, 2023)
Chicago Bears - Chicago in 2023 is expected to be improved with middle-of-the-road odds at 50-1.  Ahead of the Draft, the team is light at receiver, they'll need a pass-rushing defensive end and, with Riley Reiff off to New England, they will require a decent enough right tackle to replace him. Following the Draft we will see how these Bears have fared.
Illinois Fighting Illini College Football - The Illini will pay out $20,000 with a College Football Playoff Championship win this season.
Bret Bielema is hopeful his Illini can build off of last season's success and perhaps win the Big Ten West title.  They defeated Wisconsin, Iowa, and Minnesota in the same season for the first time since divisional alignment in 2014.
Reggie Love III and Josh McCray combined for 1,105 career rushing yards last season and both return in 2023.  They'll be returning some of the same players in a unit that ranked No. 1 in the Big Ten in total defense (263.8 ypg), pass defense (165.4 ypg), and scoring defense (12.3 ppg) in 2022.
Their secondary was among the best last season and, while some of the stars of that unit have since departed, their replacements should ensure success continues on this front. They include the likes of Tahveon Nicholson (19 tackles, 1 forced fumble, 1 INT in '22), Xavier Scott (15 tackles, 1 pass deflection), and Matthew Bailey (3 INTs, 2 pass breakups)
The schedule also looks favorable.
Chicago White Sox and Chicago Cubs - These teams pay 40-1 and 75-1 odds, respectively, with a World Series win in 2023.
Chicago Bulls - They have played around .500 basketball both straight up and Against The Spread in 2023.
- Don Shapiro, Gambling911.com