Tiger Woods US Open odds are the best we've seen for any golf tournament he's appeared in.  At nearly 5/1 odds, Woods would pay out $50 for every $10 bet at Sportsbetting.com (Submitted by Guest on, Jun/16/2010
Tiger Woods is hoping for a little déjà vu at this week's U.S. Open, and not the kind that involves recent disastrous post-scandal performances.
Submitted by Ean Lamb on, Jun/14/2010
Breaking News
One of Boston's largest tech companies is moving into a new corporate headquarters.
Scrambling to fill out a March Madness bracket? Betting lunch money that you can pinpoint the Final Four better than co-workers or family?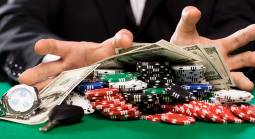 Karen Carter Peterson, a state senator from New Orleans and chair of the Louisiana Democratic Party, admitted to a gambling problem Friday — minutes after WWL-TV posted a news story reporting that she had violated a ban on entering Louisiana casinos.