Eagles vs. Giants Betting Odds - Division Round 2023
Published on:
Jan/19/2023
The Eagles vs. Giants betting odds were listed at Philadelphia -7.5 after opening at -7 most books.
We get a number of Eagles 6.27 for a slight overlay of 1 point.  Lines of 7/7.5 have offered little edge for either the favorite or underdog in either the NFL or college football this season.
What bettors will mostly be focused on here are the abundant number of recent head-to-head trends between these two teams. Philadelphia has won the last three while New York won the previous two.  The Eagles, though, are 8-2 Straight Up in the last ten.  The Giants are 4-2 Against The Spread using the current 7.5 number.   The Giants are 6-3 Against The Spread in the last nine using the 7.5 number.
In this video, Drew Butler and Jonathan Casillas give their expert predictions on the upcoming NFL Divisional Round game between the Giants and Eagles.
Early 2023 Division Round Betting Action
Giants at Eagles (-7.5, 47.5)
68.6% of $ on Giants +7.5
57.4% of $ on Eagles ML (-335)
56.3% of $ on UNDER
Jaguars at Chiefs (-9, 52)
55.6% of $ on Jags +9
90.9% of $ on Chiefs ML (-470)
56.8% of $ on OVER
Bengals at Bills (-5.5, 49)
55.5% of $ on Bills -5.5
51.2% of $ on Bengals ML (+220)
68.7% of $ on OVER
Cowboys at 49ers (-4, 46.5)
60.1% of $ on Niners -4
59.1% of $ on Niners ML (-205)
62.5% of $ on OVER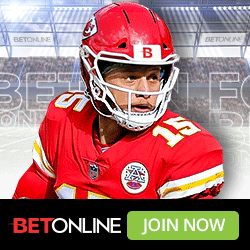 Hot Betting Trends - Giants vs. Eagles
Rot     Player To Score First Touchdown in the game     Moneyline
101     Saquon Barkley (NYG)         +650
102     Daniel Jones (NYG)         +1600
103     Isaiah Hodgins (NYG)         +1800
104     Richie James (NYG)         +2000
105     Darius Slayton (NYG)         +2000
106     Daniel Bellinger (NYG)         +2200
107     Matt Breida (NYG)         +3300
108     Gary Brightwell (NYG)         +4000
109     Kenny Golladay (NYG)         +4000
110     Lawrence Cager (NYG)         +4000
111     Marcus Johnson (NYG)         +5000
112     Nick Vannett (NYG)         +5000
113     Jalen Hurts (PHI)         +550
114     Miles Sanders (PHI)         +600
115     A.J Brown (PHI)         +650
116     DeVonta Smith (PHI)         +850
117     Dallas Goedert (PHI)         +1100
118     Boston Scott (PHI)         +1600
119     Quez Watkins (PHI)         +2000
120     Kenneth Gainwell (PHI)         +2200
121     Zach Pascal (PHI)         +4000
122     Grant Calcaterra (PHI)         +5000
123     Jack Stoll (PHI)         +5000
124     Any Other Touchdown Scorer         +700
125     No Touchdown Scorer         +10000
All wagers have action.
Rot     Daniel Jones (NYG) Total Passing Yards     Moneyline
1001     Over  216½  Passing Yards     -110
1002     Under  216½  Passing Yards     -120
Must Start for action.
Rot     Daniel Jones (NYG) Total Completions     Moneyline
1003     Over  21½  Completions     Ev
1004     Under  21½  Completions     -130
Must Start for action.
Rot     Daniel Jones (NYG) Total Passing Attempts     Moneyline
1005     Over  33½  Passing Attempts     -110
1006     Under  33½  Passing Attempts     -120
Must Start for action.
Rot     Daniel Jones (NYG) Total Touchdown Passes     Moneyline
1007     Over  1½  TD Passes     +125
1008     Under  1½  TD Passes     -155
Must Start for action.
Rot     Daniel Jones (NYG) Total Interceptions     Moneyline
1011     Over  ½  Interceptions     -110
1012     Under  ½  Interceptions     -120
Must Start for action.
Rot     Daniel Jones (NYG) Longest Completion     Moneyline
1013     Over  33½  Yards     -115
1014     Under  33½  Yards     -115
Must Start for action.
Rot     Daniel Jones (NYG) Total Rushing Yards     Moneyline
1015     Over  45½  Rushing Yards     -125
1016     Under  45½  Rushing Yards     -105
Must Start for action.
Rot     Saquon Barkley (NYG) Total Rushing Yards     Moneyline
1041     Over  70½  Rushing Yards     -120
1042     Under  70½  Rushing Yards     -110
Must Play for action.
Rot     Saquon Barkley (NYG) Total Rushing Attempts     Moneyline
1043     Over  15½  Rush Attempts     -120
1044     Under  15½  Rush Attempts     -110
Must Play for action. Must have 1 Rush Attempt for Action.
Rot     Saquon Barkley (NYG) Longest Rush From Scrimmage     Moneyline
1047     Over  15½  Yards     -120
1048     Under  15½  Yards     -110
Must Play for action. Must have 1 Rush Attempt for Action.
Rot     Saquon Barkley (NYG) Total Receptions     Moneyline
1049     Over  4½  Receptions     +115
1050     Under  4½  Receptions     -145
Rot     Jalen Hurts (PHI) Total Passing Yards     Moneyline
2001     Over  246½  Passing Yards     -120
2002     Under  246½  Passing Yards     -110
Must Start for action.
Rot     Jalen Hurts (PHI) Total Completions     Moneyline
2003     Over  20½  Completions     -130
2004     Under  20½  Completions     Ev
Must Start for action.
Rot     Jalen Hurts (PHI) Total Passing Attempts     Moneyline
2005     Over  30½  Passing Attempts     -120
2006     Under  30½  Passing Attempts     -110
Must Start for action.
Rot     Jalen Hurts (PHI) Total Touchdown Passes     Moneyline
2007     Over  1½  TD Passes     -160
2008     Under  1½  TD Passes     +130
Must Start for action.
Rot     Jalen Hurts (PHI) Total Interceptions     Moneyline
2011     Over  ½  Interceptions     -105
2012     Under  ½  Interceptions     -125
Must Start for action.
Rot     Jalen Hurts (PHI) Longest Completion     Moneyline
2013     Over  37½  Yards     -120
2014     Under  37½  Yards     -110
Must Start for action.
Rot     Jalen Hurts (PHI) Total Rushing Yards     Moneyline
2015     Over  50½  Rushing Yards     -130
2016     Under  50½  Rushing Yards     Ev
Must Start for action.
Rot     Miles Sanders (PHI) Total Rushing Yards     Moneyline
2041     Over  66½  Rushing Yards     -120
2042     Under  66½  Rushing Yards     -110
Must Play for action.
Rot     Miles Sanders (PHI) Longest Rush From Scrimmage     Moneyline
2047     Over  15½  Yards     -110
2048     Under  15½  Yards     -120
Must Play for action. Must have 1 Rush Attempt for Action.
Rot     Miles Sanders (PHI) Total Receiving Yards     Moneyline
2051     Over  4½  Receiving Yards     -125
2052     Under  4½  Receiving Yards     -105
Must Play for action.
Rot     A.J Brown (PHI) Total Receptions     Moneyline
2101     Over  5½  Receptions     +120
2102     Under  5½  Receptions     -150
- Mary Montgomery, Gambling911.com