Two Weeks After Arrest, Raid, Sonny Moraban Residence Under Renovations?
Published on:
Mar/15/2023
It was March 1 Gambling911.com brought you the arrest of crypto kingpin Sonny Moraban live as it happened.  Moraban and two co-conspirators, one of whom is his dad and the other his attorney, are facing more than five dozen counts of money laundering, conspiracy and more for allegedly operating unlicensed crypto kiosks in Ohio that knowingly benefited from victims of cryptocurrency scams. 
Meraban was CEO and founder of Bitcoin America.
The defendants are set for arraignment on March 22 in the Cuyahoga County Court of Common Pleas in Cleveland, Ohio.  Meraban was believed to have been extradited there already.
Exclusive video of #SonnyMeraban arrest in #MiamiBeach Wednesday morning - 3 more indictments announced Thursday afternoon https://t.co/P9pcak6Egz pic.twitter.com/kUJZzhSlEA

— gambling911 (@gambling911) March 2, 2023
Officers from a special elite Miami task force were present at Sonny's residence for the remainder of the afternoon of March 1.  The main Miami Beach thoroughfare of Collins Avenue was shut down for four blocks while the arrest was taking place just after 7 am that morning.  Sonny resided there for approximately three years and was not the owner of the multi-million dollar Altos Del Mar property. 
"I would like to personally thank the United States Secret Service for their incredible hard work throughout the investigation of this case," said Michael O'Malley in a press release. "I would also like to thank the additional 28 agencies that worked alongside our office and the Secret Service. Without the assistance from each and every one of these law enforcement agencies, these individuals would be continuing to profit off of their illegal activities."
"The United States Secret Service has an integrated mission of protection and investigations that safeguard our nation's financial infrastructure," said Acting Special Agent in Charge of the Cleveland Field Office Blaine Forschen in a press release. "This effort is another example of how we achieve our mission through partnerships with local, state and regional allies such as the Cuyahoga County Prosecutor's Office."
As for that Miami Beach residence, there was some activity going on there Wednesday morning.  Moraban, we would note, is not the owner of the property.
It's been exactly two weeks since Sonny Meraban was arrested and his residence raided and searched with numerous items removed. Meraban is facing over 5 dozen counts of fraud and more tied to an alleged #bitcoin ATM scheme. Let's see what's happening at his home Wednesday AM. pic.twitter.com/iNfAHmFgTL

— gambling911 (@gambling911) March 15, 2023
A black pickup truck was observed parked outside the heavily foliaged Collins Avenue-facing patio portion of the home with the gate wide open.
That pickup truck moved to the backside of the home and individuals were spotted moving about on the patio.  Chainsaws were also heard buzzing.
A notice appears conspicuously posted on the outside wall of the residence.  It's not the US Government of law enforcement advising that the home has been seized.  Instead, it's a lost dog poster.  We do hope that Fluffy is found safely of course.

(Above) gate to Sonny Meraban residence wide open as individuals moving around inside patio area.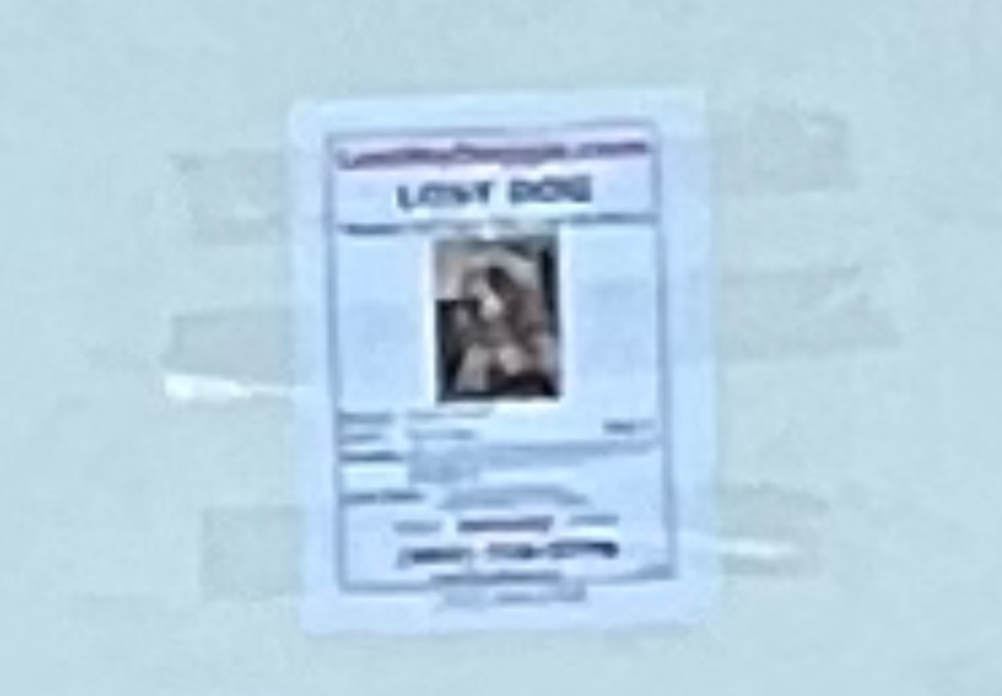 (above) The Meraban residence wall now features a Wanted Poster....for a lost dog. 
- Jagajeet Chiba, Gambling911.com