Published on:
May/24/2008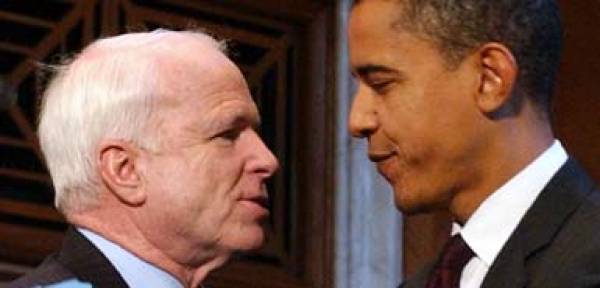 A number of Republican Congressmen have declined to endorse Senator John McCain for President, including Ron Paul of Texas who is still running for President.
Republican members who have not endorsed or publicly backed McCain include Sens. Chuck Hagel (Neb.) and Jeff Sessions (Ala.) and Reps. Jones, Peterson, John Doolittle (Calif.), Randy Forbes (Va.), Wayne Gilchrest (Md.), Virgil Goode (Va.), Tim Murphy (Pa.), Ron Paul (Texas), Ted Poe (Texas), Todd Tiahrt (Kan.), Dave Weldon (Fla.) and Frank Wolf (Va.).
Many of the recalcitrant GOP members declined to detail their reasons for withholding support, but Rep. John Peterson (R-Pa.) expressed major concerns about McCain's energy policies and Rep. Walter Jones (R-N.C.) cited the Iraq war, according to a report from TheHill.com
McCain is currently listed with +135 odds of becoming the next President of the United States at SBG Global for a payout potential of $135 for every $100 bet. Compare that with Senator Barack Obama's -175 odds requiring a $175 bet to receive $100.
TheHill.com reported the following on Thursday:
Throughout his career in the House and Senate, McCain has been at odds with his party on a range of issues, including campaign finance reform, earmarks, immigration, healthcare, taxes and energy.
Some Senate Republicans were especially irked with McCain's role in the "Gang of 14" deal on judicial nominations.
Rep. Tom Tancredo (R-Colo.), who has been sharply critical of McCain on immigration, told The Hill in February, "I don't like McCain. I don't like him at all."
Tancredo spokesman Mac Zimmerman said Tancredo won't endorse McCain because he fears the senator would repudiate it like he did with the formal backing of controversial pastor John Hagee.
However, Tancredo told ABC News this week he will reluctantly vote for McCain.
Meanwhile, Ron Paul continues his own Presidential campaign on the Republican ticket.
Representative Ron Paul, the Republican presidential candidate, will be the main attraction at the Twin Cities confab. No, not the Republican National Convention fewer than eight miles away at the XCel Center, but at his own party, to be held on the second day of the event that will seal Senator John McCain as the G.O.P. nominee.
"This isn't a protest," said Jesse Benton, the libertarian-leaning Republican's spokesman. "This is a celebration of limited government and Republican principles."
Paul had been building momentum during the final weeks of the Primary voting, where he received double digit percentages in nearly every remaining state. An AOL poll showed he was getting more of the vote among Republicans in a handful of Northwestern States, which was reflected in primary voting as well - particularly Idaho.