Florida vs. LSU Betting Preview
Published on:
Oct/09/2009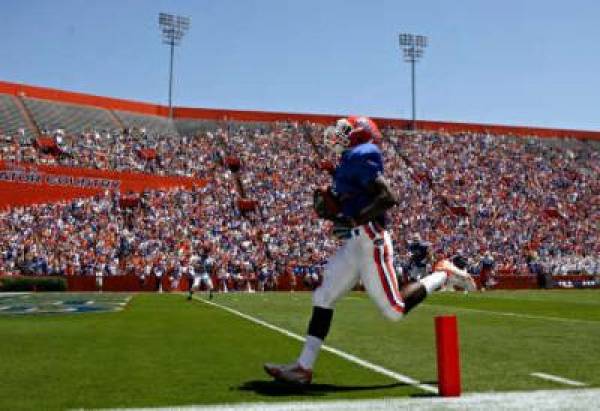 Carrie Stroup here reporting for Gambling911.com with your much anticipated Florida vs. LSU betting preview.
(8:00 PM ET, CBS)
Saturday night is going to be a huge night for college football as several key intriguing games will be on national television. None of them is bigger than the battle between the #1 & #4 teams in the country, as top ranked Florida visits LSU. The biggest story of the game figures to be Gators' star Tim Tebow's status, but that might just be buying bettors a few extra points on the line. At last check, Florida was a TD-favorite, but over 60 percent of bettors were backing the underdog Tigers at Sportsbook.com.
There is nothing like a SEC Saturday night game in person and though a few fistfights could be started about what is the best location, Baton Rouge has no peer. When offering this Florida vs. LSU betting preview, here is something for worthwhile consideration:  LSU is grateful circumstances worked out that they host top-ranked Florida at Tiger Stadium at night, where they win over 80 percent of the time once the sun goes down.
Tebow is the perfect quarterback to run Meyer's read option offense and though other quarterbacks are blessed with better skills in other areas just like Montana, the list is short where these two quarterbacks stand in history in their respective sports.
Florida (4-0, 2-1 ATS) is more than Tim Tebow and chances are we will find out how much more, with Tebow's playing time an uncertainty due to the concussion. During the off-week, coach Meyer and his offensive coaches have devised a separate package for sophomore backup John Brantley, which includes more I-formation sets. Brantley supposedly is more a NFL-type quarterback in throwing style and arm strength.
 While many people are already drooling about the possibility of a Florida and Alabama rematch in the SEC title game, think about these numbers for the Gators in the statistics.
Points allowed - 1st
Total defense -1st
Points scored - 2nd
Total offense - 3rd
Rushing yards -1st
At this point of the season, it's nearly impossible to have a more complete Ladders resume. Much like the Florida basketball team that came back to create a legacy, this football team appears hell-bent on doing the same. Florida is 6-1 ATS the last three years as SEC road favorites.
LSU (5-0, 2-2-1 ATS) is No.4 in the country based on preseason rankings and other teams being upset, not on its current body of work. Coach Les Miles is still seeking consistent play from his offense. The misfires have been a combination of QB Jordan Jefferson not hitting open receivers and the offensive line not giving running backs enough time to run up a hole for yardage. The Tigers offense is among the poorest in the country (99th in total offense) in gaining real estate.
The defense is not up to usual standards either, nowhere near the Top 25 in the country, ranked 39th in allowing 321.6 yards. A schedule that has included UL-Lafayette, Vanderbilt and Mississippi State just proves how lackluster the defense has been. LSU is 5-15 ATS in home games vs. offensive teams scoring 31 or more points a game.
Sportsbook.com has LSU as seven-point underdogs with total of 44.5. The Tigers may be 0-7 ATS in home games vs. teams outscoring opponents by 10 or more points per game on the season, but LSU can compete physically. Remember, a below average Tennessee team was capable of making Florida one dimensional on offense on the road, a far more talented Tiger bunch can at least do the same before the home folks. As CBS analyst Gary Danielson noticed, Jefferson is comfortable throwing the ball despite his running reputation and has solid wide receivers.
No matter who is taking the snaps, Florida will attack the LSU front. The Gators running game should force coach Miles to bring up more defenders, leaving better passing lanes. The Gainesville group is 13-3 ATS as a favorite and 9-2 ATS against fellow SEC members. 
Since 1998, LSU is 4-7 and 3-8 ATS against Florida. The home team is 5-12 ATS the last 17 years in the series and the Bengal Tigers haven't covered as home underdogs since 2000. (0-3 ATS)
Kickoff is at 8 Eastern on CBS, and the StatFox Power Line indicates Florida should be favored by 17. Of course, that is not adjusted for the Tebow situation. Get in on the betting action for this game by visiting the LIVE ODDS page on Sportsbook.com.
---
Carrie Stroup, Gambling911.com Senior Reporter