Brunson 10 Poker Player Alex Kamberis Sits Down With Woo
Published on:
Apr/26/2011
Please note that Jenny Woo's interview with Brunson 10 player, Alex Kamberis, took place prior to the April 15, 2011 indictments.  As such, the indictments were not discussed as part of this interview.  DoylesRoom.com is still accepting players from the US, offering the best bonuses in the industry and it's basically business as usual.  Use bonus code GAMBLING911.
Adding to the list of the Brunson 10 elite Alex Kamberis. At age 24, Alex has brought in almost $5 million in winnings and has admitted to me that he had lost his motivation for the game last year but is now back on track. Good thing because Jenny thinks this self taught player has a lot more to prove in the poker world. You can find Alex by his handle AJKHoosier1 on DoylesRoom.com.
JENNY: At age 24 you've achieved a lot in the poker world. What are your goals at the moment?
ALEX: Right now, a lot of my life "goals" aren't necessarily poker-related.  I want to buy a house and get back to school to finish up my undergraduate degree.  I have about four semesters left, and I'd like to have that done within the next 3 years or so.  There's also a pretty good chance that I'll be married by that time, so obviously I have a lot of personal matters that are the top priority in my life right now.
As far as poker, my biggest goal is definitely to hit a big live score, or even win a WSOP bracelet. I've come very close a couple times recently, despite not playing much, and it's just making me hungrier and hungrier.  Also, since I have been putting in very low volume both online and offline, another goal of mine would be to really get back into gear and start grinding, putting in the kind of hours I used to.  I definitely lost some motivation to play last year, and my hours slipped to a level that is really inexcusable.  I finally feel like I've gotten that "itch" back, and my results at the tables have really shown it.
JENNY: You've been hand picked by Doyle Brunson himself as one of the Brunson 10. How has it been in the Brunson family?
ALEX: Being part of the Brunson 10 is pretty amazing, and definitely comes along with some surreal moments I'll never forget that phone call with Doyle when he first told me that he felt I'd be a good addition to the team.  Since then, getting to meet Doyle and his family has been awesome.  Doyle's daughter Pam is actually the manager of the B10, and she really does make our lives a lot easier.  Everyone is extremely friendly, and the B10 itself does feel like a bit of a "family" at this point.  We're always rooting for each other, and whenever we get to meet up at live events, it's always a good time.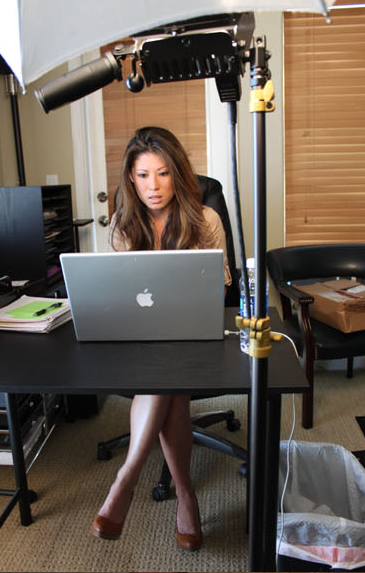 Alex Kamberis marriage potential for Jenny Woo - A 7 on a scale of
1 to 10.  Negatives:  Too Young, Doyle would be jealous.  Positives:
Rich, has money, makes millions playing poker, rich, seems nice.
JENNY: Has there been anything you've learned from Doyle since joining the team?
ALEX: There really haven't been any opportunities to talk poker strategy with Doyle.  He's a pretty busy guy, and we all live in different parts of the country, doing our own thing.  Of course, whenever I have the opportunity to pick his brain in any way, I'll be all over it.  Being able to talk to and learn from Doyle was definitely one of the reasons I was most excited about joining up with the Brunson 10.
JENNY: You started playing poker when you were 18 and made a career out of it two years later. How did you start playing? Where did you start playing?
ALEX: I started playing casually with my friends in high school, just low-stakes home games.  It was around the time that the "Moneymaker Effect" was sweeping the nation, and my friends and I were no exception.  Everyone I knew was trying to learn No-Limit Hold'em, though not necessarily taking it too seriously.  My competitive spirit got the best of me, though, and like everything else, poker became something I needed to be better than my friends at. 
Once I got to college at Indiana, I met a bunch of guys who played PokerStars online, and it kind of went from there.  The whole world of online poker had been opened to me, and there was no going back.  Before I knew it, I was totally sucked in.  While my friends were still playing low-stakes Sit-n-Go's, I was slowly moving up the ranks (and stakes) of multi-table tournaments, and starting to take the game much more seriously.  You can pretty much figure out how it went from there.
JENNY: What were you doing when you started playing full time?
ALEX: I was still a student at IU when I first started playing "full-time."  I quickly realized that doing both was impossible and I didn't want to waste $25k a year on tuition if I wasn't going to take it seriously.  I went from being a straight-A honors student and president of the honors society to dropping out and becoming a poker professional over the course of just about a year or so.  My feelings were that I'd rather take time and focus on poker, and do it right, and then take time on school, and do that right too.  I think if I tried to do both successfully at the same time, I would've ended up failing at both.  I'm not the kind of person that feels comfortable "half-assing" anything I do, and I think that's benefited me greatly.  I definitely have no regrets regarding the path I chose, although it definitely isn't for everybody.  Stay in school, kids.
JENNY: You're both an online and live tourney player. How often are you playing in both?
ALEX: Not as often as I'd like to be, as I mentioned before.  The main problem with live poker is the inconvenience, and the extraneous costs of following the circuit.  I have a hard time justifying a lot of the trips, so I just skip them.  For example, it seems kind of crazy to me to pay thousands of dollars for a flight and hotel to go to Monte Carlo and play one $15k tourney.  The variance that comes along with these trips is just so extreme that I usually decide that I'd rather just play online.  Since I'm living in Los Angeles now, my main goal is to play online, play some live cash games at the Commerce Casino, and play all of the major tournaments that come to the area: Los Angeles, Las Vegas, etc.  Over the last year or so, I've been playing 2-3 days a week online, and playing a live tournament once every couple months.  Over the summer, though, my online volume goes way down, and I try to grind the WSOP events as much as possible.
JENNY: When can our readers find you at DoylesRoom.com if they wanted to play against you?
ALEX: You can always find me in the $162 tournament every Sunday night and a couple nightly tournaments throughout the week. More regularly, you can find me in NL and PLO cash games, anywhere from $.50/1 to $5/10.  $1/2 and $2/4 heads-up NL are probably my most frequent games, but I do play a lot of 6-max and full ring as well.
JENNY: You're basically a self-taught player and have admitted that you learned the hard way when playing. Did you have any regrets along the way?
ALEX: My main regrets come from poor bankroll management practices.  When I became "unbacked" for the first time after hitting a couple huge scores, I felt pretty lost, not knowing what to do with my bankroll.  I played a lot of games I had no business playing.  For example, I foolishly jumped into $25/50 games on PokerStars, some of the toughest games in the world, though I had little cash game experience myself.  I also started on a backing venture that I was woefully unprepared for, and that almost had some disastrous results as well.  I was lucky to be able to recoup my losses from both of those mistakes, but almost learned the VERY hard way to be much more careful with my winnings.
JENNY: Is there any player out there that you haven't played but would like to?
ALEX: Honestly, I just don't think with this mentality.  There are a lot of players I respect, but I don't really "idolize" anyone.  Anyways, if I did think someone was that good, I certainly wouldn't want to play against them!
JENNY: What key advice can you give someone who's just getting their start in poker?   
ALEX: It's kind of a cliché answer but I think my #1 piece of advice for any aspiring poker pro would be to reconsider.  Don't just look at the money, travel, freedom of schedule, etc; you need to be much more realistic when deciding if this is really something you can do for a living.  I think far too many people have "delusions of grandeur" that they can succeed in this game.  Poker can be extremely stressful, and while the freedom it provides can be a huge positive, it can also be a huge negative for undisciplined people.  You need to be strict with your time and your money, and "be your own boss." Some people are capable of this, but many are not.
Unless you have an incredibly proven track record of positive results, a lot of money in the bank, a strong work ethic, and a tough mentality that can battle through downswings, I'd say find another profession.  It often isn't as glamorous as it seems.
Follow breaking headlines around the clock at Gambling911.com Twitter Here