iGaming NEXT a Huge Hit in NYC This Week
Published on:
Mar/09/2023
Gambling911.com is here in the Big Apple as one of the more prestigious gaming events of the year is taking place here, iGamingNEXT.  This is widely considered among the best B2B networking events.  The show features two coinciding forums, one specific to iGaming business developments and hot trends while the other incorporates investment opportunities, which seem almost limitless in this industry.
Among those in attendance, Rodney Knuppel of Knup Sports.  His and brother Ryan Knup's company provides premier content to other sites in the iGaming sector.
They were set to moderate a panel at this year's show entitled "Social Media the ONLY Way to Communicate with the Next Generation of Sports Fans / Gamblers".
Those at @iGamingNEXT NYC. See you soon! Be sure to drop by Forum B as I have four Hall of Fame level speakers on the panel I'll be moderating. These four are outstanding individuals and leaders. Drop by! pic.twitter.com/RkEaKmDLrl

— Rodney Knuppel (@KnuppelRodney) March 9, 2023
Also in attendance and speaking on a Thursday afternoon panel, John Wright of StatsDrone.  His company monitors all daily affiliate program stats in a single place and works with some of the top affiliates in the iGaming space.  Website owners can safely store all their data on a self-owned, self-hosted database server. 
For Wright, this is his second straight year attending iGamingNext after forging what he says were "amazing" connections at the 2022 event.
The networking opportunities are nonstop, he tells Gambling911.com. 

Chris Costigan (Gambling911 founder left) and John Wright (Statsdrone founder right)
Sportsbook and online casino operators were also there in full force.
Adam Greenblatt, CEO of BetMGM, spoke with CNBC's Contessa Brewer as part of an afternoon keynote discussion.  He currently serves as CEO of BetMGM, where he has helped the company establish a prime position in the rapidly evolving U.S. gaming market.
We learned that BetMGM, now the US second largest sports betting operator, will include a "responsible gaming message" as part of its sign that will be appearing at Boston's Fenway Park this MLB season. 
Oh, and there was this:
Late this afternoon, I asked @BetMGM CEO Adam Greenblatt whether he would be eager to take bets on @WWE scripted matches. His answer- and I quote "NFW!" (To audience laughter @IGamingNEXT ) @CNBC https://t.co/CpKrtp6x6I

— Contessa Brewer (@contessabrewer) March 9, 2023
Gambling911.com has a main feature story on this subject running right now.
"New Dawn of Opportunity" featured the co-owner of the Jake Paul-partnered BetR, Joey Levy.  His company looks to capitalized on microbets, also known as "impulse wagering" where gamblers can bet live with pennies on the dollar. 
The panel's focus: With established operators dominating the current landscape what does the future hold for the NEXTgen of real money gaming operators? Can new opportunities pose potential threats to the current players and is their current unprofitability sustainable as the new entrants evolve with greater agility?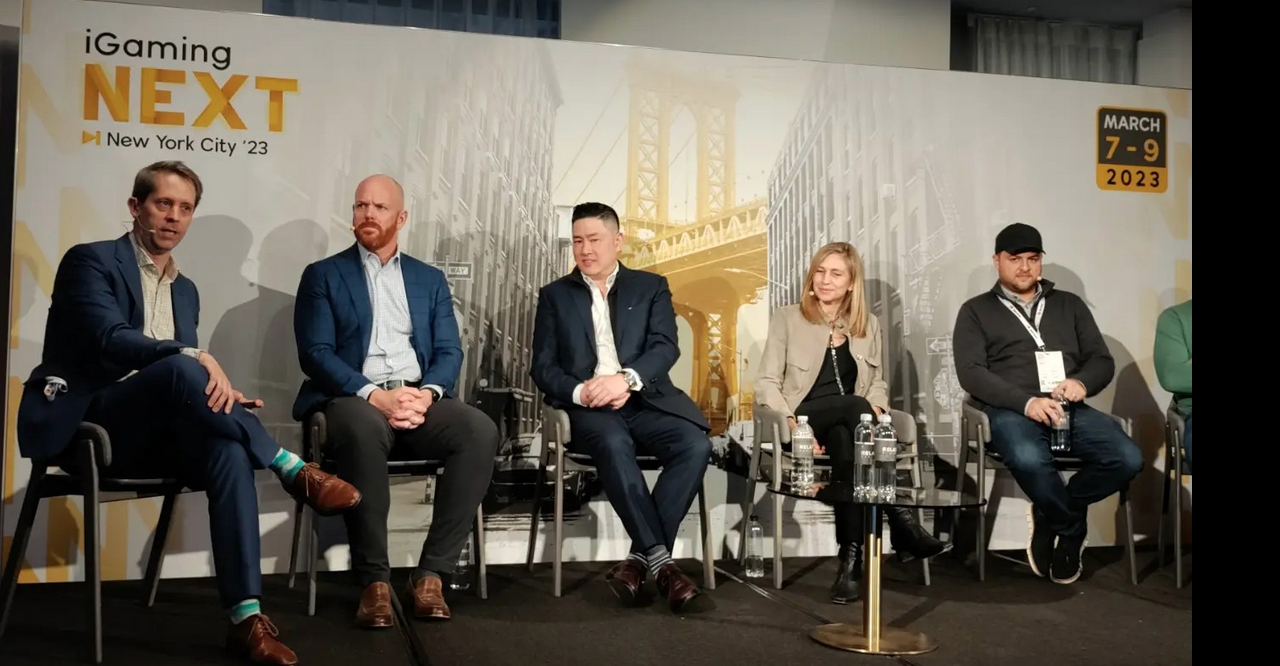 For long time Gambling911.com readers, the legendary Paris Smith was also in attendance.  Ms. Smith is the CEO of everybody's favorite online sportsbook, Pinnacle Sports, and an industry stalwart since even prior to Gambling911.com's 23-year existence.
As part of the Investment forum, Morgan Stanley Equity Research Analyst, Ed Young, was among those appearing as part of the panel discussing "Game Theory: Building The Best iGaming Offering".
They synopsis: iGaming has been an unequivocal US success story, establishing some of the world's largest and attractive regulated markets within a few years of opening. What are the ingredients to create the best gaming offering for players?
Right up our alley, "League Lessons: Weighing in on the Convergence of Sports/Betting/Media" was pretty self-explanatory. 
The discussion: Major sports leagues sit at the cross section of the online sports betting industry, media companies, teams, and players. How has proliferation in sports betting impacted viewership and fan engagement? How are partnerships evolving? What is next in Sports Tech and Media?  
For our affilliate friends, "Affiliates & The Race To Profits".
The premise: Operator growth ambitions remain as high as ever, against rising investor demands for profitability. What part can affiliates play in a potentially rationalising market, and what does the long-term relationship with operators look like?  
The show concludes on Thursday. 
- Aaron Goldstein, Gambling911.com