PlayUp CEO Tells Gambling911 'At No Stage Were Real Money Slots Offered to Ohio Residents'
Published on:
Jan/08/2023
IG Acquisition Corp. (NASDAQ:IGAC) this week announced it has terminated a business combination with the mobile horse racing betting platform PlayUp that would have taken the later company public.
Through the deal, announced this past September, PlayUp was to list on the NASDAQ via a newly-formed Irish company ("Parent"). The transaction valued PlayUp at $350 million.
Both entities praised the deal at the time.
"Currently, there is no platform that allows consumers to access every type of betting product through one single sign on. Generally, industry competitors have chosen to focus on one product or another. IGAC and PlayUp have the same shared vision: to bring the global online betting industry the most comprehensive suite of traditional and innovative betting products from all over the globe together into one app. The transaction is expected to provide PlayUp with access to fresh capital to continue expanding its vision of a true single destination for the future of online betting," said Christian Goode, Chief Executive Officer of IGAC.
"PlayUp believes this transaction will enable us to continue investing in our proprietary technology and deliver on our aspirations to be the unrivaled entertainment and betting platform of the future. We envision a world where our players can enhance their experience betting on the products they already love plus interact with the next generation of immersive betting products that embrace newer technologies such as AR and VR," said Daniel Simic, CEO of PlayUp Limited.
A statement released this past week reads that IGAC is no longer searching to combine with alternative targets as its board of directors has determined it will not be able to complete a transaction by its deadline of February 5 and will instead liquidate, effective as of the close of business on January 11.
Additionally, it will redeem all of the outstanding shares of Class A common stock that were included in the units issued in its IPO at a per-share redemption price of approximately $10.12 after taking into account the removal of a portion of the accrued interest in the trust account to pay taxes and for dissolution expenses.
Speaking to Craig Mish of SportsGrid, Legal Sports Report's Matthew Waters discsussed the issue with PlayUp, noting that the first signs of trouble stem from it being disqualified from operating in the state of Ohio.
Waters suggests a convoluted product whereby PlayUp utilizes old horse racing results to power slot machines online.
"It's not a random number generator," Waters says.  "It's a different kind of math that's used for those slots."
That type of product was not permitted in Ohio, according to Waters.
Daniel Simic, CEO of PlayUp, disputes the notion that his company has been disqualified from operating in Ohio or that the product offered by PlayUp cannot be offered in the Buckeye State.
Simic, speaking to Gambling911.com, advised that there will be a hearing on 23rd January 2023 to determine PlayUp's fate in the state.
"There is no math in Slots+," Simic tells G911.  "The results are based on legal parimutuel horse racing."
On its site, Legal Sports Report (LSR) published "Three Specific Issues With PlayUp" (Notice was set to the company from OCCC) with the first highlighted concern being that PlayUp has one or more disqualifying violations of accepting illegal wagers from individuals in the US after April 16, 2015 via its slots+ product.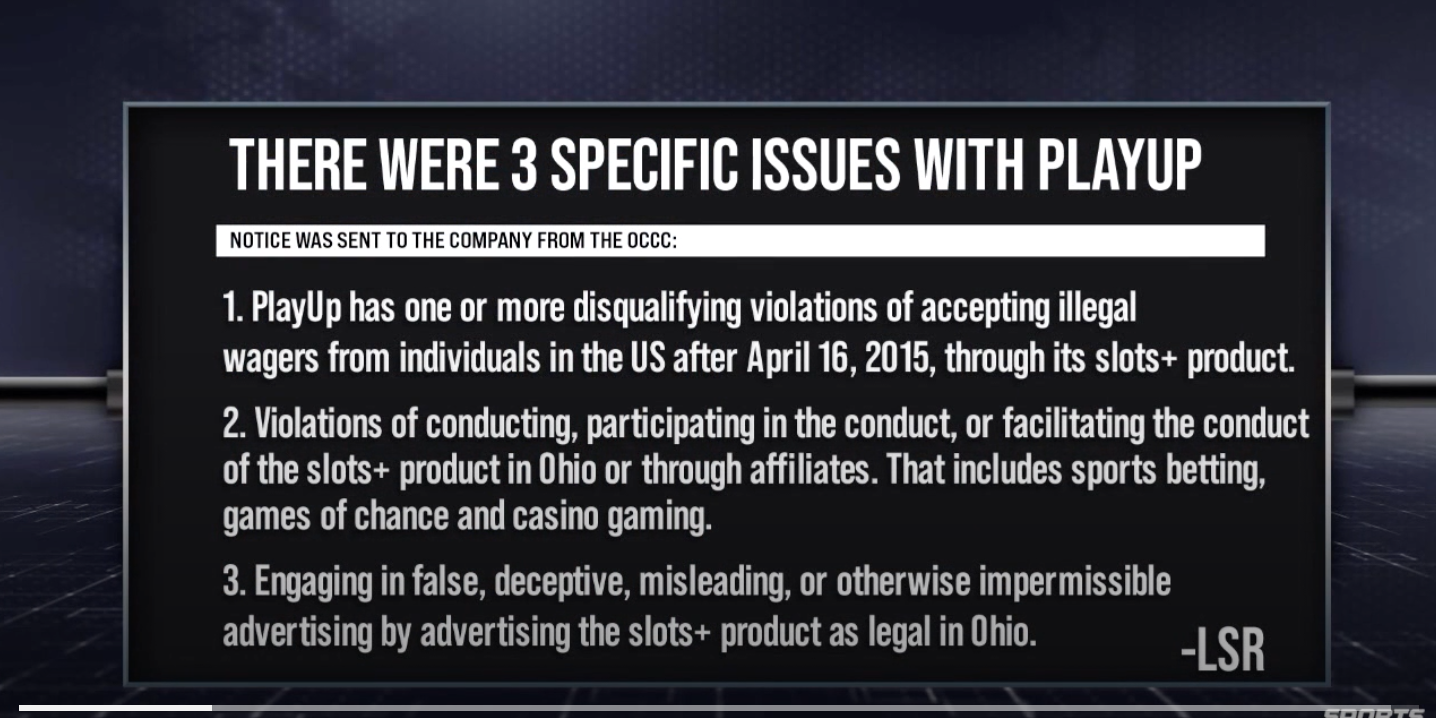 Simic tells Gambling911 that the notice never actually stated that PlayUp allowed those in Ohio to Play Real Money slots.  The PlayUp CEO disputes any notion that his company ever offered real money slots in Ohio.
"The entire OCCC correspondence is in regards to the legality of the Slots+ product and relevant advertising of the slots+ product, Not the offering of real money slots.
"At no stage has playup ever engaged in offering real money Slots to Ohio residents. As Matt waters comments, Slots are based on Random number generators (and algorithms). The Slots+ product is very different in that payout are determined on Pari-Mutuel horse racing.
"This type of product has been in the market since 2012 and appears to be operational in Ohio Churchill cutting online bingo site."
Simic provided a handful of examples including courier-journal.com, Luckity.Com Review and Closed (bettingusa.com).
"In the Notice there is a specific date referenced which is April 16, 2015. Possibly an amendment to the legislation at that time? I will ask US lawyers tomorrow. The Slots+ product was only offered in legal Pari-Mutuel Horse racing states."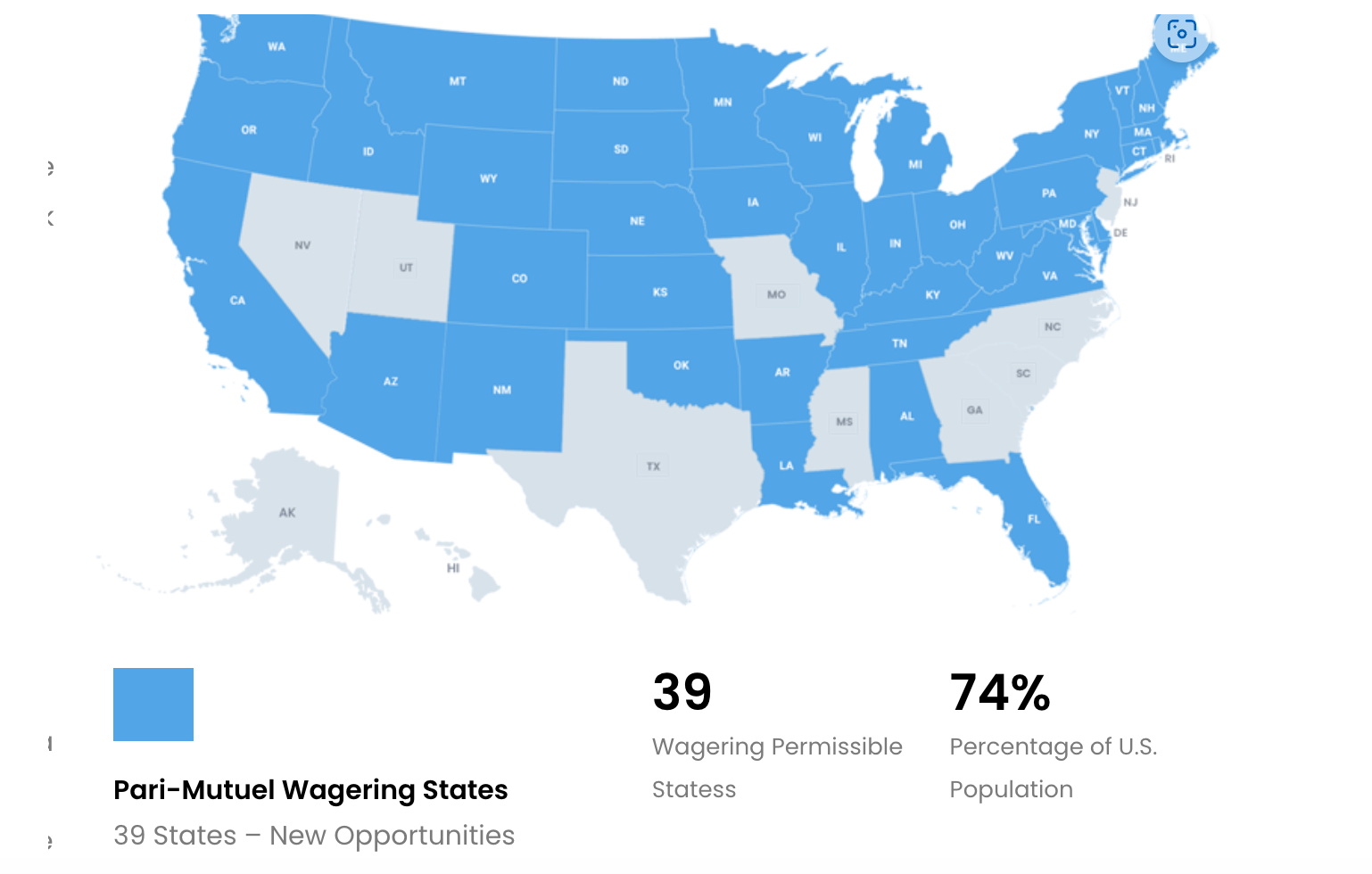 PlayUp had initially employed a number of long time established gaming industry affiliates and consultants to promote the platform, including a number of friends of the Gambling911.com website.
PlayUp does currently operate legally in the state of New Jersey, which is considered the gold standard in the U.S. regulated sports betting and online casino space.
This article has been updated January 8, 2023
- Aaron Goldstein, Gambling911.com