The Miami Hurricanes vs. Maryland Terrapins betting line was coming in at -4 favoring Maryland with a total of 45.5.  This game can be bet at Sportsbook.com, offering a FREE $200 and the biggest NFL survivor pool on the planet – Turn $25 into $100,000 here!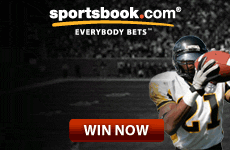 Miami is eager to get back on the field after weeks of speculation following the admissions by former booster Nevin Shapiro. The Hurricanes get their wish Monday night when they travel north to face ACC rival Maryland. Miami is expected to start Stephen Morris at QB with Jacory Harris (among others) serving suspensions. The 'Canes won last year's meeting 26-20.
Both teams are featuring new coaches this year, as former Temple head coach Al Golden takes over the top spot at Miami and Randy Edsall, who led Connecticut to the Fiesta Bowl last year, is the new head man at Maryland. Even with Miami's improper recruiting recently, it hasn't translated to wins on the field. The Hurricanes have been subpar in the past five seasons, going 35-29 SU (55%) and 24-37 ATS (39%). Maryland was 9-4 (SU and ATS) last year and brings back a top-notch QB in Danny O'Brien (2,438 pass yds, 22 TD, 8 INT).
In addition to Harris, Miami will also be without seven other suspended players: WRs Travis Benjamin (743 rec yds, 17.3 yards per catch) and Aldarius Johnson, LB Sean Spence (16 TFL), DB Ray-Ray Armstrong and DLs Marcus Forston, Olivier Vernon and Adewale Ojomo. Morris (7 TD, 9 INT last year) doesn't have a whole lot of options in the passing game. In addition to his suspended receivers, Morris will miss targeting Leonard Hankerson who finished his Miami career with 72 catches for 1,156 yards and 13 TD. Speedy RB Lamar Miller (6.0 YPC) and slasher Mike James (5.7 YPC) will figure most prominently in the rushing attack for new offensive coordinator Jedd Fisch and his pro-style offense. Miami's defense should be very tough, returning seven starters to a unit that led the nation with 115 TFL and ranked third in passing defense (151 YPG). MLB Colin McCarthy (120 tackles) leads a strong front seven, but the 'Canes have two new starting corners that O'Brien could pick apart on Monday.
Randy Edsall takes over a Maryland program that improved by seven wins (2 to 9) in 2010. O'Brien played very well as freshman and has looked very comfortable in new offensive coordinator Gary Crowton's up-tempo system. O'Brien loses WR Torrey Smith, but senior Ronnie Tyler (61 rec, 720 yds in career) and juniors Kerry Boykins and Kevin Dorsey form an adequate WR trio. Leading rusher Davin Meggett (720 rush yds, 5.6 YPC) will be the key to this offense, which racked up 38.2 PPG in its final six games. New defensive coordinator Todd Bradford is excited about the crew he inherits, as the Terps allowed just 4.7 yards per play (3.4 YPC) last year and return seven starters. Three of those are on the defensive line, but the team still lacks a monster pass-rushing DE. Despite the loss of leading tackler MLB Alex Wujciak, junior WLB Demetrius Hartsfield (88 tackles) returns. The secondary is excellent, led by senior CBs Cameron Chism and Trenton Hughes.
- Carrie Stroup, Gambling911.com Senior Reporter