These Gambling911.com 2010 Week 13 NFL Power Rankings are based on updated odds to win the 2011 Super Bowl as found at SBG Global, an online sportsbook. 
Once again, there has been a change in the top spot, providing further evidence of a wide open field.
This is also a rare year in which so late in the season the shortest odds to win the upcoming Super Bowl were set no higher than 7/1. 
Following the most dramatic rise to the top from the number 10 position last week, the Philadelphia Eagles fall from number one after getting beaten by the Chicago Bears Sunday at home.  The Atlanta Falcons claim the number one spot for the first time, just inching out New England.  They also make a pretty dramatic leap from number 6.  Unlike Philadelphia, which had debuted just one week prior to claiming the top spot, Atlanta has been a regular fixture of Gambling911.com's NFL Power Rankings.  The Eagles incidentally had quite a dramatic drop off this week to the number 8 position. 
While the Baltimore Ravens managed a win against the surprise Tampa Bay Buccaneers this past week, they actually fell a notch to number 5.  This despite the fact that Pittsburgh nearly blew their game against Buffalo and move up two notches.  The oddsmakers at SBG Global believe the Steelers should have slightly better odds of winning the Super Bowl than Baltimore apparently.  This is not necessarily the case at other online sportsbooks. 
After beating Indianapolis Sunday and moving above .500, the San Diego Chargers have re-entered the Gambling911.com NFL Power Rankings at number 7.
The Chicago Bears are knocking on the Top 10 door of the NFL Power Rankings and currently are listed with 15/1 or +1500 odds to win the 2011 Super Bowl.
Tampa Bay, which lost this past week to Baltimore but still have an impressive 7-4 record, are listed at a remarkable 100/1 odds of winning the 2011 Super Bowl.   While they are two games out of the lead in the NFC South, this is a division that could conceivably send three teams to the Playoffs, and they are one game off from New Orleans.  Tampa is tied with 3 other teams for the 4th best record in the NFC.  Three of their remaining games are against teams with losing records. 
The 2010 Week 13 NFL Power Rankings appear below.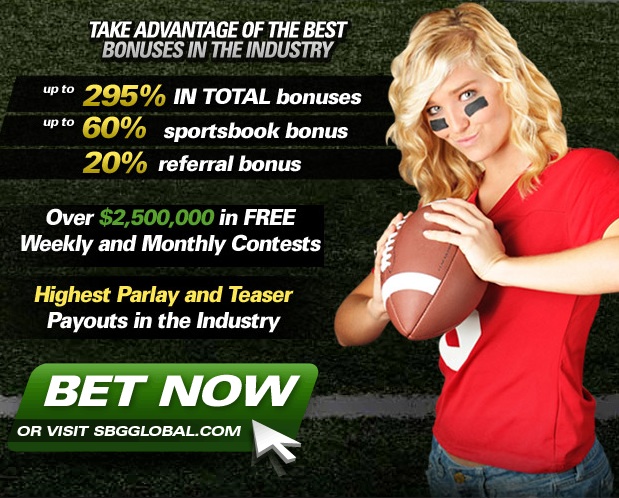 The ( ) indicates last week's position.
*1 Atlanta Falcons (6) – Would pay out $700 for every $100 bet to win the 2011 Super Bowl. 
*2 New England Patriots (2) – Would pay out $700.
*3 Pittsburgh Steelers (5) – Would pay $800.
*4 Green Bay Packers (3) – Would pay $800.
*5 Baltimore Ravens (4) – Would pay $850 for every $100 bet.
*6 New York Jets (7) – Would pay $850 for every $100 bet.
*7 San Diego Chargers (na) – Would pay $850 for every $100 bet.
*8 Philadelphia Eagles (1) – Would pay $900.
*9 New Orleans Saints (8) – Would pay $1000.
*10 New York Giants (10) – Would pay out $1200. 
- Don Shapiro, Gambling911.com