With the week 1 NFL schedule right around the corner, bookies have a lot on their plate and with good reason. It's that time of year when players come crashing the gates and in a big way. Upwards of $50 billion will be spent this year on football alone! That's a mind-boggling number for sure, and one that you want to capitalize on.
If you are a bookmaker and you have one player or 300 players, you know that keeping up with the day to day demands of a busy football season can be overwhelming. It certainly doesn't have to be overwhelming. There are solutions. You live in a busy world and you must have the right tools to keep your clients happy; to keep your clients playing. Your goal is to make money, not spin your wheels.
Players have many more options these days and those options are easy to find. In an electronic world, anything is accessible on the internet. Sports gambling is no exception. With so many sportsbooks popping up all over the world; players are making choices and they are choosing the best available options.  Price per head options are some of the many choices that players find themselves gambling with. They may no know it; but that's how they are gambling. Bookies are wising up to what Pay per head services really offer and it is improving their bottom lines.
Scroll Down For More....
Most of the best bookies all over the world have ventured into the world of pay per head. Why is this, what do they offer? Pay per head services offer an all-inclusive sportsbook experience. They offer a full racebook, with live track odds as well as all of today's popular casino games. The sportsbook offers a wide variety of wagering options that include parlays, teasers, super teasers, live lines, dynamic lines and much more.
Not only do pay per head services offer sportsbooks, casinos and horse action; they offer customer support, with 24-hour service that can be depended on for all your client's questions.
If you have ever been a bookmaker you know that keeping up with every game bet, is time consuming. Think about it, there are so many ways to bet and so many events each day. If you have a few players or three players; it can become difficult to keep up with the demands.
Grading tickets is a constant battle. Wouldn't you like to quit all that? If you are a serious bookmaker, you must leave the antiquated ways of the past behind.
Scroll Down For More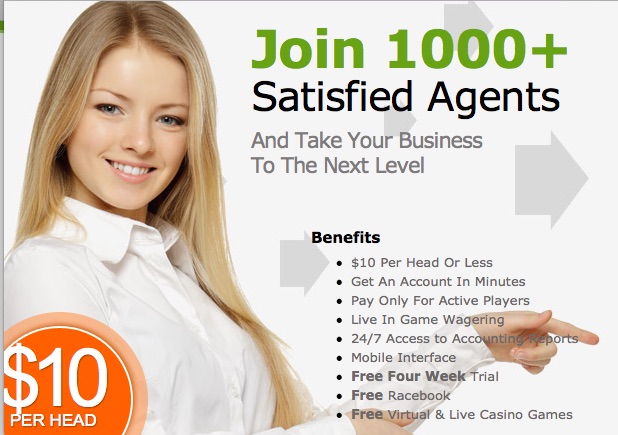 This is the season when Saturdays are your busiest day. On any given Saturday, there may be 130 college games. You have prop bets, player props, in game props, quarters, first halves, second halves. The best bookies in the business are figuring out more efficient ways of doing business and improving profits.
Pay Per head services are the wave of the future for bookies and anyone thinking of becoming a bookie. Stop struggling with the old and jump into the new. You have nothing to lose and everything to gain.
Check out realbookies.com. They are an all-inclusive Pay Per Head service that charges as little as $10 per head. They come with a top-notch customer rating and they can get you started today. It's that easy and it works. You will ask yourself; why didn't I do this sooner?