Bitcoin now accounts for up to 40 percent of all online gambling transactions at some betting sites.  The crypto-currency has begun to catch on at the Pay Per Head companies as well.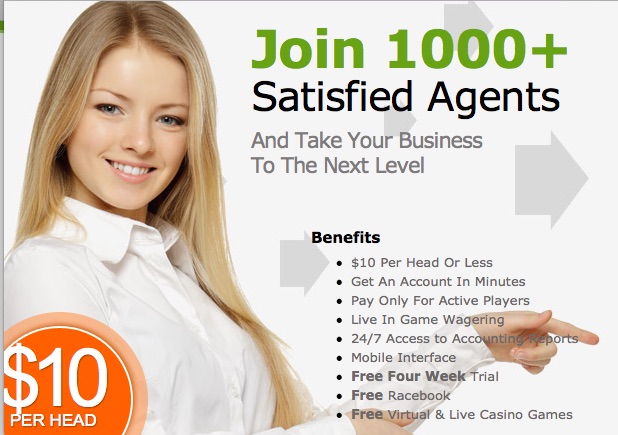 Gone are the days when bookies would have to sit by the phone to manually take all the action coming in and just over the past few years RealBookies.com has witnessed a dramatic shift to personal computers and mobile hand-held units with Internet access as the primary means for placing sports bets.
As a result, all the top Pay Per Head sites such as Real Bookies have continually made the necessary investments in time, money and manpower to help private bookies.  Innovations such as LIVE IN-PLAY BETTING, live dealer casinos and increased prop wagering options have already taken hold.
Now the focus has turned to new payment methods, more specifically the crypto-currency markets such as Bitcoin. 
Pay Per Head sportsbooks like Real Bookies are accepting Bitcoin as payment for the online bookie software services they offer.
In the simplest of terms, Bitcoin is a virtual form of digital currency that is not tied to any central banking institution. It exists in an online free exchange environment and its actual value fluctuates depending on that day's trading value. The biggest advantage to using Bitcoin is the fact that it is not tied to a central bank so in essence it cannot be controlled by any one large financial institution.
It can be transferred electronically and given that it is bought and sold through an online exchange, there are often very low fees associated with any type of transaction.
Setting up merchant accounts for Bitcoin is a fairly simple process and it is also anonymous. Best of all, setting up a Bitcoin account can be done in a very short matter of time with no additional fees or set-up costs.
Details of every online transaction using Bitcoin are recorded across the entire network in a general ledger known as block chain. This means that if you have a public Bitcoin address, there will be a complete record of all of your transactions. However, they will not be tied to any of your personal information.
Finding a Pay Per Head online bookie software provider like RealBookies.com that accepts Bitcoin for the weekly price per head fees you pay for each of your betting customers becomes a major plus. There is nothing more convenient than making a weekly financial transaction from your secure online Bitcoin address.
Whether you are currently using Bitcoin to pay your weekly per head fees or leaning towards that option as a private bookie, keep in mind that ever-changing online technology will continue to shape how business gets done.
Keep posted as some bookmaking businesses are starting to embrace other forms of crypto-currency and Pay Per Head firms are sure to follow.
- Aaron Goldstein, Gambling911.com