Americas Cardroom has just announced an OSS Cub3d Encore $12 Million GTD event that begins March 13th and runs through the 21st.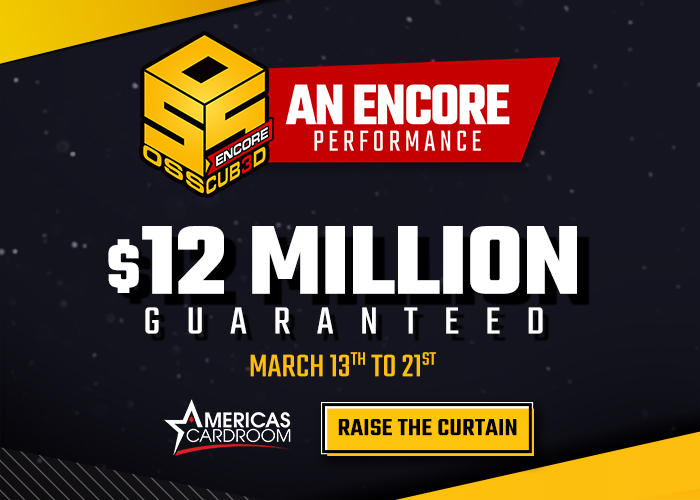 The series will feature 143 additional events including a $1.5 Million Main Event ($215 buy-in) that has a Day 1 on Saturday, March 19th and Sunday, March 20th. Both start at 1pm ET.
Check out the video below then scroll down for the full schedule.
| Date | Time | Name | Buyin | Fee | Detail |
| --- | --- | --- | --- | --- | --- |
| Sunday, March 13th | 12:00 PM | ENCORE #1H - $500,000 GTD HR | $600.00 | $30.00 | NLH - 5h LR |
|   | 12:00 PM | ENCORE #1M - $400,000 GTD WarmUp | $100.00 | $9.00 | NLH - 5h LR |
|   | 12:00 PM | ENCORE #1L - $125,000 GTD | $30.00 | $3.00 | NLH - 5h LR |
|   | 12:00 PM | ENCORE #2 PKO - $250,000 GTD | $200.00 | $15.00 | NLH - 3h LR |
|   | 2:30 PM | ENCORE #3 PKO - $500,000 GTD [Main Event] | $1,000.00 | $50.00 | NLH - 5h LR 2Day Event |
|   | 2:30 PM | ENCORE #4H - $400,000 GTD SunSpec | $200.00 | $15.00 | NLH - 3h LR |
|   | 2:30 PM | ENCORE #4M PKO - $100,000 GTD | $50.00 | $5.00 | NLH - 3h LR |
|   | 2:30 PM | ENCORE #4L PKO - $50,000 GTD | $15.00 | $1.50 | NLH - 3h LR |
|   | 3:30 PM | ENCORE #5 PKO - $150,000 GTD | $100.00 | $9.00 | NLH - 3h LR |
|   | 4:00 PM | ENCORE #6 PKO - $150,000 GTD | $300.00 | $20.00 | NLH - 3h LR |
|   | 4:30 PM | ENCORE #7 PKO - $80,000 GTD PLO8 6-Max | $600.00 | $30.00 | PLO8 - 3h LR 6-Max |
|   | 6:30 PM | ENCORE #8H - $150,000 GTD MegaStack | $200.00 | $15.00 | NLH - 3h LR |
|   | 6:30 PM | ENCORE #8M PKO - $75,000 GTD | $100.00 | $9.00 | NLH - 2.5h LR |
|   | 6:30 PM | ENCORE #8L - $60,000 GTD | $40.00 | $4.00 | NLH - 4h LR |
|   | 8:20 PM | ENCORE #9 PKO Hyper - $30,000 GTD PLO | $200.00 | $7.50 | PLO - 92m LR |
|   | 8:30 PM | ENCORE #10 PKO Hyper - $30,000 GTD 6-Max | $50.00 | $2.50 | NLH - 92m LR 6-Max |
|   |   |   |   |   |   |
| Monday, March 14th | 1:00 PM | ENCORE #11 - $200,000 GTD [Main Event] | $600.00 | $30.00 | NLH - 5h LR 2Day Event |
|   | 1:00 PM | ENCORE #12H - $150,000 GTD | $200.00 | $15.00 | NLH - 5h LR |
|   | 1:00 PM | ENCORE #12M - $75,000 GTD | $60.00 | $6.00 | NLH - 5h LR |
|   | 1:00 PM | ENCORE #12L - $40,000 GTD | $25.00 | $2.50 | NLH - 5h LR |
|   | 2:00 PM | ENCORE #13 PKO - $75,000 GTD | $300.00 | $20.00 | NLH - 3.5h LR |
|   | 2:05 PM | ENCORE #3 PKO - $500,000 GTD [Day2] |   |   | NLH - Day 2 |
|   | 2:30 PM | ENCORE #14 - $100,000 GTD | $100.00 | $9.00 | NLH - 5h LR |
|   | 4:30 PM | ENCORE #15H PKO - $50,000 GTD HR | $600.00 | $30.00 | NLH - 3h LR |
|   | 4:30 PM | ENCORE #15M PKO - $50,000 GTD | $100.00 | $9.00 | NLH - 3h LR |
|   | 4:30 PM | ENCORE #15L PKO - $40,000 GTD | $30.00 | $3.00 | NLH - 3h LR |
|   | 6:30 PM | ENCORE #16 - $50,000 GTD MegaStack | $200.00 | $15.00 | NLH - 3h LR |
|   | 6:30 PM | ENCORE #17 PKO - $50,000 GTD | $100.00 | $9.00 | NLH - 2.5h LR |
|   | 7:30 PM | ENCORE #18 - $30,000 GTD 6-Max MegaStack | $40.00 | $4.00 | NLH - 3h LR - 6-Max |
|   | 8:10 PM | ENCORE #19 PKO Hyper - $25,000 GTD | $100.00 | $4.50 | NLH - 92m LR |
|   | 8:30 PM | ENCORE Side Event - $25,000 GTD | $100.00 | $9.00 | NLH - 2h LR |
|   | 9:00 PM | ENCORE #20 PKO - $15,000 GTD | $15.00 | $1.50 | NLH - 2.5h LR |
|   | 9:15 PM | ENCORE Side Event - $15,000 GTD | $50.00 | $5.00 | NLH - 2h LR |
|   |   |   |   |   |   |
| Tuesday, March 15th | 11:30 AM | ENCORE Side Event - $25,000 GTD | $100.00 | $9.00 | NLH - 2h LR |
|   | 11:30 AM | ENCORE Side Event - $10,000 GTD | $25.00 | $2.50 | NLH - 2h LR |
|   | 1:00 PM | ENCORE #21 - $200,000 GTD [Main Event] | $1,000.00 | $50.00 | NLH - 5h LR 2Day Event |
|   | 1:00 PM | ENCORE #22H - $150,000 GTD | $300.00 | $20.00 | NLH - 5h LR |
|   | 1:00 PM | ENCORE #22M - $100,000 GTD | $100.00 | $9.00 | NLH - 5h LR |
|   | 1:00 PM | ENCORE #22L - $50,000 GTD | $30.00 | $3.00 | NLH - 5h LR |
|   | 2:00 PM | ENCORE #23 PKO - $100,000 GTD HR | $600.00 | $30.00 | NLH - 3.5h LR |
|   | 2:05 PM | ENCORE #11 - $200,000 GTD [Day2] |   |   | NLH - Day 2 |
|   | 3:00 PM | ENCORE #24 PKO - $60,000 GTD | $100.00 | $9.00 | NLH - 3h LR |
|   | 4:30 PM | ENCORE #25H - $75,000 GTD 6-Max | $200.00 | $15.00 | NLH - 4h LR 6-Max |
|   | 4:30 PM | ENCORE #25M - $50,000 GTD 6-Max | $80.00 | $8.00 | NLH - 4h LR 6-Max |
|   | 4:30 PM | ENCORE #25L - $30,000 GTD 6-Max | $20.00 | $2.00 | NLH - 4h LR 6-Max |
|   | 6:00 PM | ENCORE #26 - $75,000 GTD HR | $600.00 | $30.00 | NLH - 3.5h LR |
|   | 6:30 PM | ENCORE #27 PKO - $40,000 GTD | $200.00 | $15.00 | NLH - 2.5h LR |
|   | 6:30 PM | ENCORE #28 PKO - $50,000 GTD | $100.00 | $9.00 | NLH - 2.5h LR |
|   | 7:30 PM | ENCORE #29 PKO - $20,000 GTD | $20.00 | $2.00 | NLH - 2.5h LR |
|   | 8:10 PM | ENCORE #30 PKO Hyper - $30,000 GTD | $200.00 | $7.50 | NLH - 92m LR |
|   | 8:30 PM | ENCORE Side Event - $25,000 GTD | $100.00 | $9.00 | NLH - 2h LR |
|   | 9:00 PM | ENCORE #31 - $10,000 GTD | $15.00 | $1.50 | NLH - 2h LR |
|   | 9:10 PM | ENCORE #32 PKO Hyper - $15,000 GTD | $20.00 | $1.00 | NLH - 92m LR |
|   | 9:15 PM | ENCORE Side Event - $15,000 GTD | $50.00 | $5.00 | NLH - 2h LR |
|   |   |   |   |   |   |
| Wednesday, March 16th | 11:30 AM | ENCORE Side Event - $25,000 GTD | $100.00 | $9.00 | NLH - 2h LR |
|   | 11:30 AM | ENCORE Side Event - $10,000 GTD | $25.00 | $2.50 | NLH - 2h LR |
|   | 1:00 PM | ENCORE #33H - $200,000 GTD [Main Event] | $600.00 | $30.00 | NLH - 5h LR 2Day Event |
|   | 1:00 PM | ENCORE #33M - $150,000 GTD | $200.00 | $15.00 | NLH - 5h LR |
|   | 1:00 PM | ENCORE #33L - $40,000 GTD | $25.00 | $2.50 | NLH - 5h LR |
|   | 2:00 PM | ENCORE #34 PKO - $75,000 GTD 6-Max | $300.00 | $20.00 | NLH - 3h LR - 6-Max |
|   | 2:05 PM | ENCORE #21 - $200,000 GTD [Day2] |   |   | NLH - Day 2 |
|   | 2:30 PM | ENCORE #35 - $100,000 GTD | $100.00 | $9.00 | NLH - 5h LR |
|   | 3:30 PM | ENCORE #36 PKO - $20,000 GTD | $10.00 | $1.00 | NLH - 4h LR |
|   | 4:30 PM | ENCORE #37H - $60,000 GTD | $200.00 | $15.00 | NLH - 4h LR |
|   | 4:30 PM | ENCORE #37M - $50,000 GTD | $60.00 | $6.00 | NLH - 4h LR |
|   | 4:30 PM | ENCORE #37L - $40,000 GTD | $30.00 | $3.00 | NLH - 4h LR |
|   | 5:00 PM | ENCORE #38 PKO - $50,000 GTD PLO8 6-Max HR | $600.00 | $30.00 | PLO8 - 3h LR 6-Max |
|   | 5:00 PM | ENCORE #39 PKO - $20,000 GTD PLO8 | $100.00 | $9.00 | PLO8 - 3h LR |
|   | 6:30 PM | ENCORE #40 PKO - $50,000 GTD 6-Max | $300.00 | $20.00 | NLH - 2.5h LR - 6-Max |
|   | 6:30 PM | ENCORE #41 PKO - $50,000 GTD | $100.00 | $9.00 | NLH - 2.5h LR |
|   | 7:00 PM | ENCORE #42 PKO - $20,000 GTD | $30.00 | $3.00 | NLH - 2.5h LR |
|   | 8:10 PM | ENCORE #43 PKO Hyper - $25,000 GTD | $200.00 | $7.50 | NLH - 92m LR |
|   | 8:30 PM | ENCORE Side Event - $25,000 GTD | $100.00 | $9.00 | NLH - 2h LR |
|   | 9:00 PM | ENCORE #44 - $10,000 GTD | $15.00 | $1.50 | NLH - 2h LR |
|   | 9:10 PM | ENCORE #45 PKO Hyper - $15,000 GTD 6-Max | $20.00 | $1.00 | NLH - 92m LR 6-Max |
|   | 9:15 PM | ENCORE Side Event - $15,000 GTD | $50.00 | $5.00 | NLH - 2h LR |
|   |   |   |   |   |   |
| Thursday, March 17th | 11:30 AM | ENCORE Side Event - $25,000 GTD | $100.00 | $9.00 | NLH - 2h LR |
|   | 11:30 AM | ENCORE Side Event - $10,000 GTD | $25.00 | $2.50 | NLH - 2h LR |
|   | 1:00 PM | ENCORE #46H PKO - $150,000 GTD | $300.00 | $20.00 | NLH - 4h LR |
|   | 1:00 PM | ENCORE #46M PKO - $100,000 GTD | $100.00 | $9.00 | NLH - 4h LR |
|   | 1:00 PM | ENCORE #46L PKO - $40,000 GTD | $30.00 | $3.00 | NLH - 4h LR |
|   | 1:00 PM | ENCORE #47 PKO - $200,000 GTD [Main Event] | $1,000.00 | $50.00 | NLH - 5h LR 2Day Event |
|   | 1:30 PM | ENCORE #48 - $40,000 GTD | $15.00 | $1.50 | NLH - 5h LR |
|   | 2:00 PM | ENCORE #49 - $100,000 GTD | $200.00 | $15.00 | NLH - 5h LR |
|   | 2:05 PM | ENCORE #33H - $200,000 GTD [Day2] |   |   |   |
|   | 3:00 PM | ENCORE #50 - $100,000 GTD HR | $600.00 | $30.00 | NLH - 3.5h LR |
|   | 4:30 PM | ENCORE #51H - $60,000 6-Max | $300.00 | $20.00 | NLH - 4h LR 6-Max |
|   | 4:30 PM | ENCORE #51M - $50,000GTD | $100.00 | $9.00 | NLH - 4h LR |
|   | 4:30 PM | ENCORE #51L - $30,000 GTD | $25.00 | $2.50 | NLH - 4h LR |
|   | 6:00 PM | ENCORE #52 PKO - $20,000 GTD | $20.00 | $2.00 | NLH - 2.5h LR |
|   | 6:30 PM | ENCORE #53 - $50,000 GTD MegaStack | $200.00 | $15.00 | NLH - 3h LR |
|   | 6:30 PM | ENCORE #54 PKO - $50,000 GTD 6-Max | $100.00 | $9.00 | NLH - 2.5h LR - 6-Max |
|   | 7:15 PM | ENCORE #55 - $30,000 GTD MegaStack | $40.00 | $4.00 | NLH - 3h LR |
|   | 8:10 PM | ENCORE #56 PKO Hyper - $25,000 GTD 6-Max | $100.00 | $4.50 | NLH - 92m LR 6-Max |
|   | 8:30 PM | ENCORE Side Event - $25,000 GTD | $100.00 | $9.00 | NLH - 2h LR |
|   | 9:00 PM | ENCORE #57 - $10,000 GTD | $15.00 | $1.50 | NLH - 2h LR |
|   | 9:10 PM | ENCORE #58 PKO Hyper - $15,000 GTD | $20.00 | $1.00 | NLH - 92m LR |
|   | 9:15 PM | ENCORE Side Event - $15,000 GTD | $50.00 | $5.00 | NLH - 2h LR |
|   |   |   |   |   |   |
| Friday, March 18th | 3:00 PM | ENCORE #59 - $25,000 GTD | $10.00 | $1.00 | NLH - 5h LR |
|   | 5:00 PM | ENCORE #60H PKO - $50,000 GTD | $150.00 | $10.00 | NLH - 3h LR |
|   | 5:00 PM | ENCORE #60M PKO - $50,000 GTD | $80.00 | $8.00 | NLH - 3h LR |
|   | 5:00 PM | ENCORE #60L PKO - $25,000 GTD | $20.00 | $2.00 | NLH - 3h LR |
|   | 5:30 PM | ENCORE #61 - $25,000 GTD | $100.00 | $9.00 | NLH - 2h LR |
|   | 7:00 PM | ENCORE #62 - $40,000 GTD MegaStack | $200.00 | $15.00 | NLH - 3h LR |
|   | 7:00 PM | ENCORE #63 - $60,000 GTD | $100.00 | $9.00 | NLH - 4h LR |
|   | 7:00 PM | ENCORE #64 - $40,000 GTD | $30.00 | $3.00 | NLH - 4h LR |
|   | 9:00 PM | ENCORE #65 PKO - $20,000 GTD | $15.00 | $1.50 | NLH - 2.5h LR |
|   | 9:10 PM | ENCORE #66 PKO Hyper - $15,000 GTD | $20.00 | $1.00 | NLH - 92m LR |
|   | 10:20 PM | ENCORE #67 - $20,000 GTD | $80.00 | $8.00 | NLH - 2h LR |
|   |   |   |   |   |   |
| Saturday, March 19th | 11:30 AM | ENCORE Side Event - $25,000 GTD | $100.00 | $9.00 | NLH - 2h LR |
|   | 11:30 AM | ENCORE Side Event - $10,000 GTD | $25.00 | $2.50 | NLH - 2h LR |
|   | 1:00 PM | ENCORE #90 - $1,500,000 GTD [Main Event] | $200.00 | $15.00 | NLH - 6H LR - Day 1A |
|   | 1:00 PM | ENCORE #68 - $100,000 GTD | $100.00 | $9.00 | NLH - 5h LR |
|   | 1:00 PM | ENCORE #69 - $50,000 GTD | $30.00 | $3.00 | NLH - 5h LR |
|   | 2:00 PM | ENCORE #70 PKO - $100,000 GTD HR | $600.00 | $30.00 | NLH - 3.5h LR |
|   | 2:00 PM | ENCORE #71 PKO - $20,000 GTD | $10.00 | $1.00 | NLH - 4h LR |
|   | 2:30 PM | ENCORE #72 - $50,000 GTD | $50.00 | $5.00 | NLH - 5h LR |
|   | 3:00 PM | ENCORE #73 - $80,000 GTD | $300.00 | $20.00 | NLH - 4h LR |
|   | 4:00 PM | ENCORE #74H PKO - $40,000 GTD | $150.00 | $10.00 | NLH - 3h LR |
|   | 4:00 PM | ENCORE #74M PKO - $40,000 GTD | $60.00 | $6.00 | NLH - 3h LR |
|   | 4:00 PM | ENCORE #74L PKO - $30,000 GTD | $25.00 | $2.50 | NLH - 3h LR |
|   | 5:30 PM | ENCORE Side Event - $25,000 GTD | $100.00 | $9.00 | NLH - 2h LR |
|   | 6:15 PM | ENCORE #75 PKO - $40,000 GTD 6-Max | $100.00 | $9.00 | NLH - 2.5h LR - 6-Max |
|   | 6:30 PM | ENCORE #76 - $30,000 GTD MegaStack | $200.00 | $15.00 | NLH - 3h LR |
|   | 8:00 PM | ENCORE #77 PKO - $15,000 GTD | $15.00 | $1.50 | NLH - 2.5h LR |
|   | 8:00 PM | ENCORE Side Event - $15,000 GTD | $50.00 | $5.00 | NLH - 2h LR |
|   | 8:10 PM | ENCORE #78 PKO Hyper - $20,000 GTD | $100.00 | $4.50 | NLH - 92m LR |
|   |   |   |   |   |   |
| Sunday, March 20th | 12:00 PM | ENCORE #79H - $500,000 GTD HR | $600.00 | $30.00 | NLH - 5h LR |
|   | 12:00 PM | ENCORE #79M - $400,000 GTD WarmUp | $100.00 | $9.00 | NLH - 5h LR |
|   | 12:00 PM | ENCORE #79L - $100,000 GTD | $30.00 | $3.00 | NLH - 5h LR |
|   | 12:30 PM | ENCORE #47 PKO - $200,000 GTD [Day2] |   |   | NLH - Day 2 |
|   | 1:00 PM | ENCORE #90 - $1,500,000 GTD [Main Event] | $200.00 | $15.00 | NLH - 6H LR - Day 1B |
|   | 2:30 PM | ENCORE #80H - $500,000 GTD [Main Event] | $1,000.00 | $50.00 | NLH - 5h LR 2Day Event |
|   | 2:30 PM | ENCORE #80M PKO - $100,000 GTD | $50.00 | $5.00 | NLH - 3h LR |
|   | 2:30 PM | ENCORE #80L PKO - $40,000 GTD | $15.00 | $1.50 | NLH - 3h LR |
|   | 3:30 PM | ENCORE #81 PKO - $150,000 GTD | $100.00 | $9.00 | NLH - 3h LR |
|   | 4:00 PM | ENCORE #82 PKO - $150,000 GTD | $300.00 | $20.00 | NLH - 3h LR |
|   | 4:30 PM | ENCORE #83 PKO - $80,000 GTD PLO 6-Max HR | $600.00 | $30.00 | PLO - 3h LR - 6-Max |
|   | 6:00 PM | ENCORE #84 PKO - $200,000 GTD Apestyles After Party | $1,000.00 | $50.00 | NLH - 3.5h LR |
|   | 6:30 PM | ENCORE #85 - $150,000 GTD MegaStack | $200.00 | $15.00 | NLH - 3h LR |
|   | 6:30 PM | ENCORE #86 PKO - $100,000 GTD | $100.00 | $9.00 | NLH - 2.5h LR |
|   | 6:30 PM | ENCORE #87 - $60,000 GTD | $40.00 | $4.00 | NLH - 4h LR |
|   | 8:10 PM | ENCORE #88H PKO Hyper - $100,000 GTD | $500.00 | $12.50 | NLH - 92m LR |
|   | 8:20 PM | ENCORE #88M PKO Hyper - $30,000 GTD | $200.00 | $7.50 | NLH - 92m LR |
|   | 8:30 PM | ENCORE #88L PKO Hyper - $30,000 GTD 6-Max | $50.00 | $2.50 | NLH - 92m LR 6-Max |
|   |   |   |   |   |   |
| Monday, March 21st | 1:00 PM | ENCORE #89H - $150,000 GTD WrapUp | $200.00 | $15.00 | NLH - 5h LR |
|   | 1:00 PM | ENCORE #89M - $100,000 GTD WrapUp | $100.00 | $9.00 | NLH - 5h LR |
|   | 1:00 PM | ENCORE #89L - $50,000 GTD WrapUp | $30.00 | $3.00 | NLH - 5h LR |
|   | 1:30 PM | ENCORE #90 - $1,500,000 GTD [Day2] | $200.00 | $15.00 | NLH - Day 2 |
|   | 2:00 PM | ENCORE #91 PKO - $100,000 GTD WrapUp HR | $600.00 | $30.00 | NLH - 3.5h LR |
|   | 2:05 PM | ENCORE #80H - $500,000 GTD [Day2] |   |   | NLH - Day 2 |
|   | 3:00 PM | ENCORE #92 - $25,000 GTD WrapUp | $10.00 | $1.00 | NLH - 5h LR |
|   | 4:00 PM | ENCORE #93H PKO - $50,000 GTD 6-Max WrapUp | $300.00 | $20.00 | NLH - 3h LR 6-Max |
|   | 4:00 PM | ENCORE #93M PKO - $50,000 GTD WrapUp | $100.00 | $9.00 | NLH - 3h LR |
|   | 4:00 PM | ENCORE #93L PKO - $30,000 GTD WrapUp | $25.00 | $2.50 | NLH - 3h LR |
|   | 6:30 PM | ENCORE #94 - $50,000 GTD MegaStack WrapUp | $200.00 | $15.00 | NLH - 3h LR |
|   | 6:30 PM | ENCORE #95 PKO - $50,000 GTD WrapUp | $100.00 | $9.00 | NLH - 2.5h LR |
|   | 8:10 PM | ENCORE #96 PKO Hyper - $20,000 GTD 6-Max WrapUp | $100.00 | $4.50 | NLH - 92m LR 6-Max |
- Ace King, Gambling911.com