Gambling911.com has all latest news from the entertainment, political and novelty world for the period June 2022 that incorporates betting odds.


JUNE
Monday 6
Ted Lasso's Next Season Might Be its Last - Ted Lasso's upcoming third season is being written as if it's the final one, Brett Goldstein, who plays the foul-mouthed Roy Kent and writes for the show, told The Sunday Times (via Variety). "We are writing it like that," he said. "It was planned as three. Spoiler alert — everyone dies." (I'd wager that last part isn't true.).
We are anticipating odds on this being the last season as well as a few other fun props courtesy of BetOnline.
They recently released odds on Better Call Saul, which have been a huge hit with gamblers so far.
____________
Jurassic World Dominion Box Office Betting Odds Jurassic World Dominion is the next big blockbuster film to debut in theatres across the globe June 10.  The film kicked off at the international box office with a mighty $55.4 million.
Friday 3
BEE-Lieve It!  Harini Logan Wins First Ever Lightning Round at Spelling Bee - Harini Logan has won the Scripps National Spelling Bee, defeating Vikram Raju in the bee's first-ever lightning-round tiebreaker. Both spellers got four words wrong during their grueling showdown before Scripps went to the 90-second spell-off.
BetOnline's Dave Mason broke down the public betting results for this event, noting that a white kid winning would have paid out $5 million at his book (we think).
Congrats to Harini Logan for winning the Spelling Bee

Results:

Wore glasses
+170 winner for public

No Braces
-400 winner for house

Female
-115 winner for house

Under 8.5 letters
-115 winner for house

Last word A-M
-115 winner for public

White kid to win at +5000000 loses pic.twitter.com/24NJeu0V9h

— Dave Mason (@DaveMasonBOL) June 3, 2022
_________
Upcoming Box Office Projections
Jurassic World Dominion (June 10)
Opening Weekend: $175,000,000
Worldwide: $1,400,000,000
Minions: The Rise of Gru (July 1)
Opening Weekend: $70,000,000
Worldwide: $815,000,000
Thor: Love and Thunder (July 8)
Opening Weekend: $130,000,000
Worldwide: $890,000,000
Wednesday 1
Jury Verdict in Johnny Depp-Amber Heard: 7 Members Unanimously Find Heard Has Defamed Depp and That She Acted With Malice - Johnny Depp was not present for the verdict as he is on tour in the UK.  Amber Heard was on hand to hear the verdict. Millions watched the televised six-week trial that explicitly detailed their short and volatile marriage.  Betting interest was also significant.   The jury was deliberating for nearly 13 hours.  More than 100 hours of testimony had been presented during the trial. The jury awards Johnny Depp a total of $15 million in libel suit against Amber Heard.  $5 million of that is capped in the Commonwealth of Virginia at a few hundred thousand so will receive $10 million in compensatory damages plus a few hundred thousand minus Heard's award.  In her countersuit, the jury found that Heard also proved some specific defamation but was awarded a limited amount, including zero dollars (punitive).  She was awarded $2 million in compensitory damages.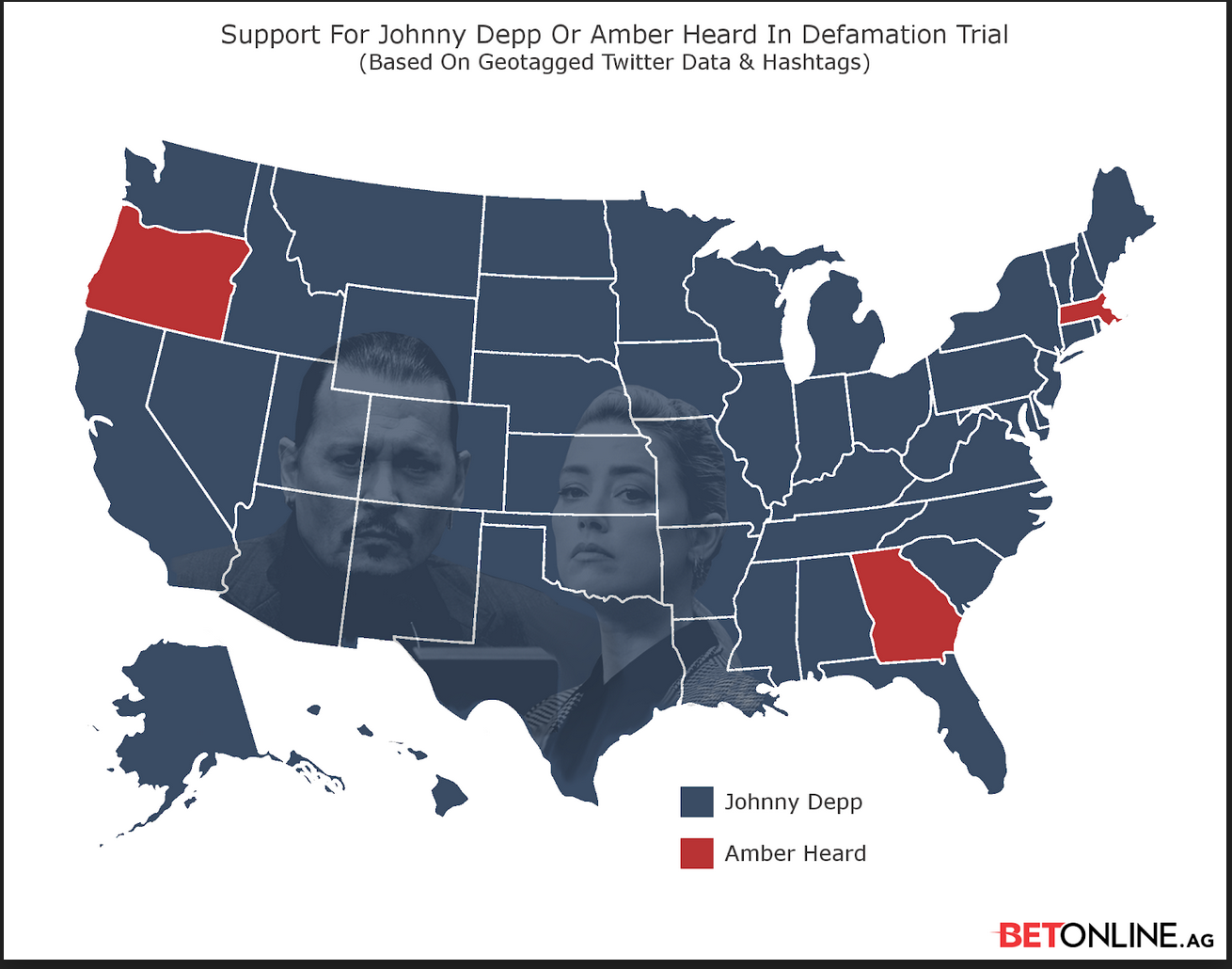 Monica Lewinski Chimes in on Depp-Heard Trial: "We're All Guilty" - "It's the larger implications for our culture that concern me the most," the former White House intern wrote in an opt-ed for Vanity Fair.  No matter who prevails in court, Lewinsky says, "we are guilty."
"We dispense with critical thinking and substitute the cheap thrill," she writes. "Such scattershot consumption hasn't allowed for real comprehension. Instead, we experience only apprehension, knee-jerk outrage, and titillation. It's like going to the opera and reading a couple of translated supertitles but not understanding Italian. And despite whatever else this is, it is a soap opera."
Depp is suing Heard, his ex-wife, for $50 million over a 2018 Washington Post op-ed in whereby she claimed - without mentioning Depp by name - that she had endured domestic violence at the hands of her ex.  Heard is counter-suing for $100 million.  The jury was deliberating as of Wednesday afternoon.
Lewinsky was having an affair with former US President Bill Clinton while working at the White House.
_________
Howie Mandel Teases the New Season of America's Got Talent: It's 'Bigger, More Dangerous, More Exciting' - The 66-year-old comedian made the bold claims appearing on a PEOPLE podcast. 
"I'm the longest running judge on the show," he told host Janine Rubenstein. "Wait till you see this season, but I think there is something in the air. And I think it's because of what had been going on throughout the world ... All this energy was bottled up. So now we have the live audience, people who have been locked away in their prospective homes, countries, wherever they [were], and they just showed up and exploded on our stage."
"We are seeing things bigger, more dangerous, more exciting than we have ever seen before," he added. "What a great respite from all the turmoil that is going on in the world to just sit down with your family and watch AGT."
An extreme version of the show demonstrated the risks contestants were willing to take to win.  Late last year, Jonathan Goodwin was injured after he "was struck by two vehicles suspended in the air" and fell to the stage while rehearsing a stunt.
BetOnline is expected to offer odds on this season's Americas Got Talent.
________
Jury Deliberating in Johnny Depp vs. Amber Heard Defamation Case - A verdict is expected any day in the defamation case filed by Depp against his ex-wife.  She filed a countersuit. 
The case was taking place in Fairfax, Virginia.  Depp is making claim for three counts of defamation for US$50 million in damages from defendant Amber Heard, who is counterclaiming $100 million.
A jury finished a second day of deliberations Tuesday without reaching a verdict.
BetOnline was offering odds on the trial, representing an about-face among gambling sites that for many years shied away from offering betting on court cases.
- Jordan Bach, Gambling911.com