Sports Betting Apps Flood U.S. College Campuses as NCAA Bans Ads During Games
Published on:
Mar/18/2022
Bloomberg News this week looked at how sports betting apps were flooding university campuses this March Madness, prompting concerns from school officials and others.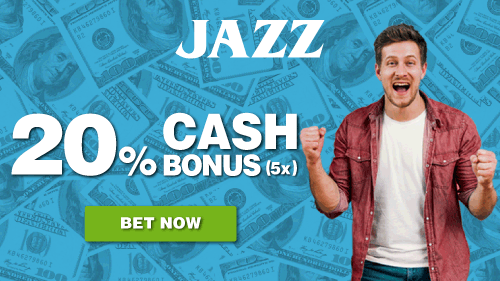 Other universities have taken an entirely different approach.  LSU and MSU are among the two schools making appearances in this year's NCAA Tournament that have reached lucrative advertising agreements with wagering apps owned by both Caesars Sportsbook and PointsBet.
From Bloomberg News:
Under the marketing deals, sports betting apps are paying to have their names mentioned during radio broadcasts, highlighted on schools' mobile apps and displayed inside arenas and stadiums for fans and TV viewers to see. On a recent night inside LSU's Pete Maravich Assembly Center, an ad for Caesars Sportsbook flashed alongside the court. On the school's sports radio network, an announcer provided "your Caesars Sportsbook scoreboard update." There's also a new Caesars Sportsbook Skyline Club at the football stadium.
"In certain parts of the country, we see that college sports is more popular than pro sports," Dan Shapiro, chief development officer at Caesars Digital, told the Sports Business Journal in October.
In Colorado, college athletes have signed endorsement deals with MaximBet, a gambling app. Such agreements, once verboten, were made possible last year when the NCAA removed its restrictions on student athletes earning money from activities like social-media posts and autograph signings.
The agreements are helping colleges fill holes in their budgets created by the pandemic and allowing sportsbooks to reach a key demographic of college sports fans—many of whom will place wagers this month during the NCAA's March Madness tournament.
It should be noted that more than half of college age students cannot even bet on these apps.  Offshore sportsbooks fill the void for those 18 to 21.
Approximately a dozen states prohibit wagering on their own schools or games that feature them.  This includes states that feature prominently in the 2022 NCAA Tournament.
New Jersey, hardly a juggernaut of college sports, has suddenly taken center stage with tiny Saint Peter's knocking off mighty Kentucky Thursday night.  Seton Hall is also playing in this year's tournament while Rutgers got eliminated in its First Four game against Notre Dame.  New Jersey prohibits residents from placing bets on any of these schools.
Illinois and Virginia are two other states with strong representation in the 2022 NCAA Tournament with similar prohibitions.
More from Bloomberg:
While the NCAA allows marketing deals between schools and sports betting apps, it still prohibits gambling by college athletes, coaches and administrators. At a congressional hearing in July, Heather Lyke, the athletic director at the University of Pittsburgh, said lawmakers should ban betting on college sports altogether, saying "gambling creates pressures and temptations that should not exist" and will ultimately "have a corrosive and detrimental impact on student-athletes and the general student body alike."
"It's not unreasonable to foresee students gambling away financial aid or work study money on the 'big game,'" she added.
Christine Reilly, senior research director of the International Center for Responsible Gaming, a casino-backed organization, said the group is currently looking at whether the legalization of sports betting is creating more gambling addicts. She said the group is particularly concerned about 18- to 25-year-olds who are "prone to getting involved in addictive activities."
"Your brain is not fully formed until you're like 26, so kids in that group have a lot of vulnerability to developing these problems," Reilly said.
Caesars insists it is not trying to infiltrate school campuses but rather targetting alumni.
What You May Have Missed on Gambling911
Caesars is working with LSU and the state of Louisiana to prevent gambling disorders and is creating scholarships for students at both schools who want to pursue a career in sports, a spokesman said.
Cody Worsham, a spokesman for LSU's athletics department, said anyone who entered an email address to get tickets to LSU games got the Caesars Sportsbook promotion. He said sending the email to fans who are under 21 was "a mistake" and the process of approving the email "was not followed the way it should have been."
"We're putting more robust procedures in place to ensure that our commitment to not market to students who are under 21 will be fulfilled," he said. He added that LSU's athletics department is teaching athletes about how to comply with gambling rules and working with the state department of health to educate students on how to gamble responsibly.
The NCAA has taken one of the more aggressive stances since sports betting became legalized nationwide in 2018.  They are prohibiting the likes of DraftKings, FanDuels and other sports betting companies from advertising during this year's tournament.
Commercials for sportsbook operators will not be permitted during NCAA tournament games, per NCAA.

— David Payne Purdum (@DavidPurdum) March 16, 2022
One person commented via Twitter:
"I was wondering where the arbitrary line in the sand would be, looks like we now know. It is being drawn right through the best betting event in all of sports."
Even sites like Gambling911.com have been adversely affected by the ad ban.
"Any company operating in the sports betting space today relies heavily on the relentless unapologetic exposure delivered by brands such as DraftKings, FanDuel and Caesars," remarked Gambling911 Senior Editor Payton O'Brien.  "That's suddenly absent at this year's tournament."
- Alejandro Botticelli, Gambling911.com Senior Reporter