Gambling and Sports Betting News Wire - August 13, 2019
Published on:
Aug/13/2019
Here are today's headlines in the world of gambling and sports betting as they happen - Tuesday August 13, 2019.


*6 weeks free trial - test drive - best in the biz
*Deposit with Bitcoin - They'll double it!
*Get your own domain, customized website, logo
*Switch in under an hour, earn mrore $$ for doing so
*Odds featured on DonBest.com
*Thousands of betting options daily + live in-play
*Easy and discreet payment options include gift cards
*Walmart gift cards also accepted


Start Earning Money From Your Sheet Here
Casino Outside of Notre Dame Considers Sports Betting Options
Casino in South Bend, roughly 7 miles from Notre Dame Stadium, considering sports betting options:https://t.co/J46pALjmWK

— David Payne Purdum (@DavidPurdum) August 13, 2019
BarStool Sports Trending After Fight With AOC
Barstool Sports founder Dave Portnoy has come under fire for reportedly threatening to fire employees looking to unionize.   Now he's come under the ire of one Congresswoman Alexandria Ocasio-Cortez.
If you work for @barstoolsports and DM this man I will fire you on the spot https://t.co/u9vG3VgfV1

— Dave Portnoy (@stoolpresidente) August 13, 2019
If you're a boss tweeting firing threats to employees trying to unionize, you are likely breaking the law &can be sued,in your words, "on the spot."

ALL workers in the US have the protected freedom to organize for better conditions.

See @NLRB &union orgs like @AFLCIO for tips. https://t.co/bU7WlHrp1d

— Alexandria Ocasio-Cortez (@AOC) August 13, 2019
Notable MLB Trends to Review Before Betting
Notable MLB F5 trends:

LAA 1-10 in L11
NYY 8-2 in L10
BAL 1-7 in L8
HOU 20-2 in L22
SEA 1-10-1 in L12 on road
DET 4-20-2 in L26 at home
MIL U in 16 of L20 at home
SF U in 11 of L15 at home
TEX U in 8 of L9 on road
NYY O in 19 of L24
OAK U in 10 of L13
BOS O in 15 of L19

— Joe Osborne (@JTFOz) August 13, 2019
Baghdad's 'Godfather of Gambling' Taken Down
Iraqi officials have arrested a man they believe to have controlled all gambling in the city of Baghdad.
From CalvinAyre.com:
Last week, gun-toting members of Hashd al-Shaabi (Popular Mobilization Forces, or PMF), a coalition of Shia militia groups that reportedly operate with funding from Iran, swooped down on a number of Baghdad hotels in search of "mafias, roulette clubs, casinos, drug dealers and prostitution rings."
Local media reported that the raids resulted in the arrest of Hamza al-Shammari, allegedly the godfather of Iraq's largest criminal organization, along with around 25 of his minions. The PMF claimed al-Shammari "controlled all gambling, prostitution and drug trafficking sites" in the Baghdad area.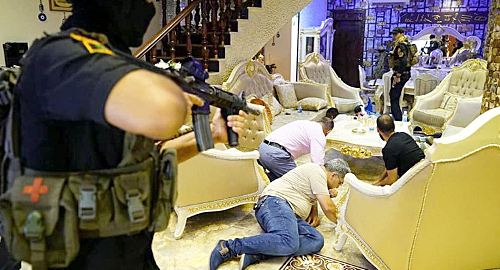 Seminole Hard Rock Pays Out Over $1.4 Million in Jackpots in 4 Weeks
(TAMPA, Fla. ) – Seminole Hard Rock Hotel & Casino Tampa has had three lucky guests claim Wide Area Progressive (WAP) jackpots over the last four weeks, totaling more than $1.4 million.
The first WAP jackpot occurred on July 12 when a guest (with a $4.50 bet) hit for $516,519 on the Scientific Games Cash Spin Deluxe slot machine. Two weeks later, a second guest (with $0.80 bet) claimed a $242,443 WAP jackpot on an IGT Ghostbusters 4D slot machine, before a third guest (with a $4.50 bet) hit for a $706,320 WAP jackpot on August 4 – again on the Scientific Games Cash Spin Deluxe slot machine.
"To have one jackpot hit at these amounts is a reason to celebrate," said Steve Bonner, President of Seminole Hard Rock Hotel & Casino Tampa. "To have three in less than a month is really something special."
Seminole Hard Rock Tampa will formally debut its $700 million expansion on Thursday, October 3, which will include new gaming space. The completed 245,000-square-foot casino will feature nearly 5,000 slots, 179 tables and a state-of-the-art poker room with 46 poker tables.
Our Free Picks Record August 12
2019 MLB Record: 23-13-2 (63.8%) - No Plays Over -160
2018-19 College Basketball Record: 12-9 (57.1%)
2018-19 NBA Record: 7-5 (58%)
2018 MLB Record: 45-35 (56.2%)
2018 NBA Record: 12-4-1 (75%)