Last week, Florida Governor Ron DeSantis made waves when he removed twice-elected Hillsborough County State Attorney Andrew Warren, citing Warren's disregard for his duty to enforce state laws.
More specifically, DeSantis, the current 2024 Presidential favorite at BetOnline, expressed outrage over a pledge Warren made not to prosecute people receiving an abortion or their doctors performing them.
"Our government is a government of laws, not a government of men," DeSantis said.
It wasn't lost on many political observers that Warren, a Democrat, has been a frequent critic of DeSantis, a Republican.
DeSantis pointed to the Florida constitution and specifically cited "neglect of duty" and "incompetence" in his decision to suspend Warren and his ability to do so.
Under the state constitution, a governor can suspend state officials for misfeasance, malfeasance, neglect of duty, drunkenness, incompetence, permanent inability to perform official duties or commission of a felony.
DeSantis referred back to a 1936 case whereby County solicitor C. Jay Hardee was suspended by the governor for failure to prosecute illegal gambling in Tampa.  Hardee himself replaced another individual suspended by the Florida Governor, Morris Givens.  Givens had previous charged Sheriff Will Spencer with extortion and negligence due to the escape "to hold Spencer accountable under statutes which hold a sheriff responsible for acts of his deputies".  He would later drop the charges.  The public became outraged.  Givens was accused of being incompetent and a county grand jury was convened to investigate him, which would later result in his removal.
Hardee had assumed office promising to take on the underworld of Tampa, and he started off on the right foot. Hardee joined a raid on the Panama Cafe in Tampa that resulted in the seizure of gambling equipment and 16 arrests.
But 16 months later Hardee had yet to charge any of them. A county grand jury was then asked to investigate Hardee, who would later claim that the Panama Cafe raid was conducted without a search warrant and would not hold up in court.
A grand jury would ultimately determine that illegal gambling in the county had reached "its peak during the years 1934 and 1935 ... was the worst in the history of the county" and Hardee's inaction was a culprit.  They would recommend that the governor suspend Hardee.
But unlike DeSantis' knee jerk reaction, Gov. David Sholtz did not act immediately. An election was a month away and he believed the voters were "best qualified to pass judgment on the case," the Tampa Tribune reported.
Hardee claimed that he had successfully "broken Tampa's dope ring", but ultimately lost his election bid.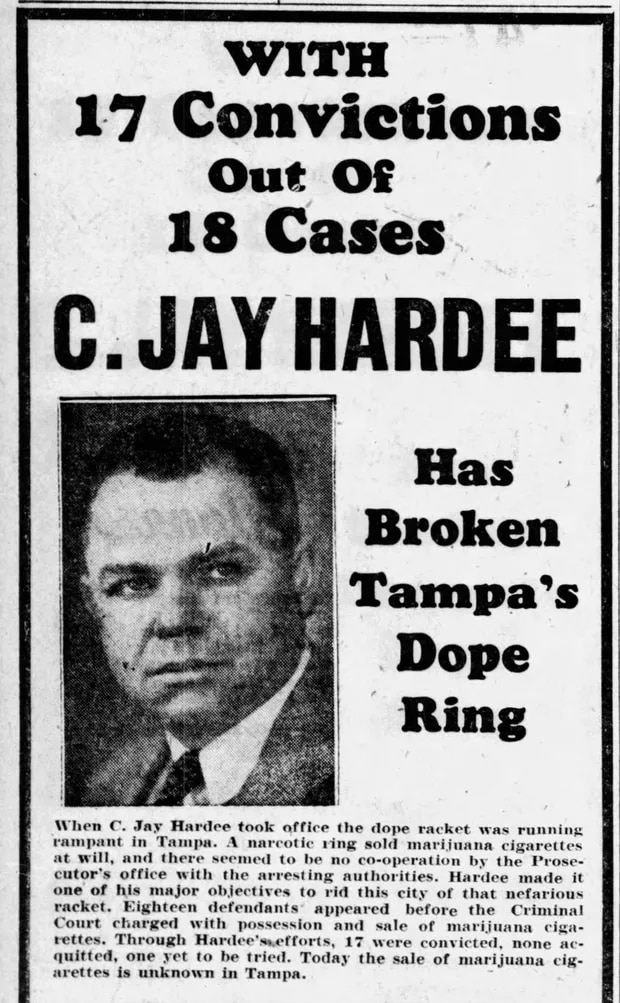 Hardee's term did not end until April 1937, but the governor suspended him in July 1936.
Flash forward to now. Some pundits have speculated that the suspension of Warren is more for show as DeSantis ponders a Presidential run.
"Ron DeSantis is trying to overthrow democracy in Florida," Warren said in his message. "His plot to suspend me blatantly violates the most fundamental basis of our democracy—your vote."
Warren claimed his office was committed to enforcing the law and protecting the community.
"We've aggressively prosecuted murderers, rapists, and any criminal who keeps parents like me awake at night" Warren said. "In our community, crime is low, rights are protected, and we've invested in safety."
He added: "This is a blatant abuse of power. I don't work for DeSantis. I was elected by voters — twice — and I have spent my entire career locking up violent criminals and fraudsters."
Bruce Rogow, a first amendment and constitutional lawyer in Florida, tells Tampa's Fox13 that Warren is likely to be reinstated.
"It has been hijacked! You vote, your person is elected, and then the governor comes in and in effect dis-elects him that's pretty extraordinary," explained Rogow.
Rogow says Warren can look for relief in either state or federal court. He can also have a senate trial. 
None of this will likely impact DeSantis as the Florida Governor's suspension of Warren sent out a powerful message.  Any reinstatement might not even happen until after the November election.
Too Close for Comfort
Some recent polls show DeSantis has 47 percent support from Florida registered voters to Democratic Rep. (and former governor) Charlie Crist's 44 percent.  Crist maintains a significant lead over his Democratic primary opponent Agriculture Secretary Nikki Fried.  The poll numbers were released by progressive groups, Florida Watch and Progress Florida.  As such, it's more realistic DeSantis' still maintains a sizeable enough lead outside the margin of error.  This could change, however, once his Democratic opponent becomes official.
It's not just progressive polls that show this race may be a little too close for comfort however.
At least some of the claims around purported shifts in Florida's gubernatorial race appear to be referencing a private poll by Tony Fabrizio, a veteran GOP strategist and pollster.
The Crist campaign certainly took notice of this back in late June.
"Charlie Crist is in this race to defeat Ron DeSantis, and this secret GOP poll shows that he's doing exactly that," Samantha Ramirez, spokesperson for Crist, said according to Village News. "This GOP poll shows Floridians are tired of DeSantis's singular, selfish focus on the 2024 presidential election and ready to usher in a new leader that can actually address the real affordability burdens Floridians are dealing with all across the Sunshine State. Charlie is the experienced fighter Floridians need and want in Tallahassee right now."
But Fabrizio offered this caveat:
"Note that the data is from surveys of Registered voters and NOT likely voters. So it is highly likely that DeSantis would fare a bit better among a likely voter sample," Fabrizio highlights in his response.
Ironically, DeSantis's move against Warren for his stance on abortion could backfire if the Democrats play their cards right.  While DeSantis looks strong in standing up to those who may be perceived as "soft on crime", the Kansas No State Constitutional Right to Abortion and Legislative Power to Regulate Abortion Amendment boosted voter turnout earlier this month, resulting in a huge win for abortion rights advocates. Nearly 60% voted against the abortion prohibition in a very red state.
"This vote makes clear what we know: the majority of Americans agree that women should have access to abortion and should have the right to make their own health care decisions," U.S. President Joe Biden said in a statement.
Currently, BetOnline has DeSantis paying $265 for every $100 bet should he become the next U.S. President in 2024.  DeSantis has yet to declare he will be running. 
Former President Donald Trump was coming in with the second shortest odds at +325.  It's been a rollercoaster ride for Trump in recent days (the second week in August) as some of the GOP's loudest voices called out a Justice Department search of his Palm Beach home on August 8 only to force the DOJ's hand in releasing the search affidavit, which pointed to a probe into the handling of top secret documents.  BetOnline noted that 82% of the Presidential bets between August 8 and August 10 were on Trump.
- Alejandro Botticelli, Gambling911.com