ALPINE, Calif. (AP) — One of California's largest tribal casinos reopened Monday to a large crowd as customers had their temperatures taken at the door and were ordered to wear facial coverings. 

*No hidden fees.  Everything for $5 per player
*Accepts Amazon Cards, Gift cards, Bitcoin
*Open an account in less than a minute
*2 Week Free Trial
*Hundreds of leagues, live betting - 99.9% uptime
*Mobile platform available
*Live dealer casino
*Offices in Costa Rica, Expansion into Philippines
*Mandarin Chinese, 日本人の, 한국, Fillipino, việt


Click here to visit PricePerPlayer.com
The Viejas Casino & Resort was the first of several popular casinos in the San Diego area to open this week. Last week, Win-River Resort & Casino in Redding was the first tribal casino to reopen in California after the coronavirus outbreak.  
Tribes are sovereign authorities and not subject to state and local restrictions on operations during the pandemic. San Diego's top public health official was critical last week but acknowledged tribes were within their rights. 
Every other slot machine was turned off but the strong turnout meant many customers were still playing less than six feet (1.8 meters) apart. Card dealers worked with up to three players at a table and there were no barriers separating them — also far less than six feet apart. 
Customers were required to have their foreheads scanned for temperatures. Electronic signs across the casino floor told them — "Let's Play Again!" — while also instructing them to stay six feet apart, wash hands for 20 seconds, avoid touching eyes, noses and mouths and come back another day if they were feeling sick.
Within an hour of opening at 8 a.m., the first three floors of four-story parking garage were full at the casino, which has 2,500 slot machines in Alpine, east of San Diego. By late morning, there were about 150 waiting in line at the front entrance and cars were lined up on the rural road that leads to the parking lots. 
For most people, the new coronavirus causes mild or moderate symptoms, such as fever and cough that clear up in two to three weeks. But for some — especially older adults and people with existing health problems — it can cause more severe illness, including pneumonia, and death.  
Ronda McLauchlan, 49, of Alpine lined up at 7:30 a.m. before going to work as a painting contractor because "it's all about freedom." She is highly critical of Gov. Gavin Newsom's orders to keep businesses closed. 
"They're opening up because they don't have to listen to him," she said. 
Dedra Bloxton, 51, took the day off from working at a port in Long Beach to drive two hours from Los Angeles with a friend and play the slot machines. "There's nothing to do at home," she said. "It feels good just to take a drive. It feels good just to be outside."  
Dr. Wilma Wooten, San Diego County's top public health officer, last week backed off from her earlier criticism of reopening plans. 
Wooten, who met with tribal leaders to discuss their plans, noted that casinos were in the third stage of California's reopening plans and the state is only in the second stage, but she refused to say if the casinos were making a mistake.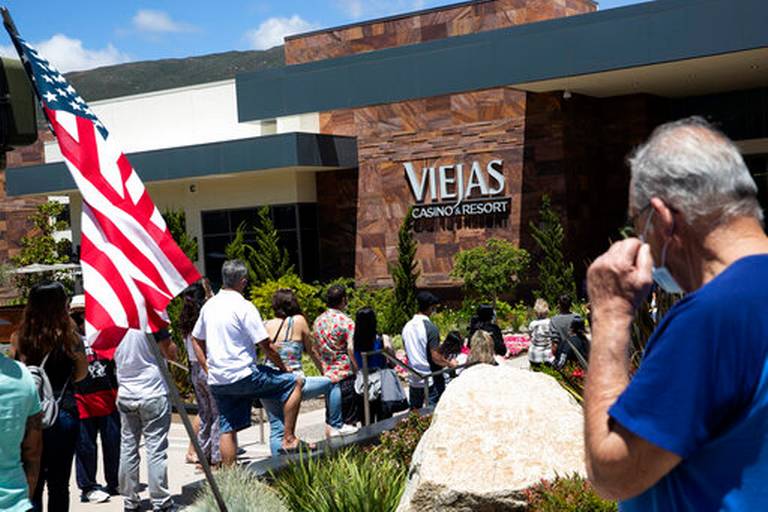 Wrong to Risk Opening Now
If you wouldn't bet your life on a card game, don't even think about visiting a casino during the coronavirus pandemic, writes the Sacramento Bee Editorial Board. 
Unlike most businesses in California, the tribal-run establishments can simply ignore the governor and reopen before it's safe.  
Sacramento-area casinos remain closed for now, though the Hard Rock Hotel and Casino Sacramento in Wheatland hopes to open by the end of the month. 
The decision by some to rush the reopening California's gaming facilities is both understandable and regrettable. Gaming tribes depend on casinos for their survival.
"Tribal casinos in California have become an $8 billion a year business, and the Sacramento casinos operate as many slot machines as Reno's," wrote Kasler. "The abrupt shutdown of the industry in mid-March has depleted the tribes of their main revenue sources." 
But this is still no excuse to disregard public health experts and risk lives by drawing large numbers of people from different communities into a common space during this coronavirus pandemic. 
This means it's up to individuals to decide whether a clearly non-essential diversion like gambling is worth the risk of serious illness and death. The answer may seem like a clear "no," but people struggling with a gambling addiction may be tempted. Gaming is also a popular pastime with senior citizens, the population segment with the highest COVID-19 death rate. 
Ideally, casino operators would hold off on reopening until it's safe to do so instead of creating potential COVID-19 hotspots at their gaming tables. Ultimately, however, Californians must consider the potentially severe consequences and decide whether to bet it all on COVID-19, which has infected nearly 79,000 and killed 3,200 in California so far. 
Please don't roll the dice with death. Stay away from the casinos until it's safe. 
Some Vegas Casinos Delay Reopening
(AP) - Even with the question of when still unanswered, attention is now switching to which, as in which casinos will open when allowed? MGM Resorts International says it will open Bellagio and New York-New York only, with its other resorts (e.g., MGM Grand, Aria, and Mirage) maybe not till next year. Caesars Entertainment will start with Caesars Palace and an as-yet-unnamed lower-tier property. Off the Strip, Station Casinos will not immediately open Palms, Texas Station, and the two Fiestas, while Boyd may delay the return of its three downtown casinos, Fremont, California and Main Street Station. 
Treasure Island first?: Back to the question of when, Treasure Island is currently in the first slot, indicating that it plans to open on Friday. Next up is Wynn and Encore (or maybe just Wynn), slated for May 26. Don't be surprised if it all changes. 
Playing with plexiglass: Some clues as to what post-pandemic gambling will be like are starting to surface. Expect dealers to be wearing masks and gloves, but there might be more. Photos of plexiglass dividers at blackjack and roulette tables have shown up lately. The dividers are positioned not only between dealers and players, but between players as well. The dividers could also show up on machines. 
Question: Will casinos get rid of resort fees and paid parking to lure customers back? 
Answer: The casinos aren't saying, but it would seem like a good idea. In a public address, former Las Vegas mayor and Caesars exec Jan Jones Blackhurst advocated for it. While making it clear that she wasn't speaking for the industry, she said, "My personal opinion is that they need to be eliminated … (in the past) people saw Las Vegas as this tremendous value. You weren't going to pay parking fees and resort fees. I'm just not sure that, in this new world, you can lead with that." 
- Gilbert Horowitz, Gambling911.com