Bet on Where Kawhi Leonard Will Play Next Year
Published on:
Jun/15/2018
With word that Kawhi Leonard wants out of San Antonio, Dave Mason of BetOnline has posted odds on what team he ends up playing for next year.  The Lakers pay $11.50 for every $10 bet. SCROLL DOWN FOR MORE
The All-Star forward says he has grown frustrated with how the organization handled his quad injury and feels the franchise turned on him once he sought a second opinion.
A source with the Spurs told ESPN that Leonard hasn't asked them for a trade, however, and San Antonio does have the second shortest odds at just shy of 3-1.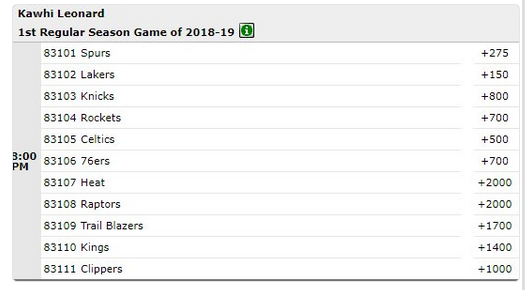 If Leonard does become available in trade talks, the Boston Celtics will be interested in probing the Spurs about a deal, according to ESPN.
The Celtics would pay $50 for every $10 bet should he land there.
- Mary Montgomery, Gambling911.com