2008 Miss Universe Wildcards
Published on:
Jul/10/2008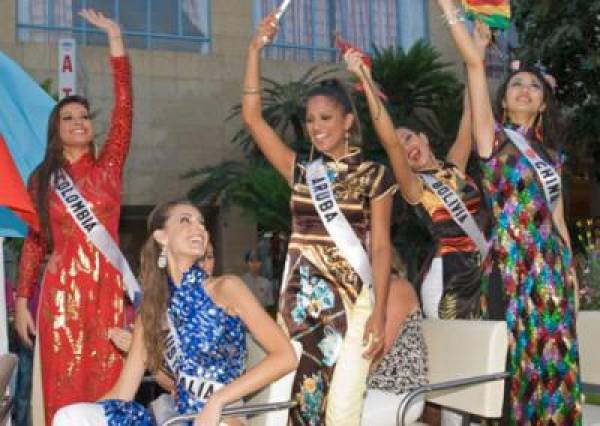 We all know that Miss Venezuela, Miss Puerto Rico and Miss USA are listed among the favorites to win this year's Miss Universe pageant across the board at nearly every online gambling site offering odds, but what about those 2008 Miss Universe wildcards?
Miss Czech Republic - She's listed with +1000 odds at BetOnline.com for a payout potential of $1000 on every $100 bet.  Most online gambling sites have her listed around +1100 or 11/1 odds.  The longest and best paying odds on Miss Czech Republic could be found at BetUS.com - a $1200 payout for every $100 bet.
"I would like to be a Top model and to be successful throughout the world," said Miss Czech Republic Eliska Buckova.
Miss Panama doesn't always appear among the top 10 Miss Universe favorites but this year is one notable exception. 
The folks from BetOnline.com are rooting for their native beauty.  BetOnline.com operates from Panama City and they've published odds of +1000 on Carolina Dementiev Justavino to win. 
Miss Panama is an aspiring athlete who won the Silver Medal in a Regional Swimming competition. Could Carolina one day become a future Olympian as well as maybe Miss Universe?
"I have a great sense of responsibility, hold high levels of discipline and that I am willing to always go the extra-mile to achieve my goals," Miss Panama stated.
Miss Colombia promised a payout of $1000 for every $100 bet as well at SBG Global
Miss Colombia, Tatiana María Vargas Carrillo, is more than a pretty face.  The former salsa teacher expressed the importance of her role in an interview with El Espectador
"Knowing that you take responsibility to be ambassador, not just of beauty, but of an entire country, is very special," she said.
Miss Colombia denied that beauty queens were being approached to whitewash money for drug trafficking.
Miss Belgium is definitely another wildcard and a Miss Universe representative that has already been highlighted among the pages of Gambling911.com. 
Miss Belgium - Alizee Poulicek - is very likely to hit the single digits prior to the airing of July 13th heavily bet on Miss Universe Pageant. At press time Miss Belgium was listed with +1200 odds at Bookmaker.com. The online gambling website was forced to add Miss Universe 2008 betting as a separate text link under its Entertainment Betting category due to heavy demand already more than one week ahead of airing.
What does Miss Belgium like to do in her spare time? The answer....Pretty much everything.
"I like to do sports, such as horse riding, running, fitness, dancing and skiing. Also I like to read, travel, to discover new things, new people, new countries and cultures. Additionally, I like music and cinema."
Other widcards include Miss Mexico at +1200 odds at SBG Global and Miss India, who has now entered into single digit odds at BetOnline.com (+800).  Miss Mexico has also entered into single digit odds at some online gambling sites. 
"We have seen her as short as 8/1 or +800 odds," Gambling911.com Operations Manager, Payton O'Brien said. 
Miss Ireland, Miss Dominican Republic and Miss South Africa have each received significant betting action in recent days as well, O'Brien disclosed.