Kentucky Derby 2012 Rain Chances Still at 40 Percent: Heat and Overnight Strong Storms
ShareThis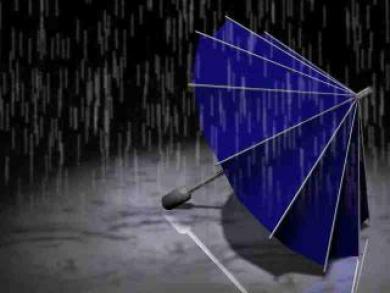 If Friday was any indication, the Kentucky Derby 2012 could be a wet one, not to mention hot!!!
Some fans had to be evacuated on Friday at Churchill Downs due to stormy conditions and scattered severe storms are once again in the forecast for Saturday afternoon.
An official announcement advised those in the infield to seek cover as hail and lightning were anticipated around 5 pm, delaying the 10th race.
"Please carefully evacuate the infield until the storm has passed," read on-course screens.
More strong storms were hitting the Louisville area overnight with heavy rains expected over a prolonged period.
The so-called "mudders" have to be considered the best bets Saturday. They include the two favorites Bodemeister and Union Rags along with the undefeated Gemologist. El Padrino and Went The Day Well are also proven on the sloppy tracks.
We have your latest Kentucky Derby odds below courtesy of WagerWeb.com, offering up to $1000 in FREE CASH to qualified customers who join today.
2012 Kentucky Derby. Odds to Win
| | | | |
| --- | --- | --- | --- |
| 1 | Bodemeister | +400 | |
| | | | |
| 2 | Union Rags | +450 | |
| | | | |
| 3 | Creative Cause | +1200 | |
| | | | |
| 4 | Gemologist | +700 | |
| | | | |
| 5 | Dullahan | +750 | |
| | | | |
| 6 | Hansen | +1000 | |
| | | | |
| 7 | I'll Have Another | +1200 | |
| | | | |
| 8 | Alpha | +1400 | |
| | | | |
| 9 | Take Charge Indy | +1400 | |
| | | | |
| 10 | El Padrino | +2000 | |
| | | | |
| 11 | Daddy Long Legs | +1800 | |
| | | | |
| 12 | Daddy Nose Best | +1400 | |
| | | | |
| 14 | Went the Day Well | +2000 | |
| | | | |
| 15 | Done Talking | +3300 | |
| | | | |
| 16 | Liaison | +4000 | |
| | | | |
| 18 | Prospective | +4000 | |
| | | | |
| 19 | Rousing Sermon | +5000 | |
| | | | |
| 20 | Sabercat | +3300 | |
| | | | |
| 21 | Optimizer | +3300 | |
| | | | |
| 22 | Trinniberg | +4000 | |
| | | | |
- Mary Montgomery, Gambling911.com
Submitted by Mary Montgomery on Sat, 05/05/2012 - 00:51