Barney Frank Unveils Online Gambling Bill
ShareThis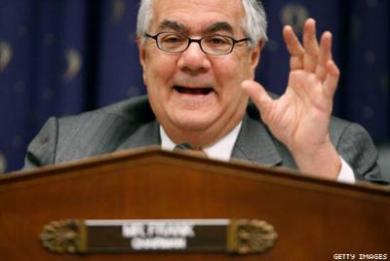 WASHINGTON (Reuters) - Legislation aimed at reversing a three-year-old ban on Americans placing online bets was introduced on Wednesday by U.S. House Financial Services Committee Chairman Barney Frank.
The Internet Gambling Regulation Consumer Protection & Enforcement Act would establish a federal regulatory and enforcement framework for online gaming.
Frank said the bill would give the U.S. Treasury Department the authority to establish regulations and license Internet gambling operators.
The Treasury would also have the authority to revoke or terminate the license of any operator that violates the law. Enforcement actions could also include fines, according to the bill.
"The government should not interfere with people's liberties," said Frank.
The Massachusetts Democrat also told reporters he is introducing separate legislation to freeze the implementation of online gambling regulations under a Bush administration-era law.
European online gambling firms lost billions of euros in value after Congress made it illegal for banks and credit card companies to make payments to online gambling sites.
Republicans controlled the White House and Congress when the Bush-era law was approved. Now, Democrats are in control in both branches of the government, but it is unclear how the Obama administration will handle the issue.
Companies involved in the issue include PartyGaming Plc and 888.com. 
Frank's bill quickly drew criticism from a senior Republican lawmaker opposed to gambling.
"Illegal off-shore Internet gambling sites are a criminal enterprise," said Representative Spencer Bachus, the top Republican on the financial services committee. "Allowing them to operate unfettered in the United States would present a clear danger to our youth, who are subject to becoming addicted to gambling at an early age," said Bachus from Alabama.
Submitted by Guest on Wed, 05/06/2009 - 14:01