Clippers-Grizzlies Line: NBA Playoffs Game One
ShareThis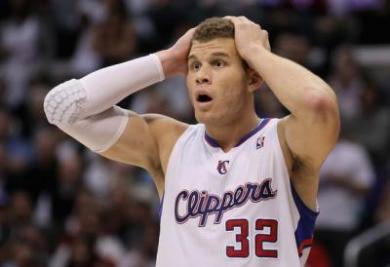 Carrie Stroup here with your Clippers-Grizzlies line for Game One of the 2012 NBA Playoffs. You can find all the latest NBA Playoffs odds at Sportsbook.com here and receive up to $250 in FREE CASH when opening an account. Many of these games you will be able to bet on LIVE.
Sportsbook.com Game 1 Line & Total: Grizzlies -5 & 185
Series Line: Memphis -200/Clippers +170
In what should be the most evenly-contested series in the first round of the playoffs, the Clippers and Grizzlies get underway Sunday night in Memphis.
The home team won all three meetings this season, but the Clippers have taken four of the past games in this series. The Grizzlies make their living off pressuring the basketball, leading the league with 16.3 turnovers forced per game. However, the Clippers have the second-fewest turnovers per game (12.3) thanks to Chris Paul who is clearly the best player for either one of these clubs. He finished the season with 24.5 PPG and 10.3 APG in his final six games with an assist-to-turnover ratio of 4.8 (62 assists, 13 turnovers). Despite sitting out the season finale with a slight groin strain, he will be 100 percent ready to go on Sunday. His buddy Blake Griffin isn't too shabby either, scoring 19.7 PPG on 62.2% FG in the season series versus Memphis. The Clippers have shown the ability to beat great teams on the road this month, taking down the Thunder, Mavericks and Nuggets on their home floors. Memphis scores just 91.2 PPG on 43.5% FG on the road this season, finishing 15-18 away from home. The odds aren't indicative of how close this series will be, and Paul will shine brightest in leading this franchise to a long-awaited playoff series victory.
The Clippers are obviously paced by the dynamic duo of Paul (19.8 PPG, 9.1 APG, 2.53 SPG) and Griffin (20.7 PPG, 10.9 RPG), but the rest of the team's role players have been solid all season. PG Mo Williams (13.2 PPG) played only once against Memphis this year, but scored 18 points on 8-of-15 FG in that meeting. SF Caron Butler (12.0 PPG) scored 11.3 PPG on 48.3% FG against Memphis this season and finally seems to be over his hip injury. SG Randy Foye (11.0 PPG) has been erratic, evidenced by his past three games of 24 points, 0 points and 28 points. But Foye gives the Clips a great weapon from downtown, as he has connected on 39% of his threes this year. C DeAndre Jordan (7.4 PPG, 8.3 RPG, 2.1 BPG) is always a key factor on the defensive end and knows his role is to rebound and block shots.
PF Zach Randolph (11.6 PPG, 8.0 RPG) led the Grizzlies in last year's playoffs with 22.2 PPG and 10.8 RPG, but he's still not fully recovered from the knee injury that cost him the majority of the season. His minutes have been limited all year and he has not reached 20 points in a game since March 16, a span of 24 contests. SF Rudy Gay (19.0 PPG, 6.4 RPG) is the team's leading scorer who missed the last postseason due to injury. Gay averaged 19.8 PPG (51% FG) during his team's season-ending, six-game win streak. C Marc Gasol (14.6 PPG, 8.9 RPG) is a 53% shooter in his career, but shot a pitiful 38.9% from the floor in three games versus the Clippers this year. His offense has also gone south during the current six-game win surge, as he has just 11.5 PPG and 4.0 RPG. However, Gasol did score 22 in the season-ending win versus Orlando. PG Mike Conley (12.7 PPG, 6.5 APG, 2.19 SPG) has been slumping even worse than Gasol though, scoring just 5.7 PPG on 6-of-23 FG with 3.0 APG in his past three games. He will be tasked with containing Paul on defense, which certainly won't help his energy on the offensive end of the court.
- Carrie Stroup, Gambling911.com Senior Reporter
Submitted by Carrie Stroup on Fri, 04/27/2012 - 20:53