A price per player sportsbook software typically charges $5 and up per player per week while offering everything from odds, live betting, full reporting, 24-7 customer service and even a live dealer online casino.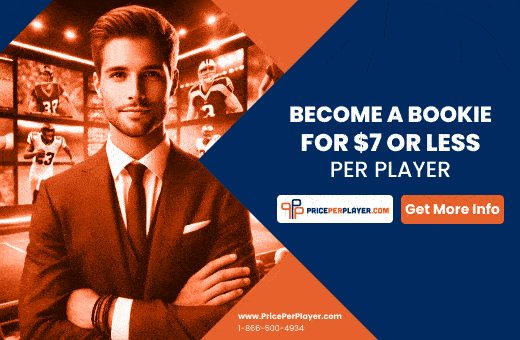 Appropriately named PricePerPlayer is one such PPH provider that offers the $5 price tag.
In terms of efficiency, PricePerPlayer.com notes:  "Our software is custom-made for bookies, with the interface anticipating every possible need a bookie will have. Everything, from the menu placement to the design elements of the software, is made to ensure the best user experience possible.
"Its also created to help bookies easily find what you need, and be able to implement any changes as needed in real time. It saves you a lot of time with most of the processes automated and therefore gives you more time to focus on growth and other aspects of your business, like sportsbook marketing."
Next, is scalability.
"We get a lot of bookies who are just starting out, and we also get bookies who are migrating their sportsbook operation to us. Our software can cater bookies regardless of your requirements. In fact, if you own a larger operation, or if you grow your sportsbook numbers, your pay per head fees can even get lower. In addition, the quality of the software will not diminish if you have more players in your sportsbook. There will be no lag, no delays, or anything. Wherever direction you take your sportsbook, we are there for you. As your business grows, we will be there to help you manage it well."
Dreaming of Being a Bookie? https://t.co/QbrJUvx7Yd

— Price Per Player (@priceperplayer) February 2, 2022
Last, is value for money.  Once again, it comes down to price.
"You cannot beat a service that offers a complete sports betting and gambling software service at a $5 per player rate. As mentioned earlier, your rate can even go lower the more players you have. This helps you recoup any expenses you have faster, and allows you more budget to spend on bonuses, marketing, and any other improvements you want to make with your sportsbook."
The live dealer casino comes with no additional charge.  So imagine your players bored and having the ability to play at a virtual reality casino complete with a live dealer and real money payouts.
Games include:
Live Dealer Roulette
Baccarat with a Live Dealer
Live Dealer Black Jack
Other aspects of the PricePerPlayer.com live dealer casino that players will enjoy include:
Excellent video quality
Dealer live chat
Video and audio adjustments
24/7 live streaming of games
Play multiple games
In-Browser Play with no download required
Multiple seat options in some games
- Aaron Goldstein, Gambling911.com